Stetson to Host Fall Rendezvous Regatta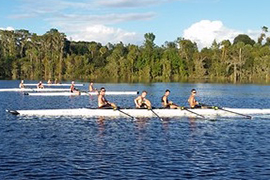 More than 1,300 athletes from about 35 clubs around the state will compete this weekend, Nov. 12-13, at the Fall Rowing Rendezvous at Stetson University's training site on Lake Beresford.
This will be the fourth year for the Rendezvous regatta, which keeps growing in size and has become the largest head race in Florida, said Stetson Rowing Head Coach Mark Wilson.

"It's an opportunity for all the colleges, high schools and master's programs to compete," he said. "It's a big event. Last year we had over 1,100 athletes and 3,500 in attendance."
The racing will start Saturday at the training site at 2636 Alhambra Ave. with races for age groups ranging from veteran master rowers ages 60 and older to middle school rowers. The events include a 5,000-meter head race, a 2,500-meter race and a 500-meter sprint race on Saturday evening. On Sunday, the teams will battle in a half marathon for 13.1 miles.
"Every single year, we keep coming back stronger," said Andrea Kahn, a member of the Stetson Women's Rowing Team. "We're looking forward to hopefully putting First and Second Place ribbons on some of our girls."
Kahn, a junior accounting major from Kissimmee, joined the rowing team a year and a half ago.  The women's team practices on Lake Beresford each morning from 6 a.m. to 8 a.m., six days a week.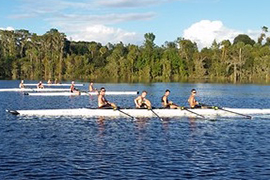 "It's really exciting to be able to host over 1,000 athletes at our home base, where we get to row every single morning," she said.
Stetson plans to break ground in the spring of 2017 on the $4.9 million Sandra Stetson Aquatic Center, named for a great-granddaughter of the university's namesake, John B. Stetson. The 10,000-square-foot center along Lake Beresford will be the home for the Stetson's Rowing Teams and provide space for water research when completed by late December 2017.
Admission is free to the Fall Rowing Rendezvous and the public is invited. Food trucks will be on site to sell refreshments. For more information, visit http://www.stetsonrowing.com.