Stetson University In the News, Nov. 5-12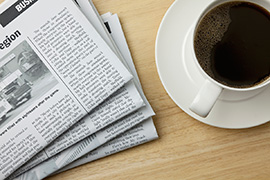 Top Stories:
K.C. Ma, Ph.D., C.F.A., director of Stetson University's Roland George Investments Institute, and the Roland and Sarah George Chair of Applied Investments, was quoted in the article, "3 Financial Lessons to Learn From Donald Trump's Victory," noting that risk management is essential, posted by Yahoo Finance and several other outlets Nov. 9.
Stetson University and Adventist University of Health Sciences signed an initiative to collaborate in Integrative Health Science research and between students involved in the program, posted by WZVN-HD and several news outlets on Nov. 4.
Law Professor Ciara Torres-Spelliscy's article "Dark Money As a Political Sovereignty Problem" was published in Legal Theory Blog on Nov. 9.  Professor Torres-Spelliscy's quote in a U.S. News article, "The Changing Electorate Makes a Win Hard for Donald Trump," ran Nov. 8 on AOL.
 Law Professor Lance Long is quoted in the Nov. 6 Tampa Bay Times article, "PolitiFact Florida: Utility group says Amendment 1 protects seniors, but measure offers no new regulations."
Law Professor Peter Lake is quoted in the Nov. 7 The Harvard Crimson article, "The Harvard Admission Lawsuit, Explained." Professor Lake is quoted in The Christian Science Monitor article Nov. 9, " 'Woman of the Year': Glamour honors Stanford sexual assault survivor." The story also ran on Yahoo! and Yerepouri News. Professor Lake is also listed in "ProfNet Experts Available on Transgender Bathroom Issues, Al Jazeera Anniversary, Job Creation and Politics, Mor," via PR Newswire that was picked up by 72 other media outlets.
Other News:
Dave LaRue, a former Stetson University adjunct professor, performed with his band at Will's Pub in DeLand, Monday night. As an advisory board member for the Bass Player magazine, LaRue is also internationally recognized by Music Man, posted by Ticket Fly, Nov. 6.
A Pita Pit restaurant is looking for approval to open by the southwest corner of the Plymouth Avenue and Woodland Boulevard intersection. Its proximity to Stetson University was among the reasons this location was targeted, posted by the Daytona Beach News-Journal, Nov. 3.
Fourteen-year-old Stetson student, Danielle Carson, was featured in the article "Extraordinary Potential," where her mathematics skills defined her as a prodigy and genius, posted by Lake and Sumter Style on Nov. 1.
Law Professor Charles Rose is quoted in 24/7 PressRelease after Stetson's Advocacy Teams had big wins this past weekend in their competitions. The news ran in 65 other media outlets.
 Attorney and Pro Bono Initiative coordinator in the Veterans Advocacy Clinic Trista Miller is quoted in Nov. 4 WLRN article, "VA Backlog Could Swell to 10 Year Wait for Vets with Denied Disability Claims." The story ran originally in WUSF and American Homefront Project shared the news that ran in KPCC as well.
Press Release via Public Now announced that Stetson University College of Law hosted the fourth annual wetlands workshop with the Environmental Law Institute.
WMBF News and Bay News 9 published information on Stetson Law's elder consumer expo on Nov. 9 that will educate seniors about scams and fraud.
Alumni News:
Adriana Linares will be featured in a webinar series, "Webinars for Busy Lawyers,"  providing Microsoft Outlook tips for lawyers. Graduating from Stetson University with a bachelor in geography, Linares went on to launch LawTech Partners in 2004, posted by Mass LOMAP Nov. 8.
Law alumna Michele Leo Hintson, Tampa partner of Shumaker, Loop & Kendrick, LLP, was mentioned in Tampa Bay Newswire for serving as a panelist in The Winning Edge Professionalism Panel & Networking Event hosted by the Stetson Chapter of The Florida Bar Young Lawyers Division Law Student Division and The Florida Association of Women Lawyers at Stetson on Oct. 27. 
Law alumnus Rena Fraizer was mentioned in a SaintPetersBlog article about his loss to Ross Spano in HD 59.
Law alumnus Chris Sprowls was featured in the Nov. 3 WUSF article, "House District 65 Candidate Chris Sprowls."
Law alumnus Brian Lober is named finalist in LEAD Brevard's 4 under 40 finalist in Florida Today.
Law alumnus Anthony Russo published an article on JD Supra, "What's a court to Consider After a Post-Suit Payment."
Law alumnus Donald Thomson was honored by Bonita Springs Chamber of Commerce with the Pat Lord Award and announced via Contacto Latino News