Stetson, Adventist University Unite to Create New Career Pathways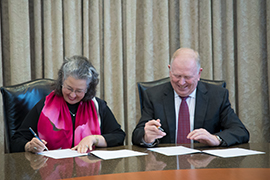 ORLANDO – Stetson University and Adventist University of Health Sciences (ADU) signed a milestone agreement on Thursday, Nov. 3, to collaborate in the creation of new opportunities for their students.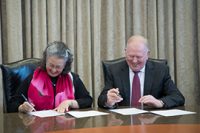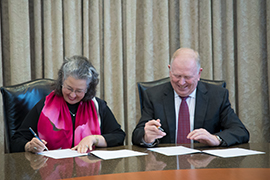 "Stetson and ADU are far more complimentary than competitive," stated Dr. David Greenlaw, President of ADU. "ADU has access to world-class clinical facilities at Florida Hospital with several graduate degrees like Physician Assistant and Physical Therapy where we can build bridges for our students. There are also some opportunities for joint research in the health sciences."
The agreement outlines several career pathways that Stetson and ADU students can follow toward earning degrees at either campus as well as dual-degree offerings. These new prospects introduce stronger career options for graduates. Dr. Wendy B. Libby, President of Stetson, said, "Some of our MBA students may like to add the Masters in Healthcare Administration from ADU, and those students may like to pursue graduate law degrees with Stetson. Students in our life sciences programs can prepare for entrance to ADU graduate degrees in physical therapy or occupational therapy. This agreement really opens up new career options for our students."
The partnership will bring other benefits as well. Students from both schools will have the opportunity for collaborative research as well as access to certain campus clubs, events and facilities.

This agreement also captures the attention of Florida Hospital. "More than ever, the delivery of quality, cost-effective healthcare requires creative minds to find innovative solutions," explains Daryl Tol, President and CEO of Florida Hospital, Central Region. "Stetson's stellar academic reputation combined with ADU's clinical expertise will prepare students to make real and substantial contributions to the healthcare industry."
Members from both universities are excited about the positive contributions this collaboration can bring to their campuses and local community by providing enhanced courses to better equip students entering the workforce.
About Stetson University
Founded in 1883, Stetson University is the oldest private university in Central Florida, providing a transforming education in the liberal arts tradition. Stetson stresses academic excellence and community-engaged learning, and consistently earns high marks in national rankings. Stetson encourages its students to go beyond success to significance in their lives, the lives of others and their communities.
About Adventist University of Health Sciences (ADU)
Adventist University of Health Sciences (ADU) is a Seventh-day Adventist institution specializing in healthcare education in a faith-affirming environment. Service-oriented and guided by the values of nurture, excellence, spirituality, and stewardship, the University seeks to develop leaders who will practice healthcare as a ministry. ADU fulfills this mission by developing skilled professionals who live the healing values of Christ.
ADU offers undergraduate and graduate programs including:  Biomedical Sciences, Diagnostic Medical Sonography, Health Sciences, Radiography, Nuclear Medicine Technology, Nursing (BSN), Nurse Anesthesia, Occupational Therapy, Healthcare Administration, Physician Assistant, and Physical Therapy. The University is associated with Florida Hospital and the Adventist Health System.
ADU embraces the benefit of whole person care as demonstrated in the life and ministry of Christ. The University is dedicated to developing skilled professionals who live the healing values of Christ. Graduates who live these values effectively extend the healing ministry of Christ.