Brown Innovation Fellows: Inspired to Learn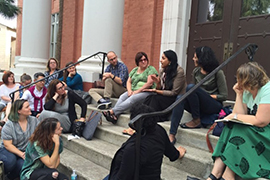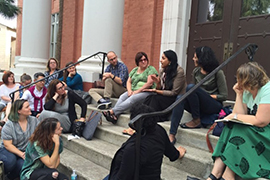 Stetson University's Brown Innovation Fellows, a group of teacher-learners immersed in a yearlong journey of reflective dialogue and meaningful discussions about teaching and learning, are setting their sights high this year.
Thirteen Fellows were announced for this year's cohort in December, and they are using the inspiring and ground-breaking novel by Parker Palmer, "The Courage to Teach: Exploring the Inner Landscape of a Teacher's Life" as a transformative guide.
"I picked the book as the framing guide for this group because it deals very effectively with an educator's identity and building community in the classroom – an important component to building classrooms that are inclusive of all learners," explained Julia Metzker, Ph.D., executive director of the Brown Center for Faculty Innovation and Excellence. "Parker Palmer's book has become a classic text in this sense."
One of this year's participants, Rajni Shankar-Brown, Ph.D., associate professor of Education, said she read Palmer's book a few years ago and found it "resonated on many levels."
"Having the chance to reread the text and engage in conversations, especially on critical questions posed by Palmer, has been so rewarding," explained Shankar-Brown, also Director of Education Graduate Programs and the Jessie Ball duPont Chair of Social Justice Education. "Connecting with colleagues across campus, including many dynamic faculty members who recently joined our community, has been remarkable. Our time together is a gift, particularly as we grapple together with complex pedagogical questions and issues."

Stetson University assistant professor of Sociology, Sharmaine Jackson, Ph.D., was inspired to become a Brown Center Fellow so she could better interact with students where they are in their learning process and give them the tools to follow their dreams.
"As a Fellow, I have learned from my cohort through the sharing of their successes and challenges. This space provides me with a sense of community as well as encouragement. I have learned that while we may come from different disciplines, we have much in common when it comes to the teachings we undertake," said Professor Jackson. "Ultimately, I hope that by being a Fellow, I will become more adept at teaching 'with' versus teaching 'to' students as they develop skills to think critically about their place and role in local communities – at the national level and as global citizens."

Each year, the professors and their students at Stetson benefit during the Brown Innovations Fellows experience, a signature program of the Brown Center for Faculty Innovation and Excellence and made possible by donations from longstanding University Trustees Hyatt and Cici Brown.
"All of last year's participants have done interesting things in their courses from their experience last year," said Metzker.

One example is Matt Hurst, assistant professor of Finance at Stetson, who provided an invaluable leadership role in designing an honors curriculum in the School of Business Administration as a result of his experience with the Brown Innovations Fellows.
"The group helps faculty members evolve and become who they want to be as educators," said Hurst. "The list of beneficiaries include the faculty themselves, the students who are exposed to more impactful learning experiences, and the university as a whole. Stetson has always been known for having great teachers and this program ensures that legacy will continue and grow."
The proof of success in this year's Brown Innovation Fellows Program is already evident. The current group has developed a conference presentation,
"The Courage to Teach: Using a Faculty Learning Community to Reframe the Role of the Professor" will have a statewide audience. The Fellows are slated to showcase their presentation at the 2017 Sunshine State Teaching and Learning Conference in mid-February.
"I am grateful to be part of this program and at a university dedicated to facilitating deep and engaged student learning," said Professor Shankar-Brown. "As I tell my students who are preparing to teach and serve as educational leaders, a commitment to reflective practice and lifelong learning is vital for professional and personal growth."
-By Trish Wieland
2017 Brown Innovation Fellows




                                    Carol Azab, Assistant Professor of Marketing
                                    Heather Edwards, Visiting Assistant Professor of Mathematics


Madison Creech, Brown Visiting Teacher-Scholar Fellow in Creative Arts
Rachel Core, Assistant Professor of Sociology (alumna)
Michael Eskenazi, Assistant Professor of Psychology
E. Lamerial Jacobson, Brown Visiting Teacher-Scholar Fellow in Counselor Education
                                    Grace Ramsey, Visiting Assistant Professor of Studio Art
Sharmaine Jackson, Assistant Professor of Sociology

Shun Kiang , Visiting Assistant Professor of English
Joyce Mundy, Assistant Professor of Education
Michele Randall, Visiting Assistant Professor of English  (alumna)            
Rajni Shankar-Brown, Associate Professor of Education and Jessie Ball duPont Chair of Social Justice  


Petros Xanthopoulos Assistant Professor of Decision and Information Sciences