Hatters Trying for Championship in Nashville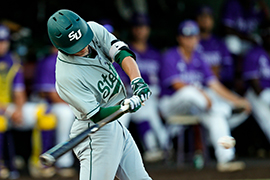 For the Stetson Hatters, Lipscomb's Ken Dugan Field should bring back fond memories of an improbable championship run last spring.
The Hatters hope to celebrate another ASUN Championship this weekend as they face the host Bisons in a three-game series.
On Thursday night, May 18, the Hatters lost the series opener, 2-3, and will try to even things up on Friday at 7 p.m. ET. The three-game series concludes on Saturday afternoon.

With Thursday night's loss to Lipscomb, the Hatters watched their five-game win streak come to an end and, more importantly, saw their chance at taking the ASUN regular season crown for the first time since 2011 made much more difficult to achieve. League-leading Jacksonville made sure of that with a 5-4 win in 11 innings at North Florida, giving the Dolphins a two game lead with two to play.
The ASUN Tournament takes place next week, May 24-27, at Melching Field in DeLand.
Stetson entered the weekend just one game behind JU in the race for the ASUN title and No. 1 seed in next week's tournament in DeLand. The Hatters need only tie with JU, thanks to a series win over the Dolphins two weeks ago, to claim the top seed and no worse than a share of the title.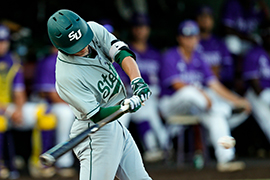 For Stetson, it is the first time since winning the ASUN regular season title in 2011 that the Hatters entered the final weekend of the season within striking distance of a championship.
For Hatters coach Steve Trimper, this is his first encounter with Lipscomb as well as with Bisons head coach Jeff Forehand. Trimper had never faced a team from Tennessee in his career before as a head coach.
Lipscomb came into the weekend having lost five straight games overall this year, but the Bisons also arrived while riding a four-game win streak against the Hatters. Lipscomb defeated Stetson 9-5 in the opening round of the 2015 ASUN Tournament in Ft. Myers and then swept three games from the Hatters last spring in DeLand.
It was after suffering that sweep on the final weekend of the season last year that Stetson went to Nashville and won four straight to win the ASUN Tournament title. The teams did not meet in the tournament, but Stetson should have good feelings of their title run there.
-GoHatters.com