Wunderkammer: Cabinets of Wonder at Gillespie Museum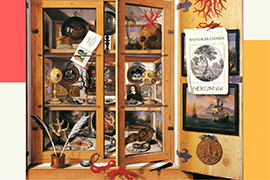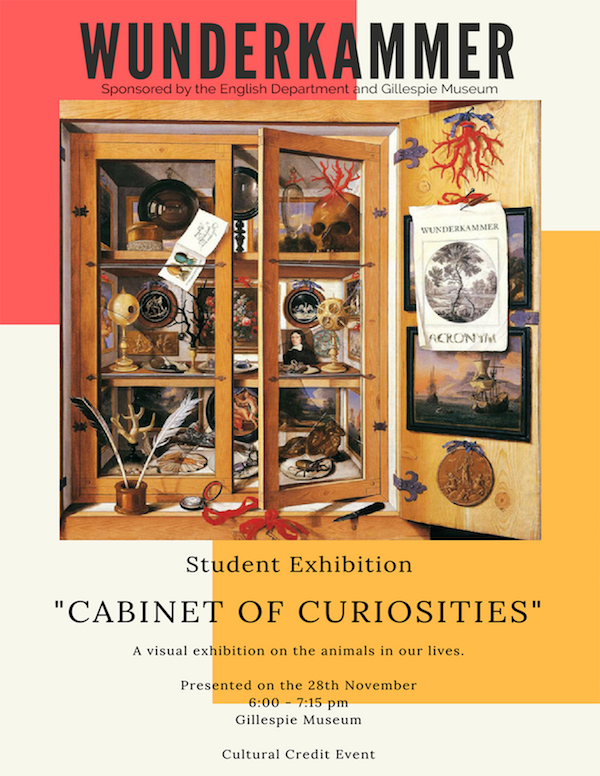 Stetson University's Gillespie Museum will open a Wunderkammer Gallery on Tuesday, Nov. 28, from 6 p.m. – 7:15 p.m. This exhibit of student work is a modern expression of one tradition of the Renaissance museum.
During the sixteenth and seventeenth centuries,  collections of natural objects became as common as collections of works of art and often both types were housed in one repository, whether a case, a cabinet, a room or a building. Before scholars and collectors clearly distinguished between art objects and natural specimens, the lines between art and science were sometimes blurred in these museum spaces. Wonder was the distinction.
Students in a junior seminar, "Art and Animals," taught by Mary Pollock, Ph.D., Stetson professor of English, are again blurring those boundaries.
"Like the traditional Wunderkammern," explained Pollock, "their cabinets contain disparate materials, but unlike the traditional cabinets of curiosity, these are themed, exploring such issues as the treatment of zoo animals, the ethics of pet-keeping, and the endangerment of wildlife through anthropocentric changes, including pollution, habitat loss and climate change."
Student creators will be available to discuss their works during the opening.
Admission to the gallery talk is free and open to the public, and Cultural Credit is available to undergraduate students. The Gillespie Museum is at 234 E. Michigan Ave., DeLand. For more information call 386.822.7330.
"The main exhibit room of the Gillespie Museum is a very suitable context for this installation," explained Karen Cole, Ph.D., museum director. "Among its rare mineral specimens, both beauty and natural science are on display."
The exhibit will remain in the Gillespie Museum through Friday, Dec. 8; regular visiting hours are 10 a.m. – 4 p.m. daily.