Finding His Passion on the Water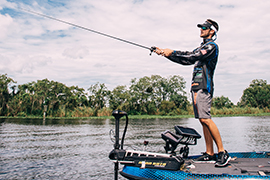 Thomas Oltorik was hooked the first time he dropped a line in the water.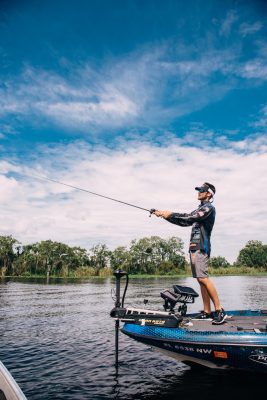 There was something about fishing that made him feel complete, the challenge and connection to nature, even as a child.
Little did he know then that, years later, fishing would bring him major accolades in college and maybe much more in the near future as a professional bass fisherman.
Oltorik, 24, is finishing up his MBA degree soon at Stetson University, where the graduate student was a member of the school's competitive bass fishing team.
Earlier this year, he was named one of 30 All-America college fishermen, along with his younger brother and teammate, James, after attending Daytona State College. While there, they led that school's competitive bass fishing team vs. other teams from Florida to Wisconsin.
"I still totally enjoy even just walking to a dock and throwing a line out," he said. "It burns that stress off. It's relaxing."
But it's also rewarding.
Consistency was always his strategy in the eight tournaments Daytona State entered each year. And over four years, the weight of the bass he caught resulted in an impressive enough number of points to land him All-America status.
"It's one of the coolest parts of all this. I strove all my career to qualify (among the leaders), so I had no scores of zero," he said. "You don't want to win one and lose the next 10."
Oltorik is preparing for his first major professional tournament on Lake Okeechobee Jan. 5-7, 2018. He plans on spending the week before the event "scoping things out," looking for the best "untouched" spots to land the heaviest five bass and win $20,000 or more against up to 200 other competitors.
"My expectations are to perform the same way as I did in college, if not winning it, to be right there," Oltorik said. "For me, it's like in school. The more I prepare, the better I do."
Like top athletes in any sport, a strong work ethic pays off. An elite fisherman cannot expect to simply drop a line in the water, wait and pull up the biggest bass.
"What separates things is the angler's ability to know what each spot needs as far as bait, presentations (lures) and timing," said Oltorik, who entered his first tournament at age 12 as an amateur. "Each spot is different."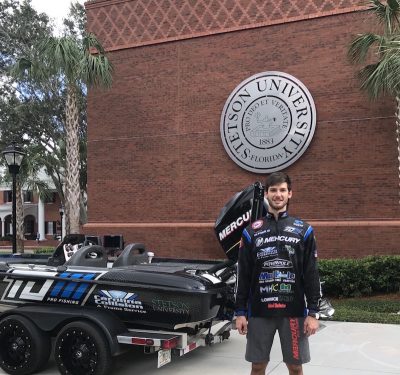 Because of the added demands as an MBA student, Oltorik had to cut back on the number of tournaments he entered with the Stetson Bass Fishing Club, which is open to all students on campus.   
"Most colleges now have teams. The bigger teams have recruiters, like with other sports, and give scholarships," he said. "You go head-to-head with schools like Auburn, Alabama and Valdosta State."
In 2012, Oltorik helped start the Daytona State fishing team and ultimately landed some financial support from the school's Board of Directors, after he and his brother won two tournaments.
Now, Oltorik has many sponsors that provide him with everything from a boat and motor to fishing rods and sunglasses. And he's working on marketing an invention, a gadget to assist fishermen, with the help of Stetson business professor Lou Paris, who specializes in mentoring budding student entrepreneurs.
"It's a neat idea. Thomas is doing a patent search and seeking a provisional patent. He's doing work on the commercial side to pitch it," Paris said. "He has one course left to finish in May. We'll take him to business-pitch competitions when he'll have more time … He wants to manage a small start-up (company)."
But Oltorik never sees himself being tied down to any traditional business job. In a way, he's still that little kid who's hooked on dropping a line in the water, fishing any chance he gets.
"Honestly, I'd love this to be my career," he said. "It's my love and passion."
-Ray Weiss