Off the Beaten Path in the Greek Islands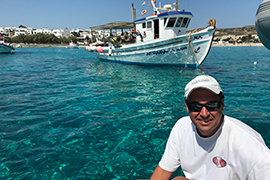 Jason Maddox, '91, a Global IT Account Director for DHL, has had the good fortune of traveling to many worldwide destinations. But it was a trip to Greece last year that left a lasting impression.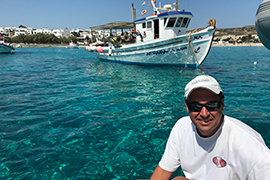 "It's very different from Mykonos or Santorini because it is a little off the beaten path, and because it's not 100 percent reliant on tourism.  That makes it less crowded and less expensive. The beauty of Naxos is it hasn't changed much in all those trips I've done," Maddox added.
The largest and lushest of the otherwise rocky Cyclades, Naxos is sometimes referred to as the "green leaf" of the Aegean Sea, according to CNN.
Of all the places that Maddox has travelled in the world, Greece is a uniquely peaceful experience.
"It's a great place to go to decompress, and there's a reason why I have been there so often.  It's good for peace and quiet. The loudest thing you hear on some islands might be a rooster or some goats.  The beaches are pristine, and the food is outstanding," he explained. "Trips to Paris and other places are full-throttle go with packed days to see museums and take in the sights.  On Naxos and other Greek Islands, it's the opposite end of the spectrum where you downshift, read a book, and get some sun on a nearly empty beach. That's a proper holiday."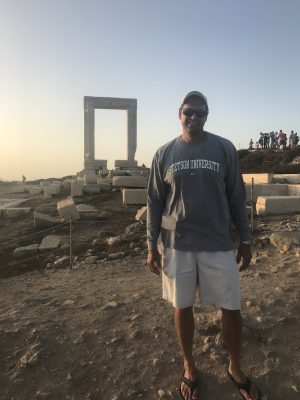 While visiting Naxos, Maddox visited its most famous landmark: The Portara. This is an entrance to an unfinished temple from mid-500 B.C. that looks toward Delos, the birthplace of Apollo.
Another amazing stop on his recent trip was on Koufonisia Island. "The pictures don't do the water justice. It was some of the clearest, nicest water I have seen in all my travels."
-Trish Wieland
Send Us Your Travel Photos: #HatterTravels
Hatters love to travel – around the globe and closer to home. Send us your travel photos with a Stetson Hatters logo for our #HatterTravels photo album. Be sure to send at least 300 dpi to [email protected] and include: #HatterTravels in the subject line, your name, the degree and year you graduated from Stetson, your phone number, when and where the photo was taken, and full names and other information about others in the photo.