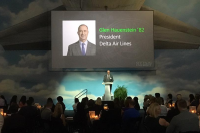 Events for alumni and parents represent an opportunity to not only connect with fellow Hatters, but also to meet current Stetson administrators and other campus leaders, including
Stetson President Wendy B. Libby.
This spring, three major events are scheduled, along with several smaller gatherings.
March 20: Naples, Florida
March 21: Sarasota, Florida
March 27: Washington, D.C.
To view the complete schedule and to register for an event, click here.