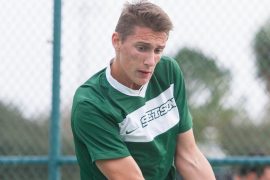 At Stetson, there's an All-American fireball pitcher, along with a beach volleyball team poised for national prominence. Also, there's a softball coach closing in on 700 wins, in addition to a lacrosse team looking to continue its climb.
All and more are on the schedule as part of official intercollegiate athletics for the Hatters this spring.
MEN'S ATHLETICS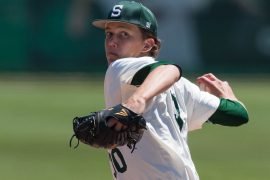 Baseball
For the first time since 2012, the Stetson baseball program is going into a new season ranked among the best teams in the nation. When Collegiate Baseball announced its preseason top 40 teams for 2018, the Hatters were ranked No. 37. The Hatters are the overwhelming favorites to win the ASUN title. Meanwhile, Logan Gilbert, a hard-throwing right-hand pitcher, was named to the Perfect Game preseason All-America first team as well Collegiate Baseball's preseason All-America second team, among other recognition. Gilbert even could be the first pick in Major League Baseball's June draft.
Golf
The Hatters will tee off at four tournaments across Florida before an April trip to California, with a stop in Palm Springs. Head coach Larry Watson is hoping for more strong play from 2017 ASUN All-Freshman performer Chris Williard, as well as the continued development of talented upperclassmen.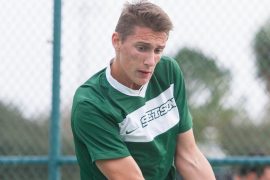 Tennis
One of the deepest and most talented teams in recent Stetson men's tennis history opened the spring season. Not coincidentally, expectations were high, as conference coaches selected Stetson second in their preseason poll. "Talent-wise, this is for sure the best team we've had since I've been here," commented third-year head coach Christophe Noblet. The team is led by Loic Blanco, a three-time first-team All-ASUN selection from France, and Angus Bradshaw, a sophomore from England who earned first-team all-conference in 2017. Also, in early February, fast-rising freshman Malik Bhatnagar of Ontario, Canada, was ranked among the top 125 singles players in the nation by the Intercollegiate Tennis Association.
WOMEN'S ATHLETICS
Beach Volleyball
The defending ASUN Conference champions are scheduled to play at least eight matches against teams ranked in 2017's top 15. The team has enjoyed recent national success, earning top-10 rankings in each of the past four seasons. Head coach Kristina Hernandez, now in her fifth year, was named the ASUN Coach of the Year for the second time in 2017. Meanwhile, Darby Dunn (from British Columbia) earned ASUN honors, and Sunniva Helland-Hansen (from Norway) was named ASUN Freshman of the Year.
Golf
Bolstered by a record-breaking month of October, the Hatters began the spring portion of their schedule in California with high hopes. Last fall, the team completed a historic two days at the FAU Fall Invitational. The Hatters broke the school two-round team record with a score of 583, while sophomore Erikah Neger broke Stetson's two-round individual record with a five-under par 139.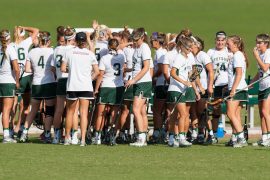 Lacrosse
The Hatters will play a rigorous 17-game schedule, pitting them against their usual ASUN Conference rivals as well as strong non-conference teams from across the nation. Heading into the spring lacrosse season, head coach Christy Leach was focused on continuing to build her program, which is one of only three in Division I statewide. The team won five games last season, its most ever in conference play. The seniors on her team were first-year players when she arrived, and in August she added 10 new first-year players.
Rowing
Success near the end of the fall season elevated hopes for a strong spring. The Hatters earned two gold medals at November's 6th Annual Stetson Fall Rowing Rendezvous at Lake Beresford in hometown DeLand. They were winners in the Varsity 4+ and Varsity 8+ races. Last August, first-year head coach Katie Thurstin announced an especially strong class of new student-athletes, commenting, "We couldn't have asked for a greater group to join our Hatter family."
Softball
For the first time since 2010, the ASUN Championship will return to Stetson's Patricia Wilson Field in May, featuring the top six teams from the regular season. Notably, in 2017 Patricia Wilson Field, for the fifth time, was named National College Softball Field of the Year by the Sports Turf Managers Association. Last season, the ASUN ranked fourth among all leagues in conference "power index." The Hatters finished 26-21 in 2017, posting a winning record for the sixth year in a row. Head coach Frank Griffin, in his 22nd season, entered the spring needing one victory to reach 700 wins at Stetson.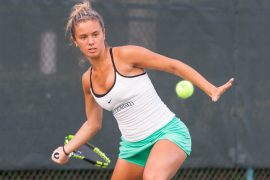 Tennis
Nine newcomers among 14 players highlight a roster that second-year head coach Travis Sandlant has successfully remade. "We have a very young and talented squad. We have to put our heads down and work hard each week." Sandlant said. While youth will be served this spring, Sandlant also will be relying heavily Arijana Korac, the lone senior for the Hatters. Korac, from Sweden, was a first-team All-ASUN Conference selection as a junior.