Winning on a Different Scoreboard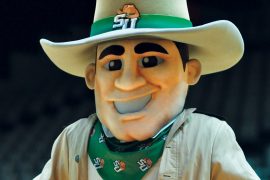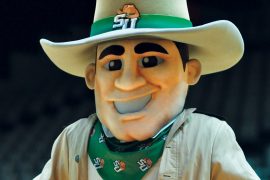 In addition to performing well on the field of play, Stetson student-athletics are proving to be winners in the classroom, too.
Hatter student-athletes who entered college in 2010 graduated at a rate of 91 percent, according to the latest figures released as part of the NCAA's Graduation Success Rate (GSR) Report. The rate marked the fourth consecutive year Stetson has achieved at least a 90 percent graduation success rate.
Overall, student-athletes across the country had a graduation success rate of 87 percent.
The Division I Board of Directors created the GSR in response to Division I college and university presidents who wanted data that more accurately reflected the mobility of college students than the federal graduation rate. The federal rate discounts any student who leaves a school, regardless of whether he or she enrolls at another school. Also, the federal rate does not recognize students who enter school as transfer students.
The GSR formula removes from the rate student-athletes who leave school while academically eligible and includes student-athletes who transfer to a school after initially enrolling elsewhere. That calculation makes it a more complete and accurate look at student-athlete success, and allows for a deeper understanding of graduation success in individual sports than the federal metric, according to the Division I Board.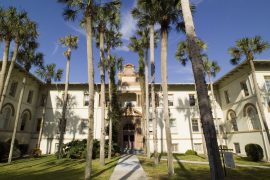 In the report, six Stetson teams demonstrated a GSR of 100 percent: men's soccer, men's tennis, women's basketball, lacrosse, softball and volleyball.
"This level of success requires a strong commitment from the highly educated and talented faculty of Stetson, as well as the staff dedicated to seeing all students attain a degree," commented Jeff Altier, Stetson director of athletics.
"At Stetson, we have developed a culture of champions athletically, academically and within the community. Most fans are familiar with the high profile, professional athletic success of Stetson alums like Corey Kluber, Jacob deGrom, Chris Johnson, Sam Ryder, Ayesha Barkley, Tessa Gavilsky and Jeff Smith, to name just a few that are making a great living at their sport, but not as familiar with the academic success of our athletes.
Notably, since the NCAA began tracking GSR with the class of student-athletes who entered in 1995, the overall rate has increased 13 percentage points, which translates to nearly 23,000 more graduates than if the rate had stayed the same. In that same time period, academic standards for Division I student-athletes improved multiple times, with increases in initial eligibility standards, progress-toward-degree standards and the creation of the Academic Progress Rate, a more real-time mechanism to track a student-athlete's academic success.