Transfer 'Model' Becoming Real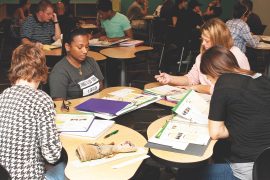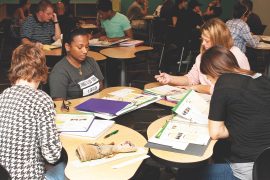 Stetson professor Michael Denner, Ph.D., can write a dissertation about the topic of education accessibility at colleges and universities across America, but his overriding point is captured in this concise statement: "It's in your best interest in my best interest and everybody's best interest in this nation for us to educate more people and educate more broadly."
Today, his mission of making that happen at Stetson is moving closer to becoming reality.
Beginning with the Fall Semester 2018, up to 16 students will enter Stetson's Honors Program as part of an agreement signed in 2016 to automatically admit students from the Quanta-Honors College at Daytona State College. Under the Stetson-Daytona State College Select Program, students also will receive a Stetson scholarship, resulting in no out-of-pocket costs for tuition and fees. For their part, the students must be in good standing in the Daytona State Quanta Honors program, pass certain classes and complete the application process.
Candidates from Daytona State, which is located 20 miles from Stetson's historic campus in DeLand, already are being lined up for enrollment.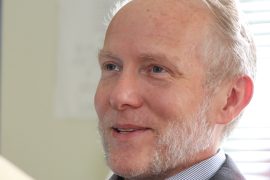 Nationally, fewer than one in seven students with an associate degree transfer to a four-year college and earn a baccalaureate degree, according to published data. Even when they do transfer, students often arrive without the necessary coursework, social network of support and financial resources. In essence, the new program, led at Stetson by Denner, seeks to clear that transfer path for students from Daytona State.
Extending beyond traditional matriculation agreements, under the program Stetson faculty members will advise students about course selection from the time they first enroll at Daytona State, providing students with a list of classes they must take to graduate from Stetson within four years and "priming them for success," says Denner, professor of Russian Studies and director of Stetson's Honors Program.
Generally speaking, Stetson will be coaching students to transfer. "We want them to be well-prepared to transfer to Stetson and when they get here to succeed," Denner says.
More specifically, curricula at Stetson have been designed to enable premed and prelaw students to graduate from the Honors Program with degrees in biology and philosophy, respectively, in four semesters. "That is rare. And more of that needs to happen," Denner adds.
Quanta-Honors College Perspective
Maggie Karda, chair of the Quanta-Honors College at Daytona State, is encouraged. Karda points to the diverse ethnic and economic backgrounds of many students at Daytona State. Often, the students are the first in their families to attend college, or they are nontraditional students (not aged 18 to 22), or they were born outside the United States. The Stetson/Daytona State program offers both hope and help to an outstanding but underserved segment of students.
"This is running along just as we had hoped it would," Karda comments.
"[Students] can see a path to get to the goal they want to get to. And it's not an overwhelming path, because we have it defined for them. … We have that light for them at the end of the tunnel."
Only a few months from the program's official beginning, Karda compares current events to "watching a plant grow."
"We put the seeds in, watched the seedlings go into the soil, and now they're popping up. And we're watching them grow," she says. "That has been rewarding, to see it unfold like it has. And I have to say, nobody could have had better partners at another institution than we had [at Stetson]."
Further, as the program matures, Denner hopes it helps to drive transfer enrollment at Stetson, in general, by strengthening a "transfer-supportive culture."
"If this is done well and it's successful, and I think it will be successful, this is our chance to contribute to the future, because more people being better educated means a richer, more vibrant place," Denner says.
"This could be a model. Nobody is doing anything remotely like this anywhere in the United States."
– Michael Candelaria