Aquatic Center Takes Shape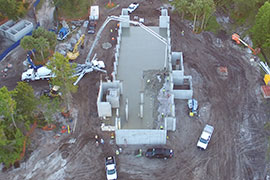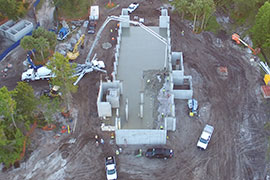 Construction on the Sandra Stetson Aquatic Center is moving ahead full oar.
Site work on the center began in early November 2017 on 10 acres along Lake Beresford, seven miles from Stetson's historic campus in DeLand. Construction completion remains scheduled for Oct. 31, says Al Allen, Stetson's associate vice president for Facilities Management.
A brief construction update, according to Allen: The exterior walls of the boat house are being built, while the public restrooms' walls/structure and rough plumbing are finished. A storm-water retention pond has been dug, the sanitary and potable water lines have been installed, and the pilings from the former marina have been removed. See construction video, dated April 2.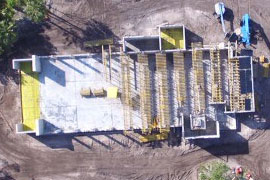 The two-story center will provide a permanent home for Stetson's intercollegiate rowing teams, a space for water study and research, and non-motorized public recreation access to the lake. The initial phase of construction costs approximately $6.2 million.
For men's and women's rowing, there will be storage for dozens of boats on the first floor, as well as training equipment. Aside from rowing competitions, the center will serve as a winter training site for high school and college rowing teams. Notably, the roof of the facility is designed to resemble a boat.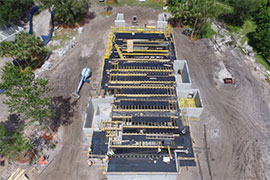 The second floor will support academic use, along with activities of the Institute for Water and Environmental Resilience, and will be completed in a second phase once additional funds become available. It will house classroom and research areas, with glass walls on three sides and a balcony.
Outside, trails and elevated walkways will lead to the water's edge. On the shores of Lake Beresford, there will be docks to launch crew boats and a viewing platform that will overlook the lake.
Named after the great-granddaughter of the university's namesake, John B. Stetson, the center comes by virtue of Sandra Stetson's $6 million donation plus a $400,000 Volusia County ECHO grant (for environmental, cultural, historical and outdoor recreation projects). University leaders and student-athletes gathered in April 2017 for a ceremonial groundbreaking.
–Michael Candelaria