Stetson Celebrates Commencement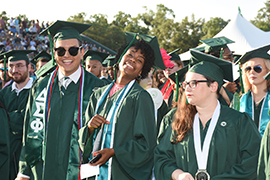 Graduating senior Zoe Weaver has heard plenty of criticism about "kids these days," she said during her Student Address at Stetson University's Commencement on Saturday morning.
People say "kids these days" are lazy and bad communicators. They feel entitled and aren't ready for the real world. But that's not what Weaver has seen among students at Stetson, she told her fellow graduates.
"When they say you will never own a house, say that's okay. I would rather have a passport full of stamps than a house full of stuff. When they say the planet will overheat and explode before you have grandchildren, then say … well, this is the world we inherited, but at least we are trying to fix it," said Weaver, who graduated with a B.A. in global development and has received a scholarship to study Mandarin Chinese in Taiwan.
She was one of two Student Speakers selected for Stetson's 133rd Commencement on Saturday morning, May 11, in Spec Martin Memorial Stadium. Stetson has a long tradition of selecting graduating seniors to speak at Commencement, and it is considered a high honor by students, faculty and administrators.
On a bright, sunny morning, Stetson honored 817 students with undergraduate degrees. Another 174 graduate students received their master's degrees Thursday evening. Combined, Stetson's graduating class of 991 students set a new record for the university.

"As you embark on this journey, remember that you may be graduating from Stetson, but you are not leaving it behind," said Joe Cooper '79, M.B.A. '82, chair of the Board of Trustees. "You are joining a community of alumni that stretches throughout the globe; and you will be leaving with life-long friendships that you forged in the classrooms, playing fields and residence halls. You may be departing Stetson, but Stetson is not departing you."
Student Speaker Justin Dalisay challenged fellow graduates to keep stepping out of comfort zones as they embark on the next chapter of their lives. He recalled arriving at Stetson as a freshman, awkward and shy, but that changed when a good friend told him that "caring too much about what others think about you may be the only thing standing between you and your dreams."
"Leaving this place will be hard and saying goodbye to the people will be even harder. But it all began with a little bit of discomfort. Your biggest risk isn't failing, it is getting too comfortable," said Dalisay, who graduated with a Bachelor of Music with an outside field in business. He will attend Florida State University in the fall to pursue a master's degree in arts administration.
Awards
During the Undergraduate Commencement Ceremony, the following awards were presented to a student and members of the faculty by Noel Painter, Ph.D., Executive Vice President and Provost: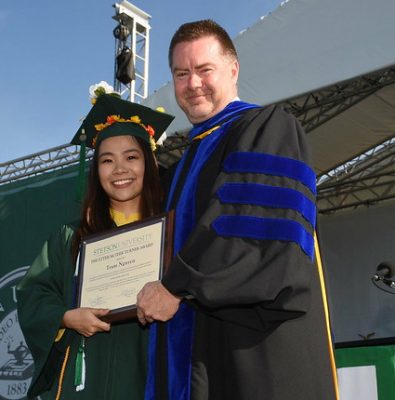 • The Etter McTeer Turner Award honors Stetson's first woman Dean of Students and recognizes the graduating senior who has achieved the highest standard of excellence in academic performance, leadership and community service. The award was established by the family of former Stetson President J. Ollie Edmunds through their Gualala Foundation.
This year's recipient: Tram Nguyen, who double majored in Math and Economics, graduating summa cum laude and member of Phi Beta Kappa, the nation's oldest honorary society. Nguyen is a Bonner student who interned at Facebook, served as an officer for the Hackathon and Asian Pacific American Coalition, and volunteers at numerous sites including the Neighborhood Center of West Volusia.
• The Hand Awards for Distinguished Faculty Achievements recognize faculty for their accomplishments in two areas: Community Impact, and Research, Creative and Professional Activity. Presented to faculty since 1988, they are made possible through the continued generosity of trustee emeritus and alumna Dolly Hand and her husband, Homer Hand.
The first recipient of the Hand Award for Research, Creative and Professional Activity: Spanish Professor Ana Eire, Ph.D., who joined Stetson almost three decades ago and has published multiple books that have received national attention in her home country of Spain, leading her to be considered "the foremost scholar of Spanish poetry in Spain."
The second recipient of the Hand Award for Research, Creative and Professional Activity: Assistant Professor Isabel Botero, Ph.D., Assistant Professor of Family Enterprise and Entrepreneurship. Botero is a prolific scholar who last year was awarded second place in the Adalberto Viesca Sada Family Business in Latin America's Award. She has used her extensive research as the academic foundation for reviving the family business curriculum in the School of Business Administration.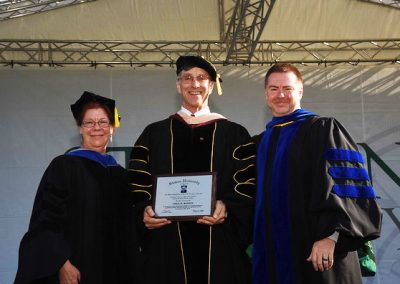 • The William Hugh McEniry Award for Excellence in Teaching honors the former dean of the university, who is credited with strengthening the faculty and academic standards, and elevating the prestige of the university. It is considered Stetson's most prestigious faculty award, based on excellence in classroom teaching and other factors, including intellectual growth, and service to students and the university.
This year's recipient: Craig Maddox, D.M., Associate Professor of Voice in the School of Music, who joined Stetson in 1984. He has performed across the nation in recitals and concert appearances. And his students have risen to a level of national excellence, landing roles in the major opera houses of the country: The Metropolitan Opera, the Lyric Opera of Chicago and the Los Angeles Opera.
Also, Stetson President Wendy B. Libby, Ph.D., awarded an Honorary Doctorate to Dr. F. Harold "Hal" Kushner, M.D., retired colonel from the U.S. Army.
An ophthalmologist in Daytona Beach, Kushner served as a flight surgeon in Vietnam when he crashed in a helicopter during a driving rainstorm with three other soldiers. He was severely burned and suffered broken bones, and eventually was discovered by the Viet Cong, spending 1,933 days in captivity before his release. He was featured in Ken Burns' documentary the "Vietnam War."