Class of 2019: Justin Dalisay Discovers Newfound Love for Music
Justin Dalisay is not a twin.
Never mind the two Justins that you see on his YouTube channel. That's the miracle of technical wizardry that allows Dalisay to accompany himself on acoustic guitar during a video of his hot-fire jaunt through Django Reinhardt's "I'll See You in My Dreams."
"I enjoy playing gypsy jazz for fun on the side, kind of apart from school and stuff," says Dalisay, who graduated with a Bachelor of Music with an outside field in business and a minor in management.
Mention "gypsy jazz" and any guitar aficionado will think of Django Reinhardt, the acknowledged master of the genre.
"Reinhardt is one of my favorite guitar players," Dalisay says. "I play all eras of classical guitar, but I generally lean toward the Romantic era, and I love doing jazz classical arrangements on the classical guitar."
Dalisay's jazz jones isn't entirely divorced from his school studies.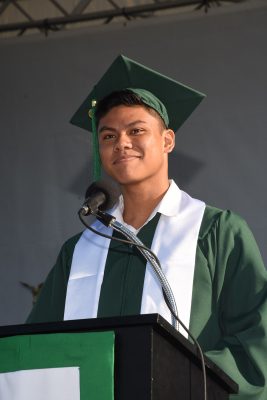 His passions were reflected during his senior recital in March, where he performed a mix of classical and jazz guitar music, including a solo arrangement of Duke Ellington's "In a Sentimental Mood" and a combo arrangement of Chick Corea's "Spain."
Dalisay's musical passions also are reflected on his YouTube channel, which includes his solo classical guitar performance of "Hungarian Fantasy" by Johann Kaspar Mertz, and a gypsy jazz version of the standard "All of Me." The latter, which features Dalisay accompanied by Stetson School of Music alums Ayaka Nishikawa on upright bass and Lyndall Vickers on guitar, has more than 1.2 million views.
The videos are solid proof that when Dalisay achieves his career goal of managing a performing arts venue, he will have no problem if a scheduled performer misses a flight and can't make curtain time: Dalisay certainly can pitch-hit and entertain a crowd with his six-string.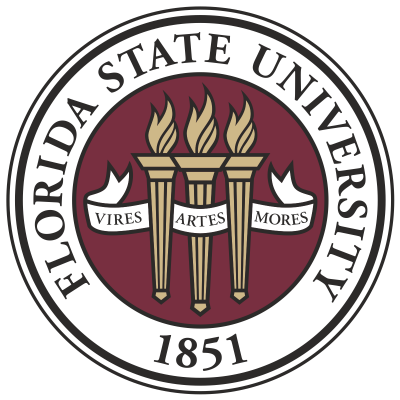 Dalisay will take his next step toward an arts management career when he attends Florida State University to pursue a Master of Arts in arts administration. He received a full-tuition graduate assistantship at the school.
"I will be helping manage their beautiful performance halls," he says. "That will be very exciting for me because that's exactly what I want to do one day."
Dalisay grew up in Jacksonville in a musical family. His father plays guitar and began teaching Justin to play at age 7. His brothers also play guitar, and one plays drums. Dalisay attended Douglas Anderson School of the Arts, a magnet high school in Jacksonville, where he played rock and pop music on electric guitar. Then, "towards the end of high school, I picked up a classical guitar and I just fell in love with it," he says.
In high school he also learned about Stetson's School of Music and especially the reputation of Stephen Robinson, D.M., who founded and has directed the Guitar Program since 1983.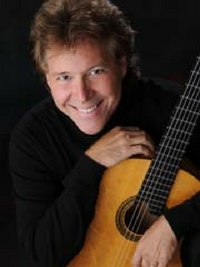 "One of the prominent reasons I chose Stetson was Dr. Robinson," Dalisay says. "Aside from that, when I toured the campus for the first time I had that big Stetson moment of walking through Palm Court and I realized, 'Wow, this place is beautiful and I would just love to live here and study here.' "
His Stetson tenure, he says, "turned me from a guitar player into a musician. My academic and artistic experiences here have really changed my perception of music and the beauty that classical and jazz music really depict. It goes beyond just learning more about the music than I ever knew before in classes, in theory and in aural training. I have a newfound appreciation and love for music as an art form now. That's the big, memorable thing I'm taking away from here."
When Dalisay says the School of Music has "a healthy competitive spirit that constantly challenges you to want to become a better musician," he adds that is part of "the very positive energy here." That positive energy extended beyond the classroom and recital hall.
"They always say you meet your lifelong friends in college, and I personally have met my three closest friends here," Dalisay says. "I know their friendships will last a lifetime."
Those three friends are string players in the orchestral program, and Dalisay – along with playing numerous solo gigs off-campus — says the four of them have performed in various combinations at weddings and other local events.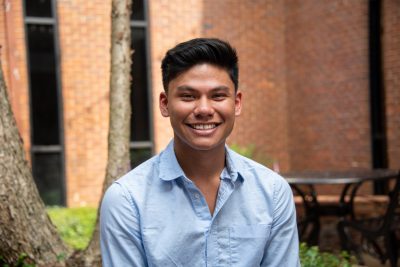 "To play music with my best friends is really a great privilege," he says.
Though his career in performing arts management beckons, don't expect Dalisay to mothball his guitar. At FSU, he is hoping to continue his guitar studies under Bruce Holzman, who also was a professor of Stephen Robinson during his undergrad days at FSU.
"I am a freelance musician as well," Dalisay says. "I do a lot of solo guitar stuff off-campus, such as weddings, musicals, fine-dining restaurants, stuff like that. I will always continue to do that and I will always want to keep taking lessons. I will always play guitar for the rest of my life."
— Rick de Yampert