Beating the Odds, Times Two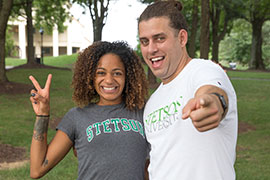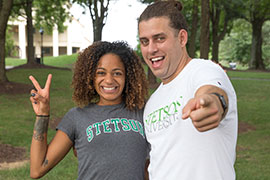 The odds of being awarded a prestigious Jack Kent Cooke Scholarship are razor-thin.
Of the millions of students who attend community colleges nationwide, only 61 were named as Cooke Scholars this year.
And just imagine this: Two of those scholarship recipients attend Stetson.
Hayley Allison Furman, 26, from Sayreville, New Jersey, and Joseph Morel, 30, from Jupiter, Florida, now are calling the DeLand campus "home."
Specifically, the Cooke Undergraduate Transfer Scholarship — named in honor of the affluent and influential broadcasting executive and sports-franchise owner — is a highly selective scholarship for the nation's top community college students seeking to complete their bachelor's degrees at four-year colleges or universities.
Each Cooke Scholar has access to generous financial support for two or three years of education, along with college planning support, ongoing advising and the opportunity to connect with the thriving community of fellow scholars.
"Jack Kent Cooke Scholars are some of the top-performing transfer students from around the country," said Jamie Vanderlip, Stetson's director of Admissions for Graduate, Transfer and Adult Populations. "They bring a richness to the academic community on campus." 
Furman and Morel both said the experience of applying for the scholarship was rigorous and even life-altering, requiring them to dig into times in life that weren't easy.
Learning Through Loss
At the age of 8, Furman lost her father, a Vietnam veteran, to a heart attack. During the remainder of Furman's childhood, her mother suffered from a serious gastrointestinal illness. Ten years after her father's death, Furman's mother lost her battle.
At 19, Furman, who had dropped out of high school, was working a variety of jobs and uncertain about her future.
She returned to school to obtain her General Education Development degree and found she had a spark, a passion and a question related to the untimely passing of her parents: If they had been more knowledgeable about good nutrition, is it possible they would still be here? 
Combined with that motivation and a visit to a friend in Florida, a path was forged for Furman to discover her purpose and jump-start her education at Seminole State College in Sanford, not far from Stetson.
Armed with several academic achievements and awards, including induction to Phi Theta Kappa Honors Society, Furman applied to several universities. However, she was taken by the physical beauty of Stetson, and she discovered the university offered a minor in sustainable food.
Everything else fell into place.
"I'll be focusing on food policy, more specifically policies surrounding food's relation to the environment. A particular area I'm interested in is environmental food labeling," Furman said. "… I want to be at a school where I am happy, with more interaction with professors and not just a number. I have all that here."
Prospective Path to Pennsylvania Avenue
Like Furman, Morel wasn't immediately thinking about Stetson as his top choice. But he eventually warmed to the university, noting, "Stetson felt like more than home."
"Once I stepped foot on Stetson's campus, and this is not to discredit any institution, I felt more joy than I could ever imagine," he added.
Morel graduated from high school in 2007, took a year off and joined the Marines for two years. Then he chose to retire and, subsequently, tragedy struck.
"I lost a close friend who had taken my position [in the Marines], and I didn't want to have that be in vain," Morel explained. "It really lit a fire in me."
After what he described as a frustrating five years to get his GI Bill in progress, he's moving forward at Stetson. And with huge aspirations: law school and the Oval Office in 2036. 
"I want to start by building communities as a whole, and my ultimate goal is to be the 50th president of the U.S.," Morel said. "Earning this Jack Kent Cooke Scholarship is one of the best things that has ever happened to me. Not only to see my dreams, but to know that anything is possible."
– Trish Wieland
Making Their Way to Stetson
Hayley Allison Furman: Seminole State College of Florida, December 2018,
Associate of Arts Degree in General Education (Environmental Studies)

Joseph Morel: Palm Beach State College, May 2019, Associate of Science in Electrical Power Technology; Magna Cum Laude, Phi Theta Kappa, Dean's Award
Palm Beach State College, December 2017, Associate in Arts in Business Administration; Summa Cum Laude, Phi Theta Kappa, Honors College, President's Award
Connecticut School of Broadcasting, 2008; Broadcasting and Communication Degree