Providing A Warm Welcome to Campus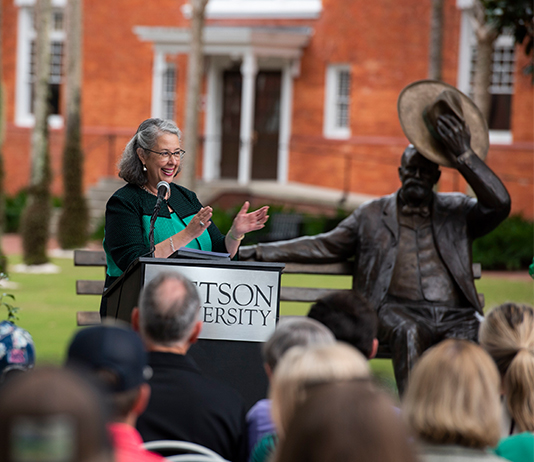 Standing near the new John B. Stetson Sculpture, President Wendy B. Libby said she has long wanted more public art on the university's DeLand campus.
"I've always been an advocate of public art and it has always seemed to me that a place this beautiful needed more pieces of art that people could come and tarry around and enjoy," she said Friday evening at a dedication and ribbon-cutting for the sculpture in Palm Court.
When longtime university supporter Troy Templeton and his wife Sissy approached her about donating a fountain for the campus, Libby saw an opportunity to mention that she had always wanted a statue of the university's benefactor on campus.
Those two pieces of outdoor art – the John B. Stetson bronze statue and Templeton Fountain – were both donated by the Templetons and dedicated on Thursday and Friday, Oct. 17-18.
"Both of them together help to redefine the physical space that is Stetson University's DeLand campus," Libby said.
Sculptor Erik Blome worked for a year to design and create the larger-than-life statue, seated on a bench, tipping one of his signature hats. Located near the university's main entrance, Stetson welcomes students, faculty, staff and visitors to a campus that relied on his philanthropy in order to survive in its early years.
Donor Troy Templeton '82, MBA '83 said he made only two requests of the sculptor in making the statue of the famed hat maker. "I wanted a twinkle in his eye and a little bit of smile on his lips," he said, adding that he wanted Stetson to provide a warm welcome to visitors and passersby.
When the Templetons learned Libby planned to retire in June 2020, they decided to dedicate the sculpture in her honor. A search is underway for her replacement.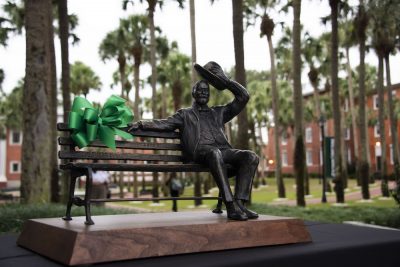 At Friday's ceremony, Templeton also unveiled the sculptor's first maquette, a miniature scale model created during the early design work. Templeton said he and his wife wanted to give the maquette to Libby as a gift.
"In 136 years, there have only been nine presidents, which is pretty amazing for any institution," said Templeton, a former university trustee and managing partner in a private equity firm in South Florida. "And there are few presidents who have had the impact that Wendy has had on this institution."
Templeton read off a partial list of her accomplishments since she arrived in 2009, including growing the undergraduate student population by more than 50 percent, adding 50 faculty members and increasing faculty salaries, more than doubling the university's endowment and overseeing many new building projects.
"So, Wendy, thank you. You're going to be tough to replace. You're going to be missed, but you're not going to be forgotten," he said.
Libby called Stetson "a visionary of his time." Without him, "this beautiful campus and fine university would not be possible," she said.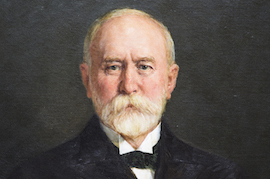 Stetson and his wife, Elizabeth, funded much of the university's growth in the early years. They donated money to build the first president's home, which stood on the site where the duPont Ball Library stands today. They donated funds for dormitories, including Chaudoin Hall, as well as Elizabeth Hall and the first free-standing library on campus, Sampson Hall.
"I'm really honored to have served as the president in the shadow of Mister Stetson in his legacy," Libby said. "At the end of June, I'll retire after 11 years and will always think about the impact that he had here that was so profound and widespread. He'd be very, very proud of what this university is today and can be for another 100-plus years."