Innovation Lab: Where Technology and Creativity Meet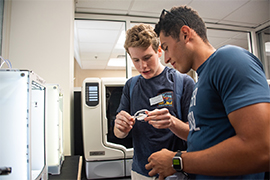 Stetson student Dennis Claros can frequently be found inside Stetson's Innovation Lab, working on a new creation on one of the 3D printers.
"I just 3D print anything I find interesting," he said. "I haven't done anything fairly serious or school-related – just stuff for fun."
The Innovation Lab is located on the main floor of the Stetson duPont-Ball Library and contains a wide variety of tools and equipment for classwork and personal projects, from a woodworking workshop to virtual reality headsets and gloves, plus all the equipment to develop 3D video games.
Many students, like Claros, say the 3D printers and scanners are the biggest draw in the Innovation Lab. Miniature creations of a human skeleton, animals or a spaceship can be found on shelves. The lab allows students to come in any time that the library is open. And best of all, the 3D printing and the other services are free for current Stetson students, faculty and staff.
A brief safety training is required before using some tools in the lab, such as power tools. Workshops also are offered periodically to teach students how to use the hi-tech equipment. Two more sessions are available this semester: Wednesday, Nov. 20, at 3 p.m. and Tuesday, Dec. 3, at 7 p.m.
Cultural Credit is available. Spots are limited, so please sign up. The Innovation Lab hosts these workshops every semester, usually two a month, so check back in the Spring semester for additional times.
Chris Finkle, night tech specialist for the Innovation lab, said the university put the lab in the library to make it more accessible to students and encourage more of them to wander in.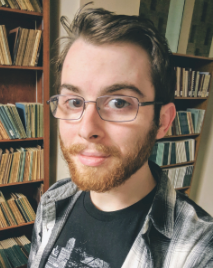 "Everyone is comfortable coming into the library," said Finkle '17. "Kids just hang out in here sometimes. It's a cool lab, so you can always expect to see some people in and out of here."
For more information, visit the Innovation Lab website, where video tutorials also explain how to use the 3D printers.
-Student writer Ajah Conage '22