Building From the Ground Up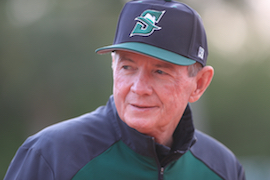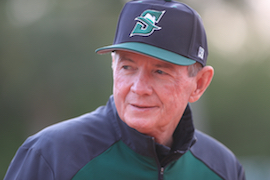 Editor's note: This article appears in the Spring issue of Stetson University Magazine, now available online.
As the season began this spring, Frank Griffin, one of the most successful coaches in women's Division I softball, had amassed 966 career victories during 30 seasons, an average of more than 32 wins per year.
That victory total ranked 24th among active NCAA Division I coaches and 38th on the all-time Division I coaches list.
As head coach at Stetson during the previous 23 years, Griffin led the Hatters to 741 wins, 19 appearances in conference tournaments, two regular-season championships, two conference tournament titles and two appearances in the NCAA Tournament. (This season, in early March, a 2-1 win over Northern Kentucky gave Griffin his 750th victory with the Hatters and left him 25 wins shy of 1,000 for his career.)
And there are no signs of stopping. Instead, there is enduring passion.
His story at Stetson began rather innocuously.
"My wife and I decided to move to New Smyrna Beach in 1989 after seven years of coaching at Winthrop University in South Carolina," recalled Griffin. "We love the beach lifestyle, but after dabbling in some other things for a few years, I realized something was missing in my professional life. My wife, Marla, who also realized this, called the coaching staff at Stetson and told them I wanted to coach. Every day I'm thankful she did that."
Steadily, though, the story turned with great intensity.
Griffin coached the Hatters on a volunteer basis for a year and became head coach in 1996. Back then, the softball team played its home games at Sperling Sports Complex, approximately 5 miles from campus. Griffin, though, sought to build a world-class program and knew the team needed its own field on campus, along with a first-class training facility.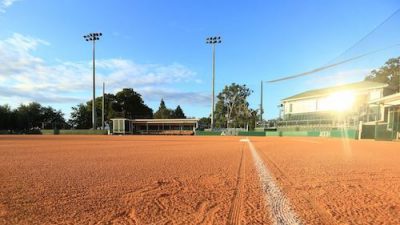 In characteristic style, he swung for the fences, and reached them.
Griffin immediately began a fundraising effort for Patricia Wilson Field, which today is a six-time National Field of the Year winner and the crown jewel of Atlantic Sun Conference softball facilities. Most recently, the field was Sports Turf Managers Association National College Softball Field of the Year.
The 2003 season marked its arrival on campus, but additions and improvement continued for another six years.
"The administration was very supportive throughout the entire process," Griffin said. "At one point, we ran out of money. But I convinced [university officials] to let me start building the backstop on my own. Soon, word got out that this crazy coach was out there by himself shoveling dirt around, and $96,000 came in from people who wanted to help. I guess you can call this my field of dreams."
Often, the coaching staff would be on the field before sunrise, and Griffin wouldn't leave until sunset.
Team members did their part, too — to ensure the field would be ready for play. They rolled wheelbarrows, carried supplies, shoveled dirt and more.
Not coincidentally, his team quickly began to excel between the lines, as the saying goes. Griffin demanded much; he received much in return.
Additionally, in his first five years at Stetson, Griffin spearheaded a movement to make the softball program more competitive by adding scholarships. They proved to be seeds of another sort. In 1997, Stetson Softball awarded 2.3 scholarships to student-athletes. A year later, the total more than doubled. And that trend has continued until full bloom.
Griffin deflects praise.
"Stetson is attractive to female athletes because of the quality of education, family atmosphere and great athletic facilities we offer," he said. "Recruiting athletes is a big reason we've been successful over the years, and offering scholarships is a critical part of this process."
Griffin has then taken those student-athletes and molded them, not only to be excellent on the playing field but also in life. Further, he takes special pride when former players — active, productive Stetson alumnae — return to campus and tell him they listened, and that he helped them move forward.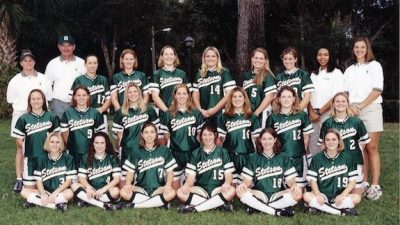 One such former player is Joanna "JJ" Payette '06, who later became an assistant coach, working with Griffin from 2003 to 2019.
"He's a teacher, first and foremost, and he's demanding because he wants the best out of everyone," explained Payette, now also a member of Stetson's Alumni Association Board of Directors.
"The most important thing for Coach Griffin is making sure his players graduate. He puts his heart and soul into what he does both on and off the field and is completely dedicated to his players. And he never turns his passion off, which is why he's been so successful over the years."
By the way, Griffin will need such fortitude this season, as the Hatters look to rebound from last season's 16-31 record. There are nine newcomers and 14 returning players. A rebuild is in progress. (Stetson Today editor's note: In mid-March, of course, the softball season, as with other spring sports, was canceled.)
Yet, for Griffin, watching players transition from juniors and seniors in high school, when the recruiting process begins, through college and beyond, and then seeing them grow as people, is greater than any softball victory.
"I hope my players feel I was always honest with them, albeit sometimes painfully honest if I was telling them what they needed to work on or why they weren't in the starting lineup," Griffin concluded. "More than anything else, I want all of them to be successful and happy in life, and to choose a path they truly love."
– Jack Roth
DID YOU KNOW?
Before Frank Griffin turned his attention to softball, he was a soccer star. A 1979 (bachelor's degree) and 1983 (master's degree) graduate of Winthrop University, Griffin played soccer and was named Most Valuable Player and captain, earned all-district honors three consecutive years, and broke numerous school records.
Prior to arriving at Stetson, Griffin spent seven years as head coach of women's softball at Winthrop (1983-89) in Rock Hill, South Carolina. With the Lady Eagles, he compiled a record of 225-87, won six conference titles in seven seasons and led them to three NAIA National Tournaments. Griffin also played fastpitch softball for the Rock Hill Merchants for five seasons. In 1988, he pitched his team to the South Carolina State Championship and was named team MVP.