'When You Bring Art into Their Life'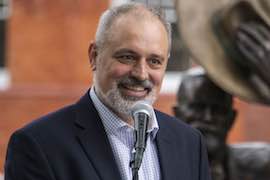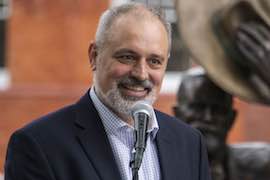 When the Stetson community last heard from Erik Blome, he was on campus in DeLand in October 2019, helping Stetson University dedicate the statue he created to President Wendy B. Libby, PhD.
Blome, internationally known, had sculpted a larger-than-life John B. Stetson, which sits in Palm Court between historic Holler Fountain and the four-year-old Marshall & Vera Lea Rinker Welcome Center. The donor-funded bronze sculpture of the university's namesake weighs approximately 1,600 pounds and features a relaxed Stetson sitting on the bench while tipping one of his famous hats and beckoning folks to grab a seat or strike a selfie pose. Blome came up with the idea of Stetson tipping his hat — an inviting way for him to greet guests on the bench.
The sculpture, which took about a year to complete, had been on Libby's wish list since the early days of her presidency. And, with Libby set to retire on June 20, 2020, the celebration seven months ago was especially festive. 
These days, Blome's ties to John B. and to Stetson haven't stopped.
John Batterson Stetson (May 5, 1830-Feb. 18, 1906) invented the cowboy hat on his way to becoming one of America's great hat manufacturers. Also, uncommonly, he was an entrepreneur recognized for compassion among his employees. He championed upward mobility.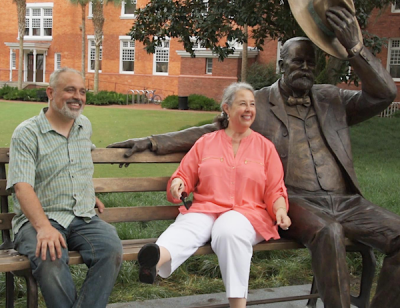 Blome's upcoming plans are intended to do the same. In Uganda.
In early April, Blome received a U.S. Fulbright Teaching Award from the J. William Fulbright Foreign Scholarship Board. Blome will spend the fall semester and part of the spring semester at Makarere University's Margaret Trowell School of Art in Uganda's capital of Kampala. The Margaret Trowell School of Art is the largest and most prestigious art program in East Africa. Also, Blome will spend time at the Nagenda International Academy of Art and Design.
The Fulbright award is Blome's third and his second to Uganda; he also has gone to Ethiopia.
The goal of the Fulbright Program is to develop international understanding. Blome has taught sculpture, bronze casting, public art and drawing at several colleges and art schools. He now intends to share a piece of John B. and help people in sub-Saharan Africa advance through public art.
"I want to teach my craft," said Blome, who has a BFA in fine art from the University of Michigan and a MFA in sculpture from Boston University. "I want to work with communities in Uganda. I do a lot of public art. My thought was to bring that kind of ethos to a place like Uganda."
On his first Fulbright trip to Uganda in 2016, while teaching bronze sculpting and building a fine-art bronze foundry, Blome met a researcher who was studying the effects of art on the health of people in the region. The research found that, indeed, if people have a passion for art, or even an interest in art, there is a positive impact on health.
"I was fascinated by that," Blome said, talking from his Chicago home studio. "So, what if we went into communities — places where maybe people wouldn't have access to doing artwork — and you did public art projects with them to spark their interest?
"I want to get students and others with an interest to be part of their community. They can do public art projects, even without big budgets."
Notably, Blome's own public art typically has exhibited the spirit of "community," with sculptures representing numerous historic figures throughout the United States. They include Dr. Martin Luther King Jr. in Milwaukee, Wisconsin; Rosa Parks seated on a bus in Dallas, Texas; Duke Ellington in DeKalb, Illinois; Jack Benny in Waukegan, Illinois; and Legends Row, which features Toronto's hockey stars in front of the Scotiabank Arena in Toronto.
Although works of such magnitude might not result from his upcoming Fulbright travel, Blome wants to make a difference, particularly for disadvantaged young people.
"There are a lot of kids in bad situations," Blome said. "When you bring art into their life, it changes them. It's amazing. I've seen it."
– Michael Candelaria