Register now for summer school at Stetson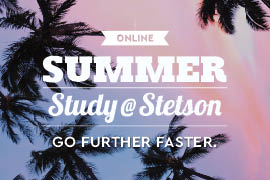 Take advantage of the summer to get ahead in your course work, to make up for missed or dropped courses, or to explore new courses that you have not been able to take. Check the online summer schedule to see the variety of courses offered during three different summer sessions:

• Session 1 (May 18-June 16)
• Session 2 (May 18-July 8)
• Session 3 (June 18-July 17)
All courses this summer will be online courses. Keep in mind that if you are hoping to improve your GPA with summer courses, you must take the courses at Stetson. For courses taken elsewhere, the grade does not transfer to Stetson, only the course credits transfer. You can register for summer courses in the same way you register for fall or spring courses.
For more information about summer school, go to http://www.stetson.edu/other/summer-study or contact Professor Mitchell Reddish, PhD, at [email protected].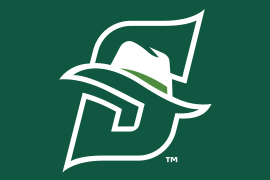 If you have questions about financial aid during the summer, please contact the Office of Student Financial Planning ([email protected]; or 386 822-7120); or for questions about payment of summer tuition, please contact the Office of the Bursar ([email protected]; 386 822-7050).
Please note: If you previously registered for an on-campus course during the summer, your registration has been transferred to the online version of the course. If you do not want to take the course online, please drop the course.