Looking for a job or internship? Get tips for a virtual search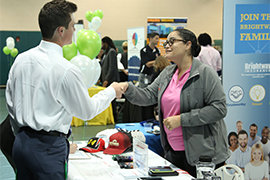 Stetson University's Office of Career and Professional Development has a new mantra as it works with students to find jobs and internships: "Never stop searching!"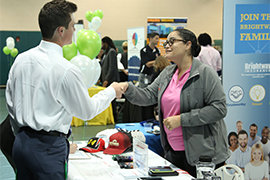 That's because the career advisers know there are jobs and internships still available, even as the coronavirus has closed many businesses temporarily.
On April 22, Stetson students can attend a virtual career fair with about 20 employers who are hiring, said Tim Stiles, executive director of Career and Professional Development. Webinars are also being scheduled with other employers to discuss career opportunities.
Students can visit the office's Virtual Services, Resources and Programs webpage to learn more about the webinars and find other useful services and resources, including "Breaking Career News for Students."
"Many of our upcoming grads do not realize that our office offers lifetime services to Stetson alumni. We will work with them as long as necessary after graduation to ensure they find their desired 'first destination,' " Stiles said.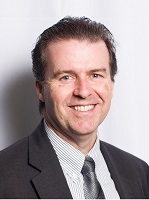 Career advisers are also calling the 500-plus graduating seniors by the end of April to see what help they need in launching their post-graduation career plans.
Stiles was busy with back-to-back meetings this week but found time to answer five questions from Stetson Today, updating students on job prospects and available services and resources.
The Office of Career and Professional Development is planning a virtual career fair on April 22. Can you tell us more?
Our statewide professional association, FL-ACE (Florida Association of Colleges and Employers), is sponsoring a virtual fair open to students from member universities and colleges across the state.
Around 20 employers who are hiring have registered, so we want to especially encourage recent grads and graduating seniors to attend. The virtual fair software being used is easy to use, so students do not have to be concerned about having technical issues.
The fair will take place on Wednesday, April 22, from 10 a.m. to 1 p.m., and 4-7 p.m. The organizations registered are USHA, MedPro Distributors, Northwestern Mutual, City Year, NA Risk, Lifestream Behavioral, Carrier, Sarasota County, U.S. Department of State, Premier Virtual, MAXIMUS, Revature, Florida Sheriffs Youth Ranch and Lakeland Regional Hospital. Students must register to receive instructions for joining the virtual career fair.
Our career advisers are available to help students prepare for the fair. On our virtual services page, we mention how students can use HatterJobs to make phone/virtual appointments with us, have their resumes reviewed via email, and see job/internship openings.
We will soon launch a new tool called, "StandOut," that allows students to practice an online, asynchronous interview. We pre-record questions and then students use their webcams and microphones to answer these questions. They can send the recorded version of their answers to one of our staff, who will critique it in a remote appointment or via email. Our staff is getting trained on this new tool next week and the service will be coming in the near future.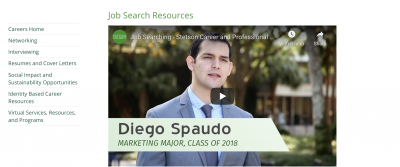 What are you hearing from companies that historically have hired Stetson students and new graduates for jobs and internships? Are they hiring now?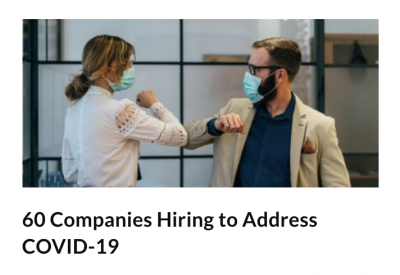 Of course, some organizations cannot even think about hiring since they have had to furlough current employees. However, there are several organizations still hiring and some are, fortunately or unfortunately, benefitting from the COVID-19 crisis.
We are also encouraging upcoming graduates to consider organizations that are hiring for remote work opportunities. Additionally, an increasing number of employers are moving their internships online to offer a virtual option instead of just cancelling their summer internship programs outright. Other employers are moving start dates to further into the summer, hoping that student interns will be able to report in-person to work by that time.
Do you have any other advice for students searching for an internship this summer or fall?
As I mentioned above, consider working with potential employers to see if they can offer a virtual internship. Another option is to consider piecing together several micro-internships. Stetson University just partnered with Parker-Dewey to offer access to paid project-based, remote opportunities at no charge to our students. Students are encouraged to work with career advisers in Stetson's Office of Career and Professional Development. We are open, and all of our services are available online at https://www.stetson.edu/administration/career/virtual-services-resources-programs.php.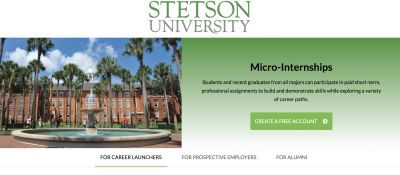 What can the Class of 2020 (and alumni) do to increase their chances of finding a job and launching a career in this economic climate?
Never stop searching! This is our mantra for the spring and summer of 2020. The Office of Career and Professional Development offers lifetime services to our graduates. Please tap into the tremendous resources our career advisers have to help you by using our virtual services. In addition to the virtual career fair mentioned above, we have employers still offering information sessions and alumni who are offering presentations (scroll to the bottom of the page to see these) for job and internship seekers.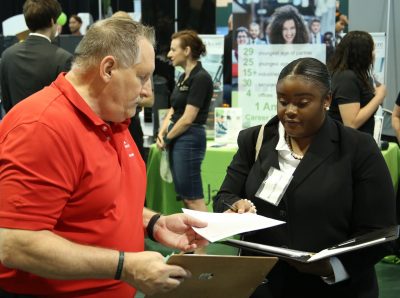 When students reach out to your office now, what are their most common questions/concerns? And what do you and your staff tell them?
Students are concerned first and foremost about successfully completing their coursework this semester. We work to connect these students with other offices like Academic Success to ensure they have a successful semester.
For students who have career concerns, we ask them to stay working with one of our career advisers. When students hold themselves accountable by meeting weekly or biweekly with one of our staff, we see positive results even during the most difficult of economic times.
In the short run, these positive results may look a little different in that students may not get their dream job or internship. However, we can ensure that they find experiences that position them for a successful future in the long run. Lastly, students need to remember, we have wonderful alumni who are rooting for them and want to help. We will work with students to establish professional relationships with key alumni to increase their odds of uncovering relevant opportunities.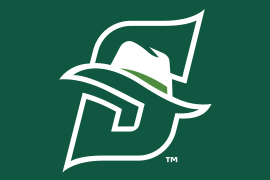 To reach the Office of Career and Professional Development, email [email protected] or call 386-822-7315. Also, visit their website and be sure to check out their Virtual Services, Resources and Programs page.