Showcase 2020: The Vision Endures
Editor's note: Associate Professor Kimberly Reiter, PhD, chair of the Undergraduate Research Committee and Stetson Showcase, wrote this for Stetson Today.
By March 1, 2020, the Undergraduate Research Committee had prepared for the frenzied six weeks leading up to Stetson's marquis celebration of scholarship, innovation and creativity, the Stetson Showcase, on April 14.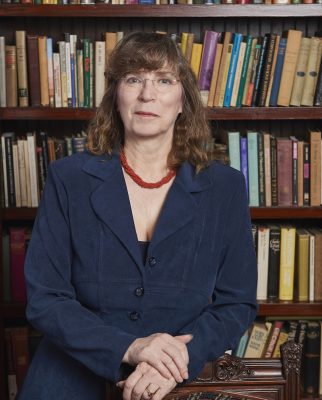 We expected almost 250 students from all schools to be presenting in venues across campus. Students throughout the College of Arts and Sciences were preparing talks and posters. Eight junior music recitals were to be selected, the Art Exhibition was timed to present Showcase week, and the School of Business Administration was gathering its best students in Sales, Marketing, Entrepreneurship and Investment. Even the College of Law would send five Honor students to present. There was a keynote speaker nationally known for her work in promoting STEM to under-served populations, a winning artwork for the posters and covers, and judges, moderators and interns. Like its predecessors starting in 1999, Showcase 2020 was on track to be another successful day of scholarship and creativity.
And then it all ended in March. On a Friday, the 13th.
With the closing of campuses due to COVID-19, colleges and universities across the country were forced to face difficult decisions with their own Undergraduate Research days. Larger schools and those with well-staffed undergraduate research offices went virtual, putting posters and presentations online. Suddenly the chat rooms of the Council for Undergraduate Research (CUR) brimmed with platform ideas. However, smaller schools like Stetson were stuck. Many of the research projects that would have been presented at our Showcase were redesigned for different presentations within majors. Without a dedicated staff on campus and only two eager but stressed student interns who had returned home, there was no way that Showcase could use any of the myriad platforms other schools were trying on such short notice.

However, Marketing and Development stepped up and offered a compromise. Any student who still wanted to be in Showcase and the 2019 Stetson Undergraduate Research Experience (SURE) grantees would find a place on the Marketing platform. About 10 students from across the spectrum accepted the offer, with research that has impressed all who have seen it.
To add to that, the Creative Arts faculty worked with their students to create a Virtual Exhibition of all the artists who would have presented on April 14. Showcase 2020 lives in the words, presentations, art and music of these talented students whose work will be open for prospective students and donors to see.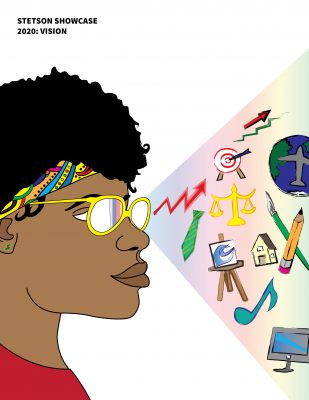 The theme this year is "Showcase 2020: Vision." Stetson looks forward to a new presidential administration, new programs and new educational challenges. Our educational philosophy of in-person classes utilize engaged learning, embedded research and creativity, innovative approaches and perspectives and critical thinking, strengths that promote forward-thinking and robust visioning of exciting futures.
The winning artwork by Reeva Licht and Cameron Gerstenslager reflects this. I will let the artists speak for themselves in their concept, but the reason my interns and I chose this artwork to represent the theme was the joyful and vibrant energy of the student's vision. Instead of being focused on just one field of study, they see a treasure of different subjects and fields ahead of them. Stetson is not a school where we promote a singular passion for a narrow field. Our vision is broad, seeking new ways to explore the world around us. And the 2020 Showcase projects show this.
Showcase 2021 will be the first Showcase that President-Elect Christopher F. Roellke, PhD, will experience, and we promise it will be as bold as ever a year from now. However, we will not be caught unprepared next time. The interns were charged with creating a viable online plan just in case, while Marketing and Development stand ready to expand the Showcase offerings, if need be. The proposed theme, "A New World," will acknowledge the challenges we will face in the 2020's, as well as the opportunities for innovation in a liberal arts core.
As the song goes, "Up from the ashes grow the roses of success," Showcase will rise again, and be even stronger through the lessons of 2020. The vision endures.
Kimberly D. S. Reiter, PhD
Associate Professor of History
Chair, Stetson Undergraduate Research Committee and Stetson Showcase
Vice-President, People Helping People
Advisor, Phi Alpha Theta, HCOS
National Counselor, URPD Division, Council on Undergraduate Research
Chair, Stetson Faculty Senate