Stetson Entrepreneurship Student Takes 2nd in Pitch Competition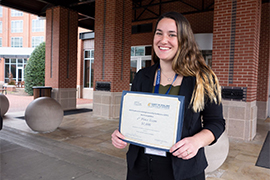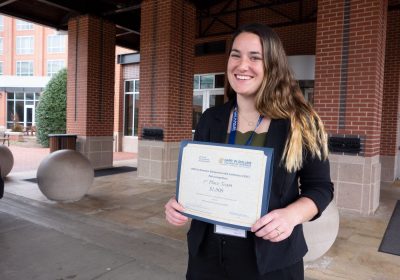 Stetson University School of Business Administration sophomore Chelsea Hage took second place and won $1,000 during the final round of the Collegiate Entrepreneurs Organization Southeast Entrepreneurship Conference (CEO SEEC).
Hage, an entrepreneurship and marketing student at Stetson, pitched her Birthday Candles for Kids nonprofit organization to the judges during the "Shark Tank"-type competition at the Gary W. Rollins College of Business at the University of Tennessee at Chattanooga.
Stetson University's Prince Entrepreneurship Leaders Program coached and prepared Hage for the competition by providing her with advice and tips for creating the business pitch for Birthday Candles for Kids. The hard work paid off.
"The second place award confirmed that the path I have chosen will be successful," said Hage. "Winning second place also helps bring more recognition and credit to the Prince Entrepreneurship Leaders Program team and Birthday Candles for Kids. I'm proud to represent Stetson University and be a part of this amazing team."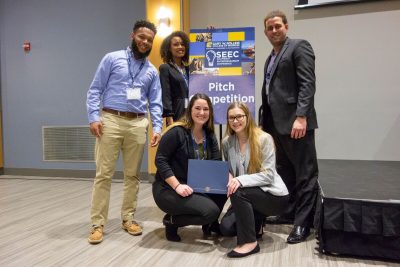 Overall, two Stetson students made it to the finals and were tied in numerous business competition slots with Owen Center for Entrepreneurship PhD students at Vanderbilt University. Finalist Kendall Buck, an entrepreneurship and management freshmen student, pitched her Nana's Kitchen Herbie Rake, which is a kitchen utensil that strips the leaves off of herbs and used for meal preparation.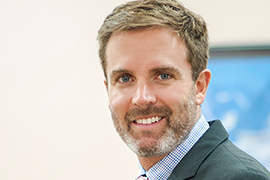 "The Prince Entrepreneurship Leaders Program keeps its eye on the goal, which is launching a successful business venture," said Lou Paris, MBA, director of the program. "Pitch competitions help students evaluate and validate their business idea, and the prize money provides them with an opportunity to advance their company. The business pitch competitions also provide students with a chance to let their imagination run wild and receive invaluable feedback and enhanced entrepreneurial ideas."
Hage launched her nonprofit business in Pinellas County four years ago. She provides personalized birthday parties and essentials for underprivileged children who are homeless, orphaned or in foster care. Hage plans to use the winnings to implement new branding ideas, purchase boxes to send families birthday items that feature her company's name and logo, provide 20 more children with birthday parties and launch the business in the DeLand area.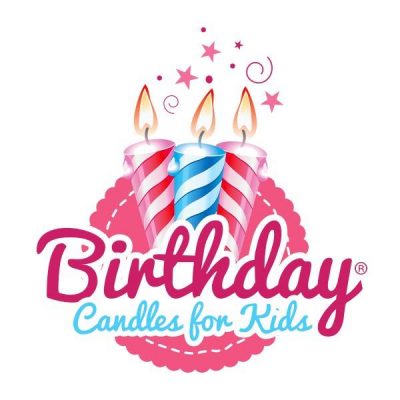 "Birthday Candles for Kids has provided 60 children with a birthday party so far," said Hage. "I believe everyone deserves to celebrate their special day and have a sense of community."
The Joseph C. Prince Entrepreneurship Program launched its Leaders Program three years ago. Entrepreneurship students participate in a selection process before they can join the elite group, which is limited to 10 to 15 dedicated team members. Criteria includes having a business idea, developing and taking the company concept as far as possible, and accepting and processing feedback from entrepreneur faculty and experts.
The Leaders Program provide students with valuable, entrepreneurial experience, through participation in six business pitch competitions during the academic year. Competitions normally favor business products that have intellectual property, a utility or design patent, and profits.
-Sandra Carr