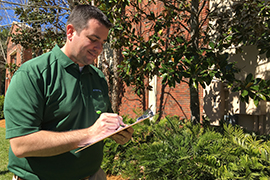 Editor's note: This story was originally post on Feb.24, 2017.
Stetson University increased its student enrollment and added more buildings in recent years, but it continues to reduce energy consumption, thanks to a university-wide initiative to reduce carbon emissions and help the environment.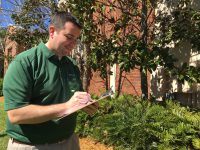 A graph of energy usage since the 2013-2014 academic year shows Stetson's four campuses – DeLand, Celebration, the College of Law in Gulfport and the Tampa Law Center – are using less electricity and natural gas.
Chris Cloudman, an Energy Specialist, works on the DeLand campus for Cenergistic, which was contracted by Stetson in 2015 to look for ways to reduce energy and water consumption. From 2014 to 2016, Stetson reduced energy usage and water consumption by 11.3 percent, even while adding more students and more buildings, such as newly acquired apartment complexes, Cloudman said.
Those savings have increased this academic year. From July to December 2016, energy and water usage were down 15.5 percent from the previous year, even with the opening of the Marshall & Vera Lea Rinker Welcome Center, Cloudman said. The 28,000-square-foot building earned Green Globes Certification for its environmental friendly design, including energy and water efficiency.
"Enrollment has increased. The number of buildings has increased, so to be able to offset that is a tremendous thing," Cloudman said.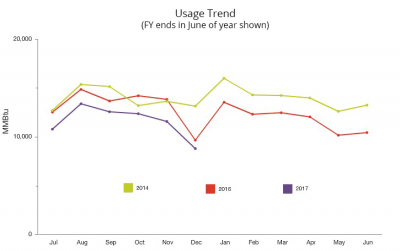 Cloudman attributed the savings to a number of Stetson conservation initiatives, including setting thermostats to uniform temperatures in buildings and residence halls. Each semester, he gets a class schedule for each building on the DeLand campus, for example, and changes the thermostat settings to save energy when the buildings and classrooms aren't in use.
"The biggest effect you can have is adjusting your thermostat," he said.
When buildings aren't in use, such as on weekends, the thermostat is set at 82 degrees for cooling and 55 degrees for heating. When buildings are occupied, thermostats are set at a uniform 75 degrees for cooling and 68 degrees for heating. Students in residence halls, for example, can adjust this setting up or down by two degrees, depending on their personal preference.
Cloudman also encourages students to turn off computers when they're not in use, and turn off lights when they leave a room. He spoke with incoming freshman last summer at Stetson's Focus Orientation and encouraged them to "take ownership," turning off lights and pushing up the thermostat if they're the last person to leave a classroom or a residence hall room.
Water usage also has declined at Stetson, which reduces the amount of freshwater needed from the underground Floridan aquifer.
"As a result of conservation efforts the campus community has reduced our consumption of clean water from the Florida Aquifer by 1,707,000 gallons annually when the consumption from the 2010/ 2011 academic year is compared to the 2014/2015 academic year. This is particularly significant as the student enrollment has increased 32% during that period. During this period our consumption per full time equivalent student has decreased from 17,145 gallons per student FTE to 12,396 per student FTE," according to the Stetson University Environmental Stewardship Plan.
The water savings are attributed mainly to using reclaimed water to irrigate 90 percent of the campus landscape, according to the plan.
Stetson's Environmental Stewardship Plan was developed in the fall of 2011, endorsed by the university's Board of Trustees and revised most recently in November 2015. It notes that Stetson has a "growing concern for the environment (that) is reflected in the scientific consensus on global warming. We are convinced that global warming is happening and there is a significant human element driving global warming. Stetson University is committed to reducing the greenhouse gas emissions resulting from our ongoing operations."
Al Allen, Associate Vice President of Facilities Management at Stetson, said the Environmental Stewardship Plan was put in place after former Stetson President Doug Lee became a Charter Signatory with the American College & University Presidents Climate Commitment in June 2007.
"Being good stewards of our environment has been a long-standing part of the culture of Stetson University," Allen said. "Working to reduce our consumption is consistent with our philosophy and who we are. The Board of Trustees and President Wendy B. Libby are very supportive in knowing the progress we're making."