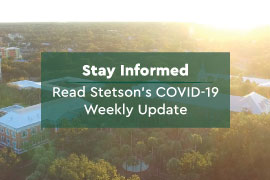 Weekly Update 3
June 3, 2020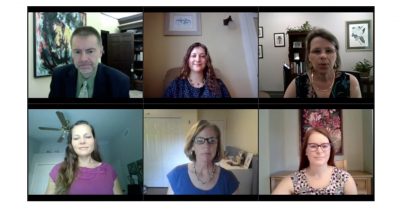 The university has held a number of webinars to update the community on the current work underway in academic planning, the Safer Campus Task Force and the COVID-19 Budget Priorities Working Group. Those seminars have been posted for review to the Coronavirus Communications website, and there is a webinar scheduled for Friday for incoming students and parents.
The Safer Campus Task Force has received many questions regarding the cleaning and disinfection of campus prior to returning for work or classes. The health and safety of our community is top of mind for all of us and this important issue is being addressed by Facilities Management.
Facilities has developed an in-depth cleaning protocol that includes restrooms, classrooms, labs, offices and common areas – every space on campus. According to the protocol:
All spaces will be deep cleaned and disinfected prior to employees returning to work on campus.
Cleaning/disinfection is accomplished with EPA-approved cleaning products with label claims against the coronavirus.
Signage notifying the occupant that their space has been sanitized and disinfected will be posted.
Electrostatic sanitizers will be used to clean classrooms quickly between classes/labs. We are ensuring that each building's HVAC systems are fully operational per CDC and ASHRAE guidelines and that the indoor air quality is optimized accordingly.
In addition, there will be more frequent cleaning of more public locations, and in shared offices, of surfaces that multiple people repeatedly touch: doorknobs, tables, desks, light switches, countertops, handles, phones, keyboards, toilets, faucets and sinks. Custodial staff will be provided with Personal Protective Equipment (PPE) required for cleaning/disinfecting any space that may have been exposed to coronavirus.

Returning to Campus – The Safer Campus Task Force is working on Stetson's Guide for Returning to On-Campus Work for employees. The guide includes details of a phased-in approach that spans several weeks beginning June 8 and ending Aug. 22 (Aug. 8 in Gulfport), when all employees who are able to return to campus will be expected to do so. Your vice president or athletic director at the DeLand campus, or your dean, associate dean or department head at the Gulfport campus will inform you when to return to campus at least one week prior to your expected date of return. Please continue to work remotely until you are asked to return. The guide, which is currently being reviewed, will answer many questions about prevention basics, physical distancing, self-screening, what to do if you think you have been exposed to COVID-19, events, visitors and many other topics.
More
Stetson will provide one washable mask, ear guards from Stetson's 3D printer and one 8-ounce hand sanitizer for each person. Stetson will provide and refill hand sanitizer stations in common areas.
Stetson has purchased bulk hand-sanitizer spray and paper towels for campus, so that those in individual offices can keep their workspaces clean. Departments will be able to request supplies from the warehouse on the DeLand campus or from Facilities Management on the Gulfport campus, which will be billed back to departmental budgets. Departments with large common cleaning space needs should contact the Budget Office with questions.
FOCUS Orientation groups for incoming, first-year students and First Year Seminar Courses (FSEM's) will be aligned this fall to minimize exposure of our first-year students. This means each FSEM of 16 or fewer students will also be the students' FOCUS group, significantly decreasing physical contact.
Remote work should continue wherever possible. Employees should not return to on-campus work without the specific instruction from their vice presidents, athletic director, deans or department heads.
COVID-19 Budget Priorities Working Group – The group has moved beyond their organizational meetings in May, and on Monday, June 1, provided their initial recommendations to President Libby and President-elect Roellke. These include reductions in operational expenses, cuts to travel expenses and staff development, and elimination of salary increases. The initial report is a first step for the working group towards final recommendations by Friday, June 12. The 2020-2021 budget is currently scheduled for review by the Board of Trustees on Thursday, June 25.