From Homeless Teen to Stetson Graduate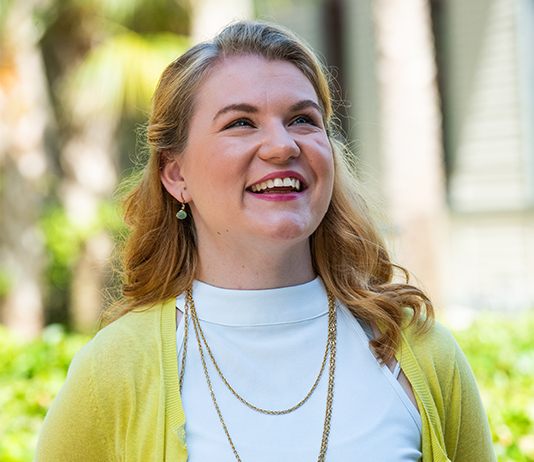 As a homeless 15-year-old, Arielle Metzger stood beside the old truck that served as home for her family in 2011 and told CBS "60 Minutes" that education "is everything to us."
"I plan to be a child defense lawyer," she said on the national news program. "If I focus on my studies, I have that opportunity."
This month, she graduated from Stetson University with a Bachelor of Arts in Sociology and a 3.35 GPA. Her name has since been changed to Autumn Johnson. But she still plans to apply to law school and become an advocate for children, after her wedding to her longtime boyfriend.
Her journey over the past nine years is a moving story set into motion by a mere coincidence, or providence, as she now sees it. Just days after completing her undergraduate degree, she was interviewed on campus for "CBS This Morning" and the segment will air Tuesday, May 19, during the 8 a.m. hour.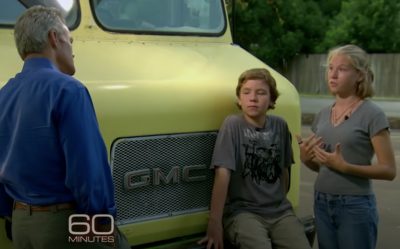 Her story began with the Great Recession of 2008 when her family joined the wave of people losing their homes to foreclosure. Her father, a carpenter and handyman in Central Florida, had been hit hard in the economic downturn. Her mother had passed away in early 2000.
When the family lost their home in May 2010, her father bought the old truck for $1,000 on Craigslist. He moved into it with Autumn, her younger brother and their meager possessions. Home was wherever he could find an inconspicuous place to park the truck in the Sanford area.
A Second-hand T-shirt
Back then, a local church would set up every Thursday at the Sanford Civic Center beside scenic Lake Monroe to feed the homeless. The church also put out second-hand clothing, folded, stacked in piles and available for free to people in need.
In one stack, Autumn spotted a green-and-gray Stetson University T-shirt. "I found it," she recalled, "along with a Yale shirt, at the bottom of a pile of clothes."
The Yale shirt was too small. But the Stetson shirt was the right size and her favorite color: green.
"I immediately loved it because it was a baseball T-shirt and I was very much a tomboy," she said.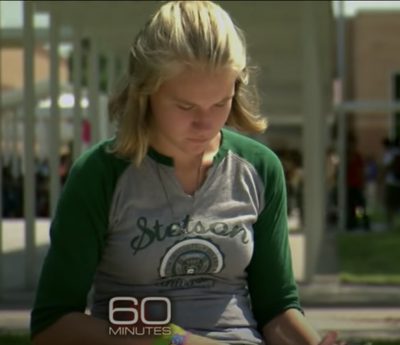 Around the same time, a state social worker received a report of a family living in a truck in the parking lot of the Lake Mary YMCA.
The social worker found the family and questioned them about their living situation. During the discussion, the social worker mentioned that "60 Minutes" had contacted her, wanting to interview homeless families living in their vehicles. Would they be interested?
The family agreed. A then-freshman honors student at Seminole High School, Autumn wore the shirt when the CBS crew filmed her walking through the school's covered breezeways and sitting on a bench, reading.
The segment, "Hard Times Generation," aired Nov. 27, 2011, and it prompted an incredible outpouring of support, CBS News reported. At Stetson, President Wendy B. Libby, PhD, received a flood of emails from faculty, alumni and others wanting to help the teen.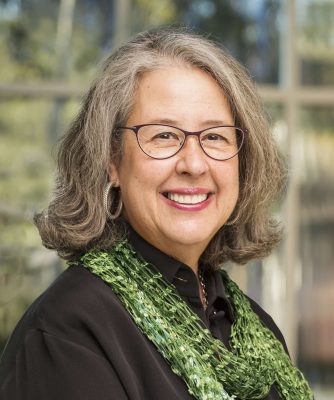 Within days, Libby made an amazing offer: If the teenage girl kept her grades up and graduated from high school, she would receive a full scholarship to Stetson, including tuition, and room and board.
"It was so obvious to me upon meeting Autumn and her brother that the university, in line with our mission, had to offer free tuition, room and board," Libby said recently. "And her brother is making his way through campus; he's going to be a junior next year. So, I'm very thankful we could do that for them. I really congratulate her on her graduation, her engagement and her future. And I really hope she goes to Stetson Law."
A Fresh Start
After the show aired, the teenage girl bounced around among the homes of relatives and friends, and then was placed with a foster family in Clermont, Florida. The family wanted to adopt her and give her a fresh start, changing her name to Autumn Hope Johnson.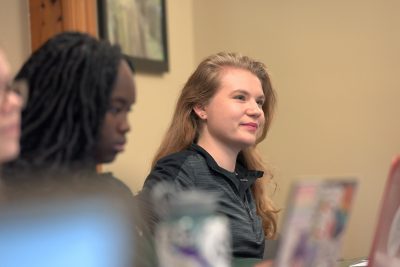 As promised, Autumn enrolled at Stetson in the fall of 2016 with a full ride. For the first few years, she did not want any public attention, choosing instead to focus on her studies and make sure she did well in college. She majored in sociology, minored in religious studies and became a member of the National Honor Society.
She kept the Stetson T-shirt hanging in the closet of her residence hall. And outside of classes, she looked for ways to help the homeless. When her academic advisor, Grady Ballenger, PhD, an English professor, learned that she kept care kits in the trunk of her car for the homeless, he connected her with another Stetson professor, Rajni Shankar-Brown, PhD, the Jessie Ball duPont Endowed Chair of Social Justice Education.
Shankar-Brown is an internationally recognized expert on poverty and homelessness, an executive board member for the National Coalition for the Homeless, and founder of Stetson's Poverty and Homelessness Conference.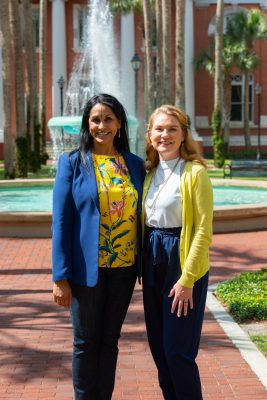 She has made education, poverty and homelessness her life's work. Due to her family's biography and encountered hardships, Shankar-Brown became aware of social inequalities at an early age and committed herself to educating for justice and effecting change. As a child she volunteered regularly in homeless shelters and soup kitchens. In high school she began designing responsive areas for children that would provide a safe space for playing, studying and healing. Shankar-Brown went on to become a public school teacher working in high poverty schools in the United States and overseas, eventually pursuing her doctorate in Curriculum and Instruction while focusing on human rights, specifically poverty and homelessness.
Now, as an engaged teacher-scholar and educational leader, she has founded and leads many impactful movements and projects, such as the Poverty and Homelessness Conference and Hatters University, serving as a national advocate and actively involved in public policy efforts, and advising Stetson's Student Homeless Coalition. Having received the Engaged Scholar Award by the Florida Campus Compact and most recently being selected by Florida's International PDK as the Educator of the Year, Shankar-Brown's projects are often used as a model for equity-centered community engagement.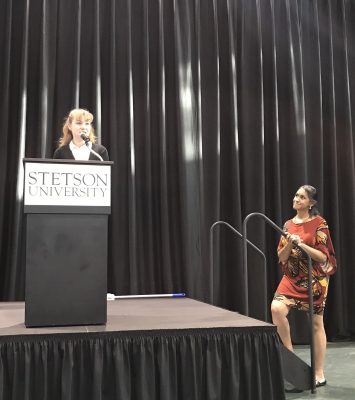 Shankar-Brown quickly became a mentor to Autumn. In March 2019, in the Rinker Field House, she opened the Poverty and Homelessness Conference by showing the "60 Minutes" video clip from 2011.
When it ended, she introduced Autumn Johnson and the crowd rose for a standing ovation. "Let me tell you, the world better watch out," Shankar-Brown told them, "because we're going to have one of the most fierce of advocates coming our way. I can guarantee it."
Speaking publicly for the first time at Stetson, Autumn said she wanted to come forward to help the homeless, especially homeless children.
"My life has changed drastically. I am no longer the pimply, lost homeless girl that you saw in that video," she told the crowd. "Today, I have a new identity, literally and spiritually. I wouldn't be here if not by the grace of God and people like you who fight for the broken and the hurting."
Guided Along the Way
For her senior research project at Stetson, she wanted to dig deeper into the complex reasons that can cause people to end up homeless. She interviewed people served by the Neighborhood Center of West Volusia to learn more about the trajectory of their lives.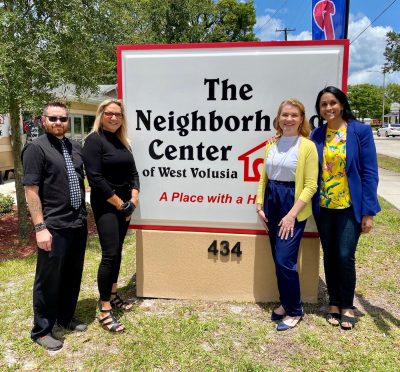 Her project, entitled "The Relationship Between Youth Displacement and Adult Homelessness According to Labeling Theory," found that about 75 percent of those interviewed had suffered a traumatic break of some kind in their childhood security, such as spending time in foster care, having a parent die, running away or getting kicked out of the house. The findings weren't a surprise, but still she found them upsetting.
"I became sad to get confirmation that those who had experienced displacement as a youth were more likely to become homeless or unstable as adults due to labels placed on the individual as a minor," she said. "I thought about all the children who are currently experiencing displacement and my heart broke, but I was encouraged at the thought that maybe my work can help change their fate!"
With awareness and early treatment, children could possibly avoid those struggles. Now 23 and preparing to marry her boyfriend of five years, whom she met one summer at the Word of Life Bible Institute near Tampa, she knows her story has defied the odds.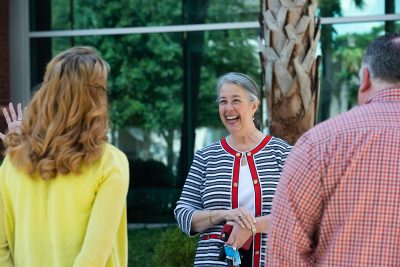 "I had a network of amazing people who labeled me as a success, a girl with high potential, and not as 'that homeless girl,' " she said. "My self-esteem was boosted. I made steps that achieved the labels I took on by others.
"At the end of the day, statistically, my case is rare. I should not be where I am today," she continued. "But when you look at a life like mine through a theoretical lens like Labeling Theory, you start to find correlation and connection. There is hope!"
Shankar-Brown, who also was interviewed for the upcoming "CBS This Morning" show, said she is "incredibly proud" of Autumn. "She embodies courage, determination, resilience and especially hope.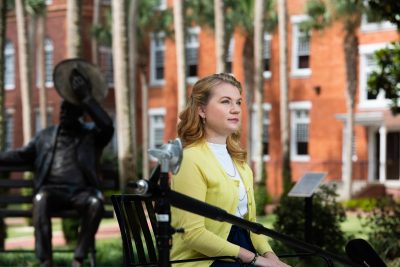 "Supporting her journey, professionally and personally, is deeply rewarding," Shankar-Brown continued. "Mentoring has given me the chance of supporting and bearing witness to Autumn's self-discovery and continuing growth, and also my own. Our paths have become forever interwoven."
Autumn is especially grateful to Stetson University and says its small classes made a big difference.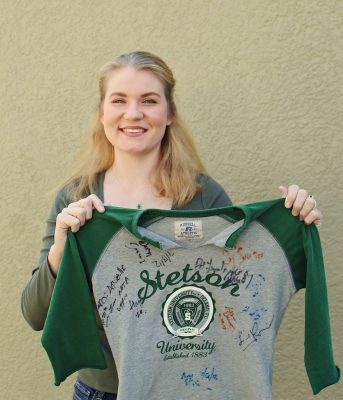 "It has been an amazing experience because I was able to really talk to professors one-on-one. We could ask questions. Honestly, the pressure of it all just melted away because you were able to have that one-on-one time. I feel like I do matter and I was able to build that relationship with my professors."
Looking back on the impact of a T-shirt given to her at a church meal for the homeless, she sees the hand of providence.
"I think at the time, I would have called it more coincidental," she said. "But being strong in my faith now, and having the knowledge of God that I do, looking back, God has directed my steps and my life in just a way that you can't call it coincidental. He has guided all of it with His grace and mercy."
-Cory Lancaster and Rick de Yampert