A 'Talent Pipeline' from Stetson to Lockheed Martin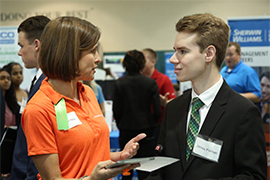 This article originally appeared in the Summer 2019 issue of Stetson University Magazine — the Go Beyond issue.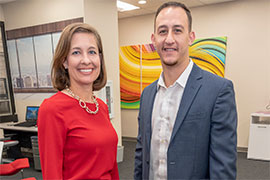 This may be surprising to some: Four out of 16 executives on the staff of Lockheed Martin's Missiles and Fire Control Finance and Business Operations are Stetson graduates.
No need for higher math — that's 25%.
Surprising. But true.
Liberal-arts Stetson is garnering attention from companies such as Lockheed by virtue of its ability to equip students with strong communication skills, a high level of professionalism and the awareness to excel in collaborative work environments. And there's no need for scientific research — the proof comes directly from the employer.
"We never actively recruited from Stetson until about two years ago," said Melissa Edens, vice president and controller, Finance and Business Operations at Lockheed Martin Missiles and Fire Control. "Since then, we've hired about a dozen Stetson grads as full-time employees, as well as the same number of interns. And we've been extremely impressed with every one of them."
Twenty-one years ago, in fact, Edens graduated from Stetson with a bachelor's degree in business. At the time, she still wasn't sure about her next move. As destiny would have it, defense budgets were up, and there was a hiring spree at Lockheed. Edens didn't balk at the chance.
"I was still deciding between the investment and corporate side of finance," she explained. "I eventually decided on corporate, and here was Lockheed, which presented a real opportunity for me because it was the biggest and most prestigious place to work in Central Florida."
Edens has no regrets. And she received that vice president/controller title in June, advancing from director.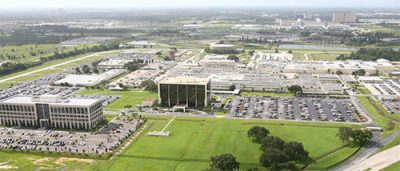 Lockheed Martin Missiles and Fire Control, one of four Lockheed business areas, is a recognized leader in the design, development and manufacture of precision engagement aerospace and defense systems for U.S. and allied militaries — involving advanced combat, missile, rocket, manned and unmanned systems for customers that include the U.S. Army, Navy, Air Force, Marine Corps, NASA and dozens of others throughout the world. Also, it offers a wide range of products and services for the global civil nuclear power industry and the military's green-power initiatives.
Yet, while engineering is the backbone of the company, most employees aren't engineers. Instead, they support the company's vast scope of operations. Lockheed depends on having a strong team environment. To get a product out the door on time and within budget, all functions and facets must work together cohesively. So, complementary skill sets are highly valued.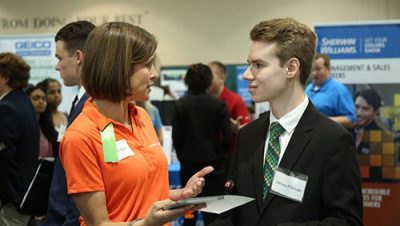 Consequently, one of Edens' responsibilities as vice president/controller is to find versatile workers. In turn, Stetson has emerged as a "go-to" place for such talent.
"We've noticed a big difference in Stetson grads when it comes to their superior verbal communication skills," Edens commented. "The curriculum focuses on a high-touch education, which means a lot of group projects and presentations, and the smaller classes drive the need to convey your thoughts properly. Having these analytical skills prepares students well for the business world."
Consider a 2013 survey titled "Employer Priorities for College Learning and Student Success," conducted for the Association of American Colleges and Universities by Hart Research Associates. More than nine out of 10 employers (93%) agreed that a job candidate's demonstrated capacity to think critically, communicate clearly and solve complex problems was more important than the candidate's undergraduate major.
Ryan Naime '18, who graduated with a Bachelor of Science in international business, was recruited by Lockheed as a contract negotiations associate. Naime's Stetson education, he believes, provided the needed confidence and prepared him to be successful.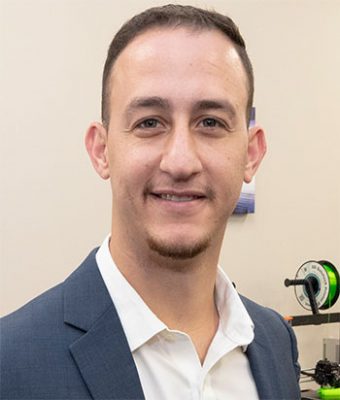 "Because of my background, international business was always something I was interested in as a career," said Naime, who was raised in Egypt and traveled extensively while growing up. "When I found out about this position at a Lockheed recruiting event, I saw it as a great opportunity and knew I could come in and do a good job."
Notably, Lockheed Martin is a regular participant in campus recruiting events, such as the Stetson Fall Internship and Career Expo last October.
"I knew I could communicate well and solve problems in a team environment because I had to do a lot of that as part of my coursework," Naime continued. "I feel like all of that prepared me for this specific job; now I'm just excited to build on those skills and continue to grow."
LOCAL WORKFORCE DEVELOPMENT
Merissa Terra, Lockheed Martin's talent acquisition manager for its Early Career Program, emphasized the importance of hiring "local talent."
"We found that college students don't migrate very far from where they graduate," Terra said. "Stetson's strong business and operations programs have created a solid local talent pipeline for us. So, we're getting strong employees who also want to be in this region."
Tasked with identifying the schools where her company wants a recruiting presence, Terra sets up career fairs, information sessions and campus interviews across the region. When recruiting at Stetson, she likes to take alumni such as Edens who can relate to fellow Hatters and share stories with them.
"As an alum," Terra described, "Melissa once was in their shoes and had big decisions to make. Her reasons for picking Lockheed often resonate with them."
A battle for talent currently is raging among employers, Terra added, and college graduates often have numerous choices. In response, companies must be strategic and smart when recruiting, particularly local candidates. The hope is that mutual admiration ensues. And it has with Stetson.
"We have a strong reputation, but it's important we provide the right information and allow students to build relationships with our recruiters and ambassadors like Melissa, so they develop a comfort level with us," Terra said. "Lockheed is a great place to grow and develop as a professional, and Stetson grads have blossomed here. It's a great fit, and we look forward to continuing our relationship with Stetson."
For its part, Stetson's Office of Career and Professional Development offers a host of free student resources that span everything from navigating job searches and creating résumés and cover letters, to networking and building interview skills. Additionally, there is an emphasis on both self and career exploration.
"Students who dig in early on make life easier for themselves on the tail end [of their time before graduation]," asserted Tim Stiles, the office's executive director.
Stiles recommends that first-year students promptly begin to take advantage of resources such as Traitify, an online tool that can take students from personality profile to custom career-path recommendations with facts and figures, all from their smartphone.
"Students who dig in early on make life easier for themselves on the tail end [of their time before graduation]."

Tim Stiles, executive director, Stetson's Office of Career and Professional Development
Another tool is What Can I Do With This Major? It encompasses a database — updated annually and purchased by Stetson — that connects majors to careers. Students can learn about typical career areas and the types of employers that hire people within each major, as well as networking and job-search resources specific for their major.
Stiles' advice: Think in broad terms and outside the box — especially when contemplating the Lockheed Martins of the world.
"A lot of students don't think about companies like that; they write them off because they think, 'They wouldn't be interested in me,'" Stiles said. "A lot of times students don't realize that their skills cross over into these large global corporations.
"Employers realize there is an entire group of students outside of STEM (science, technology, engineering and math) disciplines who can bring perspective and other skill sets. It's not that the companies don't need the core STEM people, but these companies are so large they need other skill sets on the periphery to help drive their business models."
Edens and the other Stetson-educated executives on staff at Lockheed Martin's Missiles and Fire Control Finance and Business Operations are proof. So is Naime.
"I'm so thankful for experiencing that culture and environment at Stetson," Naime said, "because it's prepared me to become a valued professional."
-Jack Roth