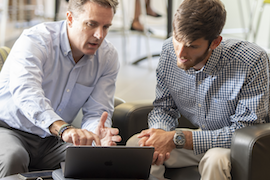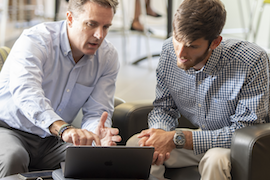 In August 2019, Stetson's School of Business Administration launched its new, fully online MBA, effectively combining a flexible structure and individualized attention to advance careers.
Then, in January 2020, a Flex MBA was introduced, blending in-person meetings in DeLand with online coursework in a focused, fast-paced environment.
Not coincidentally, at about the same time, the School of Business Administration was recognized in The Princeton Review's "Best Business Schools for 2020" for graduate-school quality and innovation.
Now, the School of Business Administration is adding even more to the mix: automatic entry into the Online MBA program for Stetson graduates.
Beginning in the Fall 2020 Semester, any Stetson graduate with a final overall GPA of 3.3 or higher will receive automatic admission to the Online MBA program. All undergraduate majors qualify, and graduates from any year — future, current and past — will be welcome. The automatic admission requires only an application and official transcript. All other application requirements are waived, including application fee, letters of recommendation, statement of purpose and resume.
"If you attended Stetson University and worked hard as an undergraduate, we want to reward you with automatic entry — meaning you only have to fill out the application and you're in," said Brandon Speith, Stetson's assistant director of Graduate Admissions Business Programs. "We are not setting up any other barriers."
Also, Speith noted, students will be able to complete the program in as little as 16 months; however, with part-time enrollment, it typically can be completed in two years. Meanwhile, course instruction is delivered primarily by full-time faculty members, along with select subject-matter experts who supplement the program with their industry knowledge. The School of Business Administration is fully accredited at the undergraduate and graduate levels by the AACSB International – The Association to Advance Collegiate Schools of Business (AACSB).
Stetson is one of fewer than 190 elite business schools worldwide that have both business and accounting programs accredited by AACSB International.
"I'm already seeing inquiries and applications coming in," Speith added.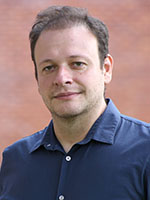 The full MBA curriculum is available through a combination of synchronous and asynchronous courses. Each course represents three credit hours, with synchronous course sessions offered on weekday evenings to fit the schedules of recent graduates and established working professionals.
"We believe that students who excel through Stetson's rigorous undergraduate education will succeed in our graduate school, as well," concluded Petros Xanthopoulos, PhD, assistant professor of decision and information sciences. "The program's MBA foundation courses allow students with non-business academic preparation to get up to speed and succeed in the program."
-Stetson Today