Proposed 2020-21 Budget Sent to Board of Trustees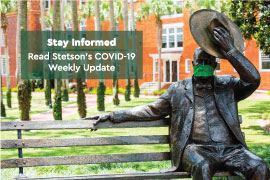 Weekly Update 5
From President Libby and President-elect Roellke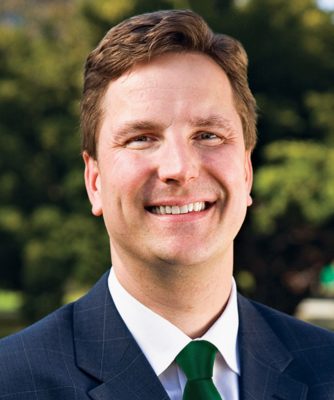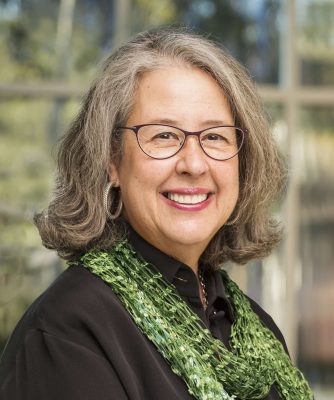 On Friday, June 12, the COVID-19 Budget Priorities Working Group (BPWG) provided us with its final report that includes recommended DeLand budget reduction plans and prioritizations as Stetson, along with colleges all across the country, head into this next academic year with some enrollment uncertainty.
We spent a significant amount of time over the weekend reviewing and discussing the BPWG report. Working together with our finance staff on Sunday and Monday, the proposed 2020-2021 budget originally prepared in April was adjusted and sent to the Board of Trustees Finance and Executive Committees on Monday. They are meeting late today, Wednesday, June 17. Their recommended budget will be considered by the full Board of Trustees on Thursday, June 25.
The BPWG was co-chaired by Executive Vice President and Provost Noel Painter and Executive Vice President and Chief Financial Officer Bob Huth, and met a dozen times for approximately 22 hours since May 5, with nearly perfect attendance. The group received a substantial amount of background material and engaged in multiple exercises to identify potential prioritization and amounts for increased revenue from our endowment, and reductions to operations and compensation to meet the expected enrollment drop. Confident that everyone was always working towards the best possible solutions for the Stetson community, we owe thanks to Chairs Painter and Huth, and committee members including SGA President George Alderman. Everyone gave their time and thoughtful consideration to the process.
A special thank you to our staff support, Melissa Peters, associate vice president for Budget and Financial Planning; Drew Macan, associate vice president for Human Resources and Organizational Development; and Kim Walker Oates, our budget analyst, for their many, many additional hours preparing materials for the committee.
The result of their work is a detailed report that greatly assisted us in making final preparations for the 2020-2021 budget proposal. The group dutifully prepared budget solutions for the possibilities of a decline of revenue at the 5%, 10% and 15% levels as requested in our original charge, along with a prioritization of all the various ways that this could be managed. The budget proposal to the Board of Trustees is for the 15% drop in revenue because of major uncertainties still on the horizon regarding the coronavirus pandemic's course.
In addition, last Friday's projection for the close of the 2019-2020 fiscal year shows that our financial strength will enable us to finish the year with a small surplus. Together we thank the Stetson community for their support and patience during this time as we continue our discussions and consult board leadership. After the board takes action on the budget in late June, we will inform everyone of what the next budget year will hold.
Wendy B. Libby, PhD Christopher F. Roellke, PhD
President President-elect
Revised Fall 2020 Academic Calendar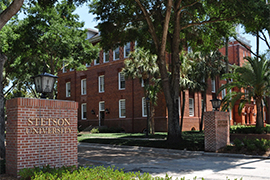 For several months, many groups—individually and collectively—have been diligently meeting, planning and working to achieve our primary goal: for students, staff, and faculty to come to DeLand safely this fall for a powerful, residential, face-to-face Stetson teaching-learning experience.
As a result of this work, Provost Noel Painter was able to announce yesterday, via an email to faculty, staff and students, the revised Fall 2020 Academic Calendar. The calendar came to the provost as a recommendation from the broad-based committee of faculty and staff charged with reviewing calendar options.
The new calendar reveals that students will begin moving in by Aug. 7, and classes begin on Aug. 13. As mentioned in his email yesterday, "This calendar balances opportunities and concerns with an effective full-semester, on-campus learning experience and honors our core principle of safety for students, staff and faculty by minimizing travel away from campus. Assuming there are no unexpected cancellations during the semester, the fall term (both classes and exams) will end by Thanksgiving." Additional information and a link to the calendar is available on the web page link above and in Provost Painter's email sent yesterday.
From the Safer Campus Task Force
Residential Living & Learning
Based on the revised Academic Calendar, Move-In Days for incoming students are Aug. 7-8, and for continuing students are Aug. 9-12.
All housing assignments will be completed throughout July and will be strategic assignments by Residential Living & Learning staff to reduce risk and maximize community and connections for residents.
All check-ins will be curbside and by appointment time.
There will be aspects of the residential environment that will undoubtedly feel different this fall, but we are committed to facilitating community, connection and care within our communities on-campus.
Based on Executive Order 20-139 issued by Florida Gov. Ron DeSantis on June 5, anyone traveling between states for academic work (including students) does not have to isolate or quarantine after arriving in Florida. International students who have not left the country also will not have to isolate or quarantine.
After careful consideration of the recommendations from the Centers for Disease Control and Prevention, and the national college housing and health associations, as well as an evaluation of our residential facilities by the leadership of Residential Living & Learning and the Safer Campus Task Force, we have made several significant decisions about the residential environment for Fall 2020.
We will offer individual and 2-person shared bedrooms in community bath, suite, apartment, and house style environments, ranging from 1-4 students living in the unit.
The majority of student residents will share a bathroom with other students on their floor (community style) or within their suite/house/apartment.
There will be some strategic reductions of occupancy in some specific rooms and buildings. There will be significant additional cleaning and safety measures in place for common spaces and community restrooms.
We are working to maximize distance between desks and the heads of beds in shared bedrooms, and have ordered new furniture in some locations to make this possible.
The exemptions for the residency requirement were expanded for the 2020-2021 academic year and the refund schedule has been expanded.
There will be limitations on visitors, guests and overnight guests for all or part of Fall 2020.
Returning to Work on Campus
As we begin the transition to having more people on our campuses, the health and wellbeing of our employees and students are of paramount importance. To support this transition, the Safer Campus Task Force has developed the Guide for Returning to On-Campus Work, which is now online. It includes important policies, protocols and guidelines with which all community members are expected to fully comply. Employees will be required to affirm that they have read it prior to returning to work.
Frequently Asked Questions
The list of FAQs on the COVID-19 website is currently being updated. Question categories will include Academics, Attendance/FOCUS Orientation, Cleaning, Events, Financial Aid, Health & Safety, Human Resources, and Residential Living/Move-In Day. Questions/answers will be added or updated as decisions continue to be made. We will send you a message when the updated FAQs are live.
If you have comments/questions/suggestions, please email [email protected]. While we are not able to respond to every email, we do read all of them and appreciate your feedback.
Weekly Update 4
June 10, 2020