Solar Shines Even Brighter at the CUB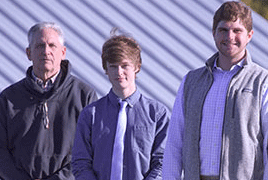 Editor's note: This story originally was posted Feb. 26, 2019.
As it turns out, the sun is shining even brighter on Stetson's largest-ever solar photovoltaic project.
When the solar panels atop the newly renovated and expanded Carlton Union Building began generating power to the university in January, the total of 231 solar panels were expected to produce an estimated annual value of 131.2 MWh. Following initial monitoring of the system, however, the projected annual output was conservatively increased to 143 MWh. In turn, the corresponding estimated annual metered cost avoidance was ticked up a bit to nearly $10,000, according to Bob Huth, Stetson's executive vice president and chief financial officer.
And, to literally shine light on the project — which internally is referred to as the CUB Dining Room Flat Roof Rooftop — the daily output of the solar panels will be displayed on video monitors in the CUB and throughout campus. Additionally, an online portal, SolarEdge, provides real-time output details for power and energy.
The surprise was a pleasant one for a project that Huth labeled as "bold" even before the output had improved.
The approximately $170,000 solar project marks the culmination of an ambitious effort by students, called Stetson's Revolving Green Fund.
Nate Bodger '19, an Environmental Fellow, remembers helping to start discussions as a first-year student in 2015. A year earlier, Stetson's first-ever Environmental Fellow, Sarah Coffey '18, had raised the idea of a green fund on campus to Stetson Professor Tony Abbott, Ph.D., who had helped to establish the Environmental Fellows' program. With university funding generally tight, Bodger's thought was that "maybe students would want to chip in." He created the initial proposal and gave to the Environmental Working Group, composed of students, faculty and staff, which he now chairs.
In May 2017, following lengthy groundwork by students and administrators — including surveys, various approvals and final determinations — Stetson established the green fund, with all students paying a $5 fee each semester to fund environmental projects.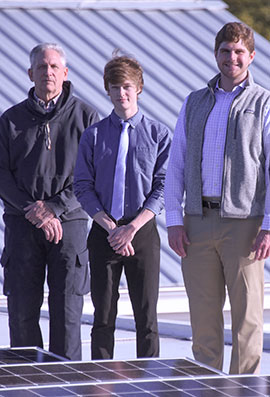 In November 2017, students were asked to submit ideas for projects that would save the university money and decrease environmental impact. Nearly 200 suggestions were received, and the clear winner was solar, conceived on the idea of efficiently generating electricity. Ultimately, the CUB location was chosen as the solar site by virtue of both cost-effectiveness and visibility. A nearby off-campus site also was seriously considered.
The CUB has been a campus focal point since its original construction in 1957. And that site puts the solar project "right above the students' heads rather than off campus," said Jimmy Dean '20, one of the students who helped steer the project last spring.
Bodger agrees, noting that the location and the public display will help "students to own it."
"I think the success of the continuation of this initiative, and the creation of more sustainable technologies like this one on campus, is for students to continue to own it. And for students to see that some of their money went to saving 'this many' atoms of carbon from going into the environment, I think that's really important," he said.
In terms of funding, students and university administrators effectively came together. The Revolving Green Fund paid $60,000. The Student Government Association and the university each paid $30,000, with the remainder to the funding coming from a university loan to be repaid by the metered cost avoidance (estimated at almost $10,000 a year). After the loan is repaid, those cost-avoidance dollars will be deposited back into green fund. If the solar array produces more energy than anticipated, the loan can be paid off earlier, and a greater amount of money will go into the green fund, Huth explained.
For Huth, the project represents a continual march through strategic mapping that began in 2014 by the university. More than just a solar project, he said, it's "part of an orchestrated effort" that follows in line with the university's strategic map (2014-2019), with the overarching goal to "establish Stetson as a university of choice for innovative approaches to tackling complex challenges," which was approved by Stetson University's Board of Trustees.
For Bodger, who graduates in May and has an eye on law school, there is a sigh of relief, along with ample pride.
"I'm just really happy that it came together," he said. "To be honest, there were so many different people involved in this and so many moving parts, it's just kind of miraculous that is ended up coming together.
"I'm proud of everybody involved in it. I'm proud that the students have the mindset that they're valuing the future and sustainability. And I'm proud of the administration."
– Michael Candelaria