A New Gathering Spot for Students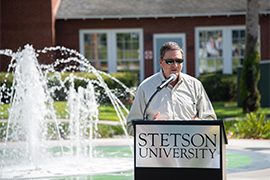 Editor's note: This story originally was posted Oct. 18, 2019.
When Troy Templeton arrived at Stetson University 41 years ago, the area of campus east of the Carlton Union Building would soon become the "epicenter" of his world.
As a first-year student, Templeton got involved in student activities in the CUB and joined the Student Union Board, which met nearby. And he lived a short ways away in the back bedroom of the yellow house now used by the Cross-Cultural Center.
"The reason we're standing here today is because this is pretty much the epicenter of my life for several years at Stetson University," said Templeton '82 Finance, MBA '83, a former university trustee. "You can see if you draw a triangle, the fountain ends up being right in the middle."
Templeton recalled his college days at Stetson on Thursday, Oct. 17, sharing funny stories with those gathered for the Dedication Ceremony of the Templeton Fountain. He and his wife Sissy donated the fountain, which has 41 jets of water, colored lights and speakers for sound, during the recent renovation and expansion of the CUB.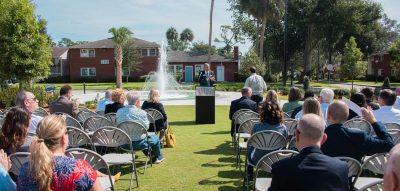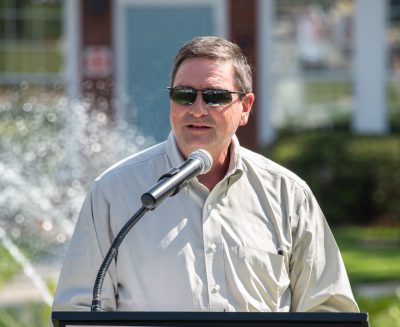 At Thursday's ceremony, Templeton thanked his wife and best friend of 36 years, and said they met while both were students at Stetson. He also thanked his college adviser and mentor, Stetson retiree Rodney Ellis, a former director of the Carlton Union Building, who also attended the ceremony.
The managing partner in a private equity firm in Coral Gables, Templeton and his wife have been longtime supporters of the university. They have contributed to the Stetson Fund and student scholarships, and provided an endowment for the Templeton Business Ethics Case Competition, among other donations.
Stetson President Wendy B. Libby, PhD., recalled Templeton approaching her in May 2018 with the idea.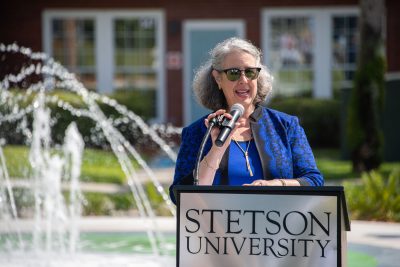 "Troy said, 'I'd kind of like to put another fountain on campus,'" she recalled Thursday. "And I think I said, that'd be fine, but I'd like to talk to you about a statue. We've been blessed to get both."
Libby had long wanted a statue of John B. Stetson on campus, and the Templetons provided the sculpture as a gift to the university, as well. The John B. Stetson Sculpture, located in Palm Court, will be dedicated on Friday, Oct. 18, at 5:30 p.m.
"So, just as Holler Fountain has become a focal point of weddings and momentous occasions, we are delighted now to have the Templeton Fountain grace this newest area of campus, which we know will become a place of memorable moments for years to come," Libby said.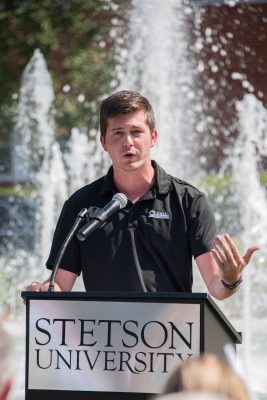 "It's already part of the fabric of who we are. It's modern, welcoming, playful, interactive and, as Troy would say, 'just a little bit Las Vegas.'"
Student Government Association President George Alderman '20 said the fountain has breathed new life into that area of campus. At night, he sees students gathering around the fountain to socialize with friends, unwind or study.
"And of course, there's always a student or two who runs through the fountain, usually on a dare or because it's their birthday," he said, adding that students usually wait until the programmable jets of water are spraying gently, low to the ground.
"And then they'll start walking through it, but by the time they're about halfway through, the water is back up and they come out a bit soaked and shrieking and laughing," he said. "It's always a funny sight to watch."