Stetson University in the News, May 30-June 5, 2020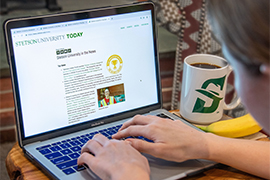 Top News: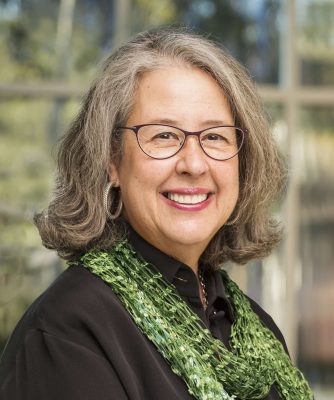 • Stetson President Wendy B. Libby, PhD, was featured June 1 in the Daytona Beach News-Journal article, "Stetson's Wendy Libby departs June 30 after 11 years as university president," which recounted her many accomplishments, such as increasing enrollment. "The heart of the place hasn't changed any. Mostly what I can say is we brought the institution dramatically ahead," Libby said.
• Asal Mohamadi Johnson, PhD, assistant professor of Public Health, was quoted in the Daytona Beach News-Journal on June 4 in "Florida sees largest one-day increase in coronavirus cases to date." She said, "Look at Florida. There is no declining trajectory. I also think we have not waited enough in Phase 1 to make sure we have enough data to move into the next phase. We simply should wait to see which direction the trends will go. Now it is too soon to make decisions to reopen."
• Stetson student Ani Martikyan, an Armenian native, was quoted by the Voice of America and The World News on June 3 in "Violence, Racism in US Worry Foreign Students." She said, "I love the U.S. and what it offers me, but I am very disappointed by how my idea of it turned from a land that welcomes absolutely everyone to a place where people can get killed because of the color of their skin."
• Stuart Michelson, PhD, Roland and Sarah George professor of Finance and Chair of Finance, was interviewed for a story that appeared June 2 in U.S. News & World Report and other media outlets, entitled "6 Best Investments to Make With Your HSA." Michelson said the Vanguard Balanced Index Fund Admiral Shares provides diversification and lowers the amount of risk by incorporating both stocks and bonds, while providing a reasonable 10-year return of 8.58%.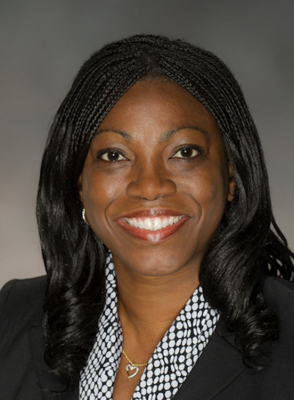 • Alumna Falecia Williams, PhD, has been named the new president of Prince George's Community College in Maryland after a national search, according to the Washington Business Journal on June 1. Williams earned a master's degree in education from Stetson. She currently is president of Valenica College in Orlando.
• Stetson Football Coach Roger Hughes was mentioned in a June 1 article in the Daytona Beach News-Journal, "George Floyd death, protests bring responses from Volusia/Flagler athletes, coaches."
• Rina Arroyo, assistant vice president for Development and Alumni Engagement, was mentioned in the May 29 article, "Healing hard history: Remembering the first of five black Volusians lynched," in the West Volusia Beacon.
Other News:
• Stetson University was mentioned by WFTV-Orlando Channel 9 in a story May 30 about area colleges and universities planning for classes in Fall 2020. Stetson is "analyzing what it looks like to have in-person classes in a safe way, and how to build in the flexibility necessary for quarantined students or faculty," according to the news report.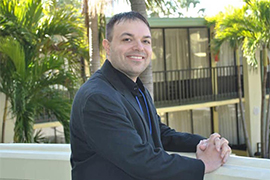 • Lou L. Sabina, PhD, assistant professor of education and editor of the journal, "Voices of Reform: Educational Research to Inform and Reform," was mentioned in the Volusia Hometown News on June 4 in the article, "Volusia School News: Article explores impact of graduation rates."
• Peter Lake, director of the Stetson University College of Law's Center for Excellence in Higher Education Law and Policy, was interviewed by Inside Higher Ed on June 2 in the article, "College Title IX Procedures Under Microscope."
• Colleen Vanderlip, Stetson's director of wellness and recreation, was interviewed for the story, "Coronavirus: West Volusia swimming club seeks pool for youth practices," in the Daytona Beach News-Journal on May 30. The article noted that Stetson's Hollis Center and pool were closed due to the pandemic.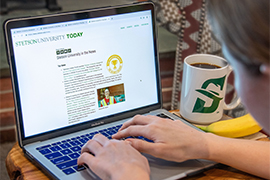 • Professor of Religious Studies Greg Sapp, PhD, was quoted in The Kansas City Star on May 30 in the story, "When you decide whether to head to church, you might listen closely to Jesus' words." The story appeared earlier in the Atlanta Journal-Constitution.
• Stetson University College of Law was mentioned in the AZ Big Media on June 1 in the article, "ASU Law named No. 2 'Best Law School Building' in nation." The article notes that Stetson College of Law was named No. 3 in the country.
• Mike Casey, associate director of alumni relations for Stetson College of Law, was quoted June 2 by the Florida Bar in the article, "Coming Together at a Distance: Annual Convention Social Events Look to Provide the Personal Touch."
• Former Stetson writer-in-residence George S. Fichter were mentioned in the West Volusia Beacon article, "West Volusia Memories: Trail Pavilion a window into history," on June 1.