With New Safety Protocols, Stetson University Resumes Campus Tours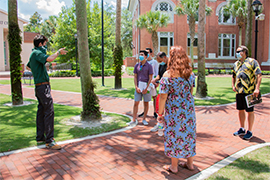 College visits play a big part in helping students decide the best school for them, as Dana Dolbow saw again this week.
Stetson University resumed in-person Daily Campus Visits on Monday, June 8, after adopting new protocols to ensure the health and safety of visitors and staff. Tours are available Monday through Friday at 9 a.m. and 11 a.m. with select opportunities for weekend visits.
The first to attend was a student from the Orlando area, along with her family. At the time, the student was leaning toward another college.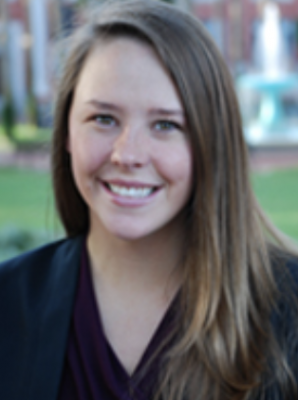 "They had been talking with their admissions recruiter for the last couple weeks about Stetson, reviewing their financial aid award, learning more about majors, so when the option for the visit was announced, they scheduled it as soon as they could," said Dolbow, director of Campus Visitation, who led the tour on Monday.
"The student committed at the end of their visit, so it was great to see the excitement from the entire family on making the decision. We were able to celebrate in person with confetti and bell ringing, a beautiful Hatter tradition!" Dolbow added.
In March, as the COVID-19 pandemic spread worldwide, Stetson began offering Virtual Campus Tours and Virtual Information Sessions for prospective students. But the Admissions staff heard from many students and their families who wanted to see first-hand the historic DeLand campus before selecting a college.
"In fact, we heard stories of families coming to campus on their own, walking around outside just to experience what they could during our closure," Dolbow said. "We knew families needed the visit experience, so we started working on a plan early in the pandemic; ultimately, we knew it would take time for us to be able to resume tours in a safe way."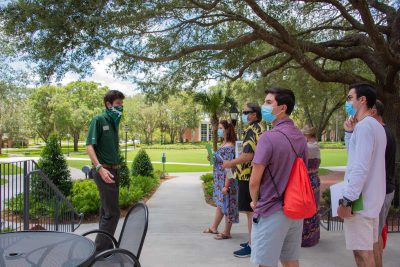 The Admissions staff consulted with health professionals and the Safer Stetson Task Force to come up with the health and safety protocols. They also walked the campus tour route with the Stetson Facilities Department to ensure all campus staff were prepared for visitors again.
By limiting tour groups to nine guests, the Admissions staff essentially will welcome just two or three families to campus at a time. The families are asked to follow all guidelines from the Centers for Disease Control and Prevention, and the Florida Department of Health, such as completing a health screening that is reviewed by a Stetson staff member before their arrival.
Once on campus, the families are asked a series of questions and have their temperatures checked before the tour. They also are asked to wear face coverings during their visit and, if they don't have one, the university will provide them. 
Campus Visits begin with a 30-minute information session, followed by a 90-minute walking tour of campus.
"Visits are a huge part of the college decision process and I am glad that our students now have the opportunity to see our beautiful campus prior to making the commitment," Dolbow said.
For more information, contact the Campus Visitation Team at (386) 822-7100 or [email protected].
-Stetson Today