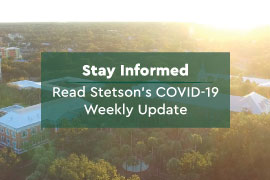 Weekly Update
June 10, 2020
A Guide for Returning On-Campus
Stetson University and the Safer Campus Task Force are committed to a safe environment that fosters collaborative learning and intellectual pursuits for its community. As we begin the transition to having more people on our campuses, the health and well-being of our employees and students are of paramount importance. To support this transition, SCTF is developing a Guide for Returning to On-Campus Work, which outlines important policies, protocols and guidelines with which all community members are expected to fully comply. This guide, which we expect to have available online in coming days, covers a variety of topics:
A phased return-to-campus plan
Prevention basics
Self-screening
Physical distancing and group events
Stetson's cleaning process
Human resources issues
Visitor screening process
Other resources available
All employees will be required to read the guide before returning to work.
The most recent and up-to-date version of this guide will be available online. If there are changes as the guidance or recommendations are modified, the community will be notified.
Safety and Community
It has been shown that measures including physical distancing, face coverings, hand washing, restricted travel, self-screening, increased cleaning and other actions can be very effective at reducing the spread of COVID-19 when they are used in combination. One recommendation from the American College Health Association that Stetson has adopted, is a phased return to campus, with no more than 30% of the workforce returning to each campus location at a time, staggering every 2-4 weeks for full return.
Stetson's Safer Campus Task Force continues to work through policy and plans regarding face coverings, residential life, dining, athletics and recreation. We will communicate these to you as soon as possible. This week we ordered a massive number of hand sanitizer stations for common areas and completed design of campus-wide signage for health messaging.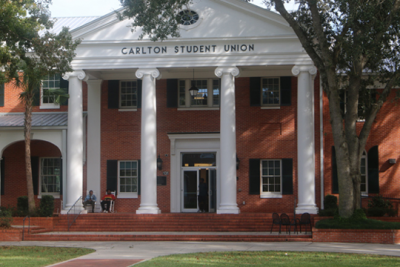 Admissions Guest and Visitor Protocols
Starting the week of June 8, the Office of Admissions is hosting small, personalized, daily visits. Individual groups will be limited to nine total people (plus a tour guide) per group. Tours will go into the north side of the Carlton Union Building, Gordis Hall, Sage Hall and the Lynn Business Center to see the Roland George Investments Program space. With health precautions in place and continuing to follow CDC and the State of Florida guidelines for group gatherings and physical distancing, all visits will be small and personal.
All guests are required to submit a screening form prior to arriving to campus. Once on campus, guests will answer a few short questions related to the health and safety of their party and all members of the party will be required to undergo temperature screenings. Anyone displaying a temperature of 100.4 degrees or higher will be asked to reschedule their visit. For additional caution, we encourage guests to check temperatures of themselves and their party prior to arriving on campus. Our staff and ambassadors are prepared to wear masks during the visit and ask that guests also wear masks during the campus visit experience (if they do not bring one, one is provided). If you see a campus tour out on campus, we encourage you to say hello and welcome them to campus while remaining physically distanced.
If you have comments/questions/suggestions, please email [email protected]. While we are not able to respond to every email, we do read all of them and appreciate your feedback.
Budget Priorities Working Group
The members of the COVID-19 Budget Priorities Working Group are prioritizing their recommendations and will finalize their report for President Libby and President-elect Roellke for delivery Friday, June 12.
As indicated, the group has worked through multiple scenarios and is categorizing recommendations into three areas roughly aligned to the 5%, 10% and 15% budget reductions outlined in their charge. These range from increased endowment spending and reductions in renewal and replacement at the lower end and potential pay reductions at the higher end of the scenarios. Throughout its discussions and deliberations, the COVID-19 Budget Priorities Working Group has consistently adhered to its guiding principle of community first.
Academic Working Groups
As indicated in the Provost's recent email, the 2020 Fall Schedule Working Group is finalizing its recommendation for an undergraduate academic calendar for fall. A questionnaire was circulated requesting feedback and commentary on the different calendar plans. The 2020 Schedule Working Group expects to finalize its recommendation this week.
Additional Information
The Stetson community should expect additional communications, messages, and potentially webinars and virtual forums over the next few days and weeks as information regarding plans for returning to campus, as well as health and safety guidelines for students, faculty and staff, and budget recommendations and academic planning for Fall 2020 based on enrollment and retention projections becomes available.