Stetson University in the News, July 24-31, 2020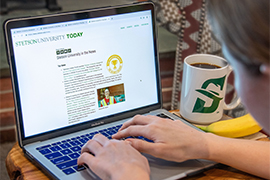 Top News: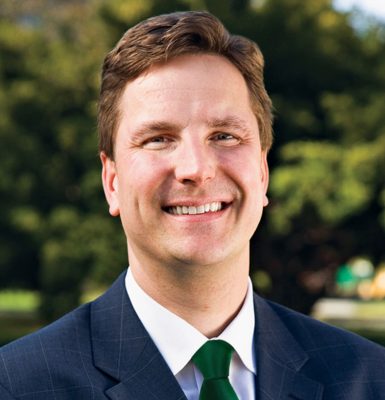 • Stetson President Chris Roellke, PhD, joined more than 130 leaders in Florida calling on the community to follow safety guidelines recommended by the Centers for Disease Control and Prevention to stop the state's escalating COVID-19 crisis. Their opinion piece, "Florida's top CEOs — 135 strong — call for masks and more to stem rising COVID-19 cases," appeared July 28 in the South Florida Sun Sentinel and other media outlets around the state, including the Sarasota Herald-Tribune, Gainesville Sun, Orlando Sentinel and Tampa Bay Business & Wealth.
• Psychology Professor Chris Ferguson, PhD, was quoted in Florida Trend on July 29 and other media outlets for his recent study, "Stetson University Researcher says Porn does not Cause Violent Sex Crimes."
• Stuart Michelson, PhD, Roland and Sarah George professor of Finance and Chair of Finance, was quoted in U.S. News & World Report on July 28 in the article, "What to Know About Investing in European Stocks."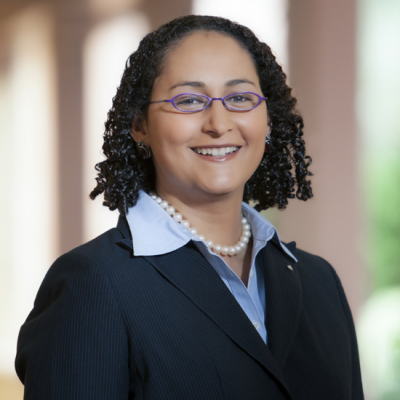 • Law Professor Ciara Torres-Spelliscy's May 20, 2016, opinion piece, "How Big Business Bailed Out the Nazis," for The Brennan Center for Justice was featured on the Thom Hartmann Program on July 27.
• Law Professor Ellen Podgor was quoted in a July 24 article in The Cleveland Plain Dealer called, "Ohio House Speaker Larry Householder, aides in company of mobsters as they face racketeering charge."
• Associate professor of Marketing, Deborah Goldring, PhD, was quoted July 27 by Help Squad in an article, "Brand Distinction for Your Website that Doesn't Feel Fake."
• Law Professor Ciara Torres-Spelliscy was quoted on Salon.com in an article called, "Exclusive: Trump campaign kept paying Kayleigh McEnany after White House hiring." The quote was also cited in an article on AlterNet.org.
• Law Professor Ciara Torres-Spelliscy wrote a July 28 opinion piece for Talking Points Memo called, "The Unlikely Winner In The SCOTUS Trump Tax Cases: Summer Zervos." This was also featured on the SCOTUSblog round-up on July 29.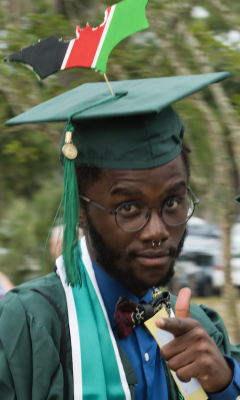 • Stetson alumnus Peter Nyong'o has married singer, songwriter, guitarist and freelance writer Wanja Wohoro. News of the wedding appeared July 30 in the Daily Mail (United Kingdom) in the article, "Lupita Nyong'o shares 'a moment of joy' as she watches her brother's wedding on her laptop amid the pandemic: 'Thank God for technology!'"
"How Stan Van Gundy got Radicalized" in GQ on July 28 mentions Andy Eisen, PhD, visiting assistant professor of history, and Stetson's Community Education Program as making an impact on Van Gundy and his wife in advocating for criminal justice reform.
• Luke Brown, one of the most prolific scorers in Indiana high school history, has announced that he is "100% committed" to play basketball at Stetson University next year, according to Sports Illustrated Online on July 26. The article, "Indiana Prep Standout Luke Brown Commits to Stetson," also mentioned Stetson Head Coach Donnie Jones. A similar story, "Connection with coach leads Blackford's Brown to Stetson," appeared July 27 in The Herald Bulletin in Indiana.
Other News: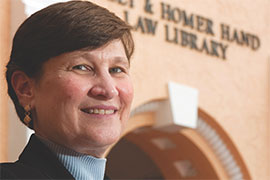 • Law Professor Ellen Podgor wrote the July 23 article for the White Collar Crime Prof Blog, "Court Refuses to Tolerate "Retaliation" Against Micheal Cohen."
• Law Professor Susan Rozelle was quoted in a July 25 article in the Tampa Bay Times called, "Tampa Bay drivers have run into protesters. Why haven't they been arrested?"
• Gulfport Patch picked up a Stetson University press release about the American Bar Endowment Grant and Amendment 4 clinics with Community Law Program.
• Law Professor Rebecca C. Morgan wrote the following blogs for the Elder Law Prof Blog: July 23, "Reduced SNF Training Requirements Because of COVID;" and July 24, "New Brief from APS Technical Assistance Resource Center."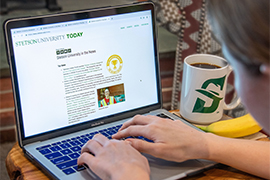 • "The Game Plan on the Ball" on WOOF Sports Talk interviewed Scott Jones, PhD, associate professor of Marketing, about how the pandemic is impacting sports business, including Major League Baseball and college football.
• "Stetson football season delayed; nonconference games eliminated" appeared July 27 in the Orlando Sentinel, Daytona Beach News-Journal and on Spectrum News 13.
Alumni News
• Alumna Kristy Zinna is one of four candidates running for the Manatee County Court Judge Group 4 bench, according to a July 26 article in The Bradenton Times.
• Alumna Nora Riva Bergman was featured in a July 27 episode of the podcast Stories that Empower.