Funding for Educational Reform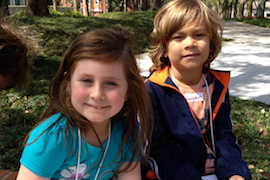 In addition to researching and supporting best teaching practices, Stetson's Nina B. Hollis Institute for Educational Reform develops local projects to test new ideas. These projects positively impact K-12 classrooms, with specific attention to closing the opportunity gap of children in marginalized settings.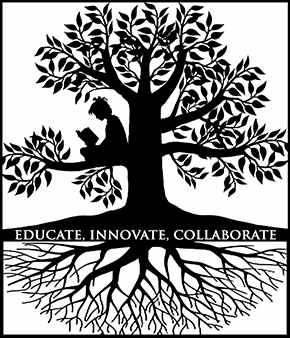 Beginning July 1, two new Hollis Impact Grants were awarded: High-Achieving and Talented Students (HATS) and AAUW Florida Tech Trek STEM Camp for Girls. There are also three award renewals that are receiving their third and final year of funding from the Hollis Institute.
"Mark Hollis wanted a revolution in education and had a passion for marginalized students," said Bette Heins, PhD, Nina B. Hollis Endowed Chair. "The purpose of the impact awards is to promote innovative  change in education. The projects are creative and provide novel opportunities for educational experiences. We are pleased with the outcomes and progress of these projects."
High-Achieving and Talented Students (HATS)
Principal: Nicole Denner, PhD
The mission of the HATS Program at Stetson is to identify and serve high-achieving gifted and talented students through challenging, engaging and meaningful learning experiences within a culture of excellence. HATS offers enrichment opportunities in all fields for K-12 students, seeking to cultivate gifted learners and increase enrollment of highly motivated students with the intellectual capacity to engage in challenging academic work. In addition, the program offers development for gifted instructors by providing creative teaching and consulting opportunities outside of the official classroom.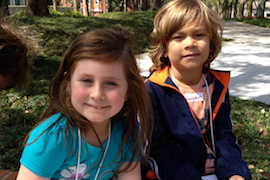 The Nina B. Hollis Research Impact Award will be used to provide scholarships to high-achieving students from low-income populations to attend summer sessions or weekend workshops in the 2020-2021, 2021-2022 and 2022-2023 academic years.
2020 AAUW Florida Tech Trek STEM Camp for Girls
Principal: Shawnrece Campbell, PhD

The American Association of University Women Tech Trek summer camps provide an opportunity for qualified girls from all socio-economic levels and demographic backgrounds throughout Florida to live on a college campus and learn about STEM careers, and enabling them to possibly see their futures. The one-week residential summer camp is backed by AAUW's research and designed to make STEM fields exciting and accessible to middle schoolers. Survey results show that AAUW Tech Trek alumnae surpass the national average in most advanced math and science courses. 
The AAUW Tech Trek at Stetson is an experiential summer camp designed to pique the interest of rising eighth-grade girls, as well as increase their personal confidence. The Hollis funding will help make this a reality for girls who ordinarily wouldn't be able participate. 
Garden-Based Learning 
Principals: Sarah Cramer, PhD, and Mercedes Tichenor, PhD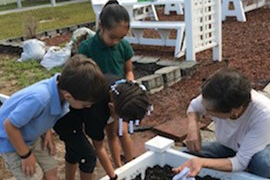 The 2015 USDA Farm-to-School Census recorded 7,101 school gardens in school districts across the United States, up from 2,401 recorded in 2013. School gardens have been shown to increase physical activity and fruit and vegetable consumption, improve student attitudes toward school, decrease problematic behaviors or behaviors associated with attention deficit disorder, and effectively engage students of diverse backgrounds and learning styles. Despite those benefits, many traditionally prepared classroom teachers aren't equipped with the skills necessary to successfully integrate garden-based learning into their pedagogy.
The McInnis Garden-Based Learning Project from the College of Arts and Sciences intends to address the gap between the national enthusiasm for school gardens and the lack of garden-based pedagogy in elementary teacher preparation programs. The year-three goals represent a combination of short-term and long-term plans. The project will continue its work at Citrus Grove Elementary School, as well as support the development of teachers districtwide in garden-based learning.
Cybersecurity Pre-College Computer Technology Camp
Principal: Joshua Eckroth, PhD

In summer 2017, Stetson hosted the first pre-college computer science camp in Cybersecurity, followed by a second camp in June 2018 and the introduction of an artificial intelligence camp. The camps target high school juniors, seniors and first-year college students. Students who pass an optional post-assessment at the end of the camp are given instructor permission to enroll in Stetson's CSCI 141 course, skipping a prerequisite course. The camps are hosted by Continuing Education and Outreach in the Office of Admissions.
The continued funding will provide scholarships for academically talented students who are underrepresented in computer science, in particular, and STEM generally.
School to School Pipeline
Principal, Professor Ann Piccard, Stetson College of Law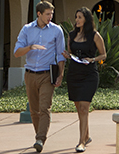 The School to School Pipeline encompasses a pilot project that works with local judges, prosecutors, defense attorneys and guardians ad litem to identify youth who are involved in the legal system, and establishes one-to-one partnerships between such youth and law students. The project focuses on helping to keep young people in school and out of jail for as long as possible.
In essence, the program identifies young people who need help, plus recruits and trains law students to become "education partners" with those system-involved teenagers. The continued award funding targets new law-student volunteers. 
-Stetson Today