Weekly Update: Where Students Can Hang out on Campus, new FAQs and more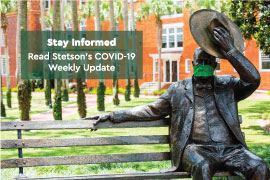 Weekly Update 13
President's Webinar This Week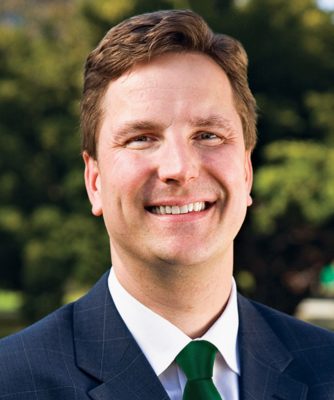 Since classes have started, President Christopher Roellke's Weekly Update webinars have been moved to Thursdays at 4-5 p.m. to avoid conflict with class schedules for students and faculty. The next webinar is this Thursday, Aug. 20, 4-5 p.m. Register now.
Convocation Live Stream
Students, parents, faculty and staff can view a recording of Convocation, which was live-streamed on Wednesday, Aug. 12. Or visit Messages from President Roellke with more information about Convocation, a list of this year's Convocation presenters and a recording of the ceremony, which signified the opening of the 2020-21 academic year.
Safer Campus Task Force Updates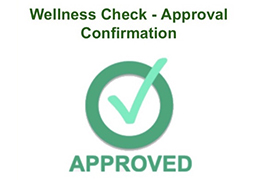 Wellness Checks on Your Phone with Everbridge
You can do your daily wellness check quickly and easily with an app from Everbridge. Visit Stetson.edu/Everbridge for instructions on downloading the app for Stetson University. If you need technical support when using the Everbridge app, please call 386-822-7417 or email [email protected].
Where to Hang Out on Campus
With all the new rules for where you can eat, how you can gather, where you shouldn't go, etc., you may be wondering where you can hang out on campus. Here are a few ideas of spaces to enjoy. Please remember to follow guidelines for physical distancing and mask requirements.
Libby Lawn — On the grass between the CUB and the Templeton Fountain to its east is a large tent designated specifically as a social gathering space for students. It will have WiFi, and you might be able to reserve it for social functions but it cannot be reserved for classes.
Palm Court – On the grass between the Holler Fountain and the Welcome Center will be a tent designated as a group study space for the library. It will have WiFi, but cannot be reserved for classes or social gatherings.
The President's Lawn – This tent will include WiFi and basic technology for teaching classes, and can be reserved for classes or other functions. When it is not reserved for a class or event, it can be used by students as a gathering place, to relax or study.
duPont-Ball Library and Academic Success – These areas can be used within their current, reduced-capacity limits.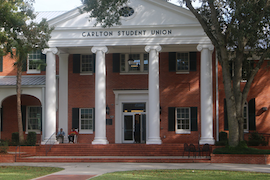 Inside the CUB — The second-floor North Wing can provide space for about 30 students with limited capacity for physical distancing. Some desks and meeting rooms have TV screens and HDMI cables for students to hook up their laptops for an online class. Available first-come, first served. The CUB staff will provide additional cleaning between users.
North Lobby, second floor
Collaboratorium, second floor
Student Lounge, second floor, opening Monday, Aug. 17 (a pool table, air hockey table and indoor hammocks available for use).
Outside the CUB — Students can use the Coffee Shop patio, rocking chairs on the front porch and other outdoor tables and chairs.
Lynn Business Center — Extra computers with microphones have been added to the Ground floor computer lab for students to take online classes.
Tables/chairs outside – Any other outdoor seating space designed for your enjoyment or relaxation can continue to be used for that purpose.
Classroom Spaces – In addition, some classrooms will be available at specific times.
All week: Monday-Sunday
1. Allen Hall 101 from 5-11 p.m. (capacity of 25)
2. Elizabeth Hall 202 from 1-11 p.m. (capacity of 6)
M-W-F only
1. Elizabeth Hall 209 from 8 a.m.-1 p.m. (capacity of 12)
2. Flagler Hall 311 from 1-11 p.m. (capacity of 6)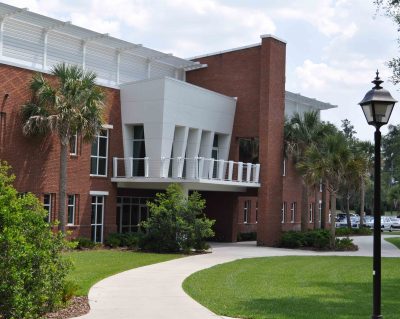 T-R only
1. Elizabeth Hall 103 from 8 a.m.-3 p.m. (capacity of 9)
2. Flagler Hall 211 from 3-11 p.m. (capacity of 8)
3. Sage 257 from 5-11 p.m. (capacity of 22)
The College of Law has added indoor and outdoor seating in the JD's Cafe area near the Sebring Courtroom, at various outdoor locations around campus including in the Banyan Courtyard and adjacent amphitheater, and on the second floor of the Charles Dana building above the Eleazer Courtroom. The library is also available with physically distanced seating options.
Students: More Info for Your Health and Safety
This fall there have been many changes in life on campus. To help you navigate these changes the Well Team created a list of helpful information for your reference as well as a short list of extra items you might need.
On-Campus Testing Results
Results of on-campus testing can be found on the Safer Stetson website, COVID-19 Test Results. This page will be updated weekly.
Off-Campus Educational Programs
An important part of Stetson's overall educational experience is student participation in experiential learning activities (e.g., internships, externships, field experiences, practicums, clinicals) at off-campus sites. For Fall 2020, in all cases where it is possible, these experiences should either be completed virtually or take place on campus. Special consideration will be given to students enrolled in off-campus educational programs needed to fulfill major, minor, graduation, and/or licensure requirements. For these situations, students will be allowed to participate in an off-campus program if the learning objectives of the program cannot be met through alternative means and the program cannot be postponed to a future semester. Find more information on the Safer Stetson website.
New FAQs on Safer Stetson
New FAQs have been added to the Safer Stetson website in these categories:
Cleaning
Facilities
Student Employment
Let Us Know if Someone is Sick, Exposed or COVID-19 Positive
It is Stetson's expectation that community members will let Stetson Health Service know if they are experiencing symptoms of COVID-19, or if you think someone else is sick. Reporting symptoms or potential cases of COVID-19, whether for yourself or someone else, to Stetson Health Service allows us to keep our community as safe and healthy as possible. Additionally, it ensures that community members are informed if they need to isolate or to be tested for COVID-19.
There is no need to be absolutely certain of a confirmed case or any need for you to personally confirm whether someone has tested positive. All we need is the name of the community member and why you may be concerned about this specific individual at the time. It is better to overreport than underreport. The COVID-19 report form asks for a few additional details about the situation but even if only a name is reported, staff can reach out to see if the individual needs any additional resources. If you do not know the name of the community member, you can provide details of location, description, etc., and we will work with what has been provided. Very few staff receive the COVID-19 report form and discretion is used when contacting individuals who may be of concern.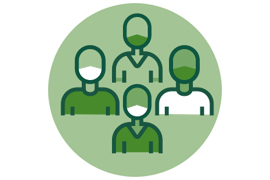 Face Covering Compliance on Campus
Stetson requires all members of the community and anyone on campus to wear a face covering. This is a critical layer in our mitigation plan and requires compliance by the entire community. We must serve as role models and actively intervene when we see members not complying. The WELL Team has created business card reminders to help encourage active bystanders in our community. If you would like a stack of these business cards, please contact Christina Kulpa to request them: [email protected], 386-822-7033.
Groups & Gatherings
To ensure the highest degree of community safety during the Virtual Tier and Tier One, we encourage the use of virtual platforms as the preferred approach for all non-academic endeavors, when possible. All essential non-academic meetings or groups scheduled by students, student organizations, staff, employee meetings, faculty casual gatherings, etc., will be limited to 10 or fewer individuals. All current Stetson polices regarding physical distancing, face coverings and screening requirements must be followed. Food and alcoholic beverages will be prohibited during these events. These parameters apply to all DeLand- and College of Law-sanctioned gatherings, whether on or off campus. Specific activity limits for athletic teams can be found in the COVID-19 Resocialization of Sports Plan.
Any reservations submitted to the University Calendar with an event date prior to Tier 2, or those planned to be held in off-calendar spaces (i.e., department conference rooms, CUB communal areas, outdoors, etc.) that exceed the limit of 10 will need to transition to a virtual experience, significantly reduce the number of attendees, postpone or cancel. Other than for regularly scheduled academic classes, no classroom will be approved for group reservations unless coordinated with Facilities to ensure proper cleaning before and after use. For the safety of our community, no classroom should be used as an impromptu gathering space at any time.
For purposes of tracing, we will rely on the Everbridge App. All outside groups, camps, and clinics remain canceled, postponed or should be converted to a virtual experience. This includes athletic camps and clinics, music camps, programs organized through the Office of Continuing Education and Outreach, and facility rentals.
COVID-19 Testing Available at Stetson
Do your part for our community!
Off Campus
During the fall semester start period, Stetson students can get free rapid Antigen testing at any CentraCare Location. You must provide both forms found via the link below in order to get tested. You can make an appointment online (select the option for COVID-19 Testing). Results will be shared with Stetson Health Service and the Dean of Students Office to help provide support for COVID-19 positive students. Make an appointment here. You must bring the attached required forms with you to CentraCare!
For an appointment or to get necessary documents, scan QR codes.
If you did not get tested on campus, but have results you did not turn in at move-in/check-in, please email your test report to [email protected]. For more information on testing, please contact Christina Kulpa at [email protected] or 386-822-7033.