Stetson University in the News, Aug. 7-14, 2020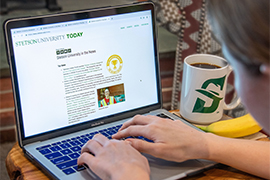 Top Stories: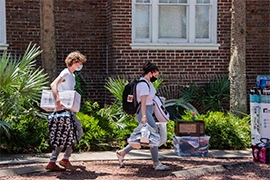 • Stetson's Move-in Day for Fall 2020 semester was featured in the article, "Continuing coverage of Stetson move-in day, start of classes," by Spectrum News 13. The news also appeared in USA Today, MSN, WWSB, WJCT, FOX Spokane, WCBS-TV and dozens of other outlets.
• Stetson was mentioned in the Aug. 10 article, "Some Florida Schools Start as New Coronavirus Cases Drop," by the Associated Press. The article also appeared in Spectrum News NYC, Florida Politics, Education Week and the Washington Times.
• Dean Michèle Alexandre was featured in a profile, "Education Is Power For Haiti-Born Stetson Law Dean, Michele Alexandre," in The Haitian Times. A Harvard Law School grad and the first Black dean of Stetson's College of Law, she said, "In the '90s in Brooklyn, Haitians were pariahs and were labeled as carriers of HIV and AIDS. We were constantly jumped on and singled out as less than, and that was kind of symptomatic of the way in which many poor Black folks were treated."
• The Aug. 14 article, "Volusia and Florida coronavirus deaths outpace milestone flu years" in the Daytona Beach News-Journal quoted Asal Johnson, PhD, assistant professor of Public Health. "In the beginning of this public health crisis, top political and TV personalities made the comparisons between the two to suggest that more people die of flu than COVID, so we should not be much concerned about this virus. We all now see these statements were clearly misinformed," she said.
• Peter F. Lake, the Charles A. Dana Chair and Director of the Center for Excellence in Higher Education Law and Policy at the College of Law, as quoted in the Aug. 13 article, "With DeVos' Title IX rule taking effect, higher ed is under strain," in Education Dive and Inside Higher Ed.
• Stetson University was mentioned in the Lakeland Ledger story, "In change, FSC limits students on campus for fall," on Aug. 11.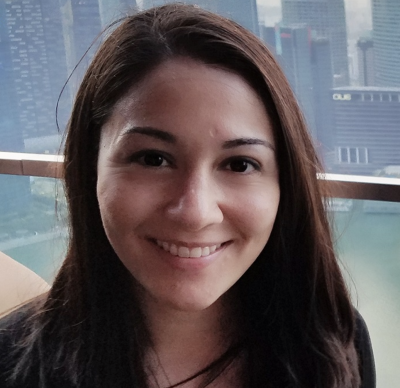 • Paula Hentz, director of International Learning, was quoted in the article, "Crises an 'opportunity' to build an equitable future for study abroad," in The PIE News on Aug. 11.
• Valrie Chambers, associate professor of Accounting, was quoted Aug. 11 in the Journal of Accountancy article, entitled "What faculty will change about their remote teaching this fall."
Other News:
• Bud Hanson, executive director of Professional and Corporate Education and professor of Practice, was interviewed by WDBO for the story, "Free professional development classes available."
• "Stetson University College of Law Launches Telehealth Options for Students," quoted Theresa J. Pulley Radwan, Transitional Business Administrator and professor of Law, on Patch.com on Aug. 10.
• Law Professor Judith Scully was featured in a new Justice for All roundtable series on Bay News 9. In a separate airing, the roundtable participants, which also included alumnus Bob Gualtieri, discussed body cameras for police officers.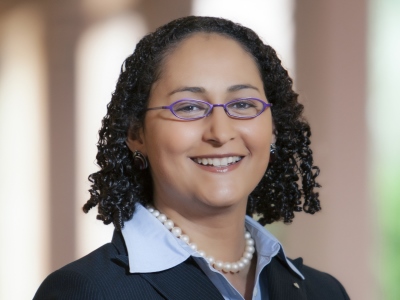 • Law Professor Ciara Torres-Spelliscy's piece for the Brennan Center for Justice called, "Bribery Charges in Ohio Illuminate the Dangers of Dark Money," was cited in an Aug. 10 article on Sludge and mentioned on the Election Law Blog.
• Law Professor Louis J. Virelli III was quoted in an Aug. 12 interview with WMFE, called, "Three Popular Downtown Orlando Bars Have Lost Their Alcohol Licenses."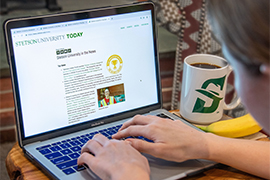 • Student-athlete Rebecca Ingram was mentioned in The Gippsland Times in Australia in the Aug. 11 article, "Virus hits beach volleyball season."
Alumni News
• Law alumnus Chris M. Pratt and alumna Kristy Zinna are running for Manatee County Judge, Group 4, according to the Sarasota Herald-Tribune and The Bradenton Times.
• Law alumnus Daniel D. Whitehouse was featured in a Leadership Lessons Q&A with Authority Magazine on Aug. 10.
• Law alumnus Kevin J. Plunkett will be this year's honoree at the United Way of Westchester and Putnam's Day of Golf, according to New York Patch. The event will be held Sept. 14.