Jason Evans Will Present Research and Moderate at Virtual Water Alliance Symposium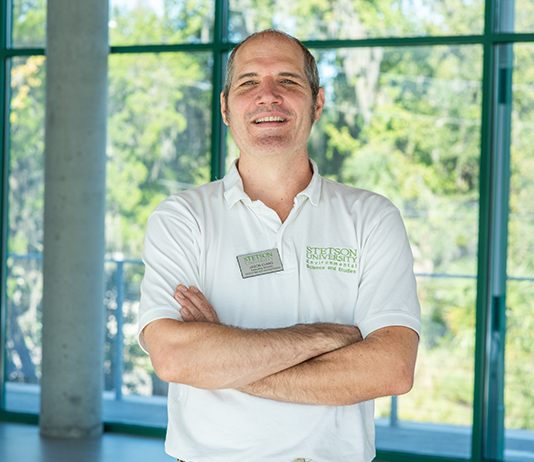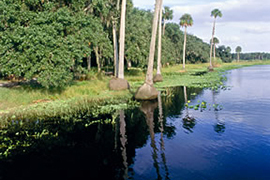 The meandering and scenic St. Johns River is Florida's longest river. The 310-mile waterway includes upper, middle and lower basins, and flows from Indian River County northward to its mouth where it empties into the Atlantic Ocean east of Jacksonville.
The Middle St. Johns River Basin has an important role in the water cycle, which meets the Wekiva River and discharges approximately 42,000,000 gallons of water a day into the St. Johns River. It is also where the river widens and forms Lakes Harney, Jesup and Monroe.
Jason Evans, PhD, interim executive director of the Institute for Water and Environmental Resilience (IWER) at Stetson University, will be discussing the recent trends in water quality and quantity within the Middle St. Johns River Basin in his presentation that is part of "Restoring Balance—Reflections on Florida's Waters: Past, Present and Future" during the Volusia Water Alliance's Fall Symposium on Saturday, Oct. 24, 10-11:30 a.m.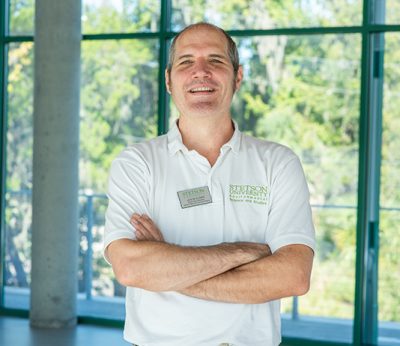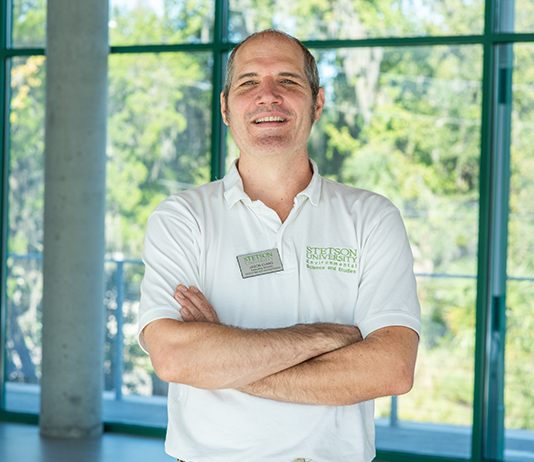 Cultural Credit will be available for students.
Evans' research explores the causes and solutions for Florida's water crisis, including water quality, which has been affected by nutrient contamination associated with urban and agricultural land uses. Damaged ecosystems can be repaired by reducing the amount of nutrient exposure in the environment.
"The Middle St. Johns River Basin is highly impacted by nutrient pollution and decreased water flow, both of which are largely associated with the large amounts of population growth and development within east Central Florida," said Evans, who is an associate professor of environmental science and studies at Stetson. "Fertilizers, septic tanks and urban stormwater within the watershed basin have also contributed to a long-term degradation of water quality."
Evans says the Middle St. Johns River Basin and other water resources can be restored and protected by using cost-effective and environmental actions such as planting native plants that require very little water and fertilizer, and support wildlife and pollinators along with beautifying communities.
His presentation also will include ways that Stetson is implementing on-campus, native landscaping initiatives, including the Volusia Sandhill Ecosystem and Native Florida Landscape at the Gillespie Museum and Bartram Gardens & Trail, and pollinator and rain gardens at the Sandra Stetson Aquatic Center.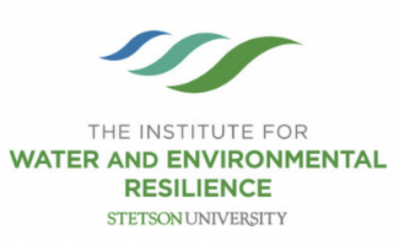 IWER focuses on water and environmental research and uses innovative approaches for tackling complex challenges and offering policy options for protecting natural resources throughout Florida. The university's institute has joined forces with the Volusia Water Alliance to expand its sustainable mission and vision for protecting the county's water sources.
Evans will be co-presenting with Rick Kilby, author of the award-winning book "Finding the Fountain of Youth" and the recently published "Florida's Healing Waters: Gilded Age Mineral Springs, Seaside Resorts, and Health Spas."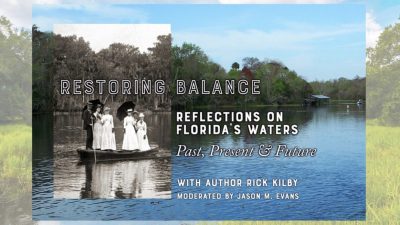 Kilby will be discussing the current condition of groundwater and springs in the Middle St. Johns River Basin and history of Volusia County's waterways. Evans will moderate the webinar. A question-and-answer session will follow the presentation.
For the past five years, the Volusia Water Alliance has been educating the community about water conservation during its free, annual symposiums. The coalition's purpose is to bring widespread awareness about water issues and hopes the water symposiums will make a difference in replenishing and sustaining Florida's water supply. The virtual event is open to the public, but advance registration is required and space is limited. After registering, a confirmation email will be sent containing specific information about joining the webinar.
-Sandra Carr