Elected to Protect the Area's Environmental Resources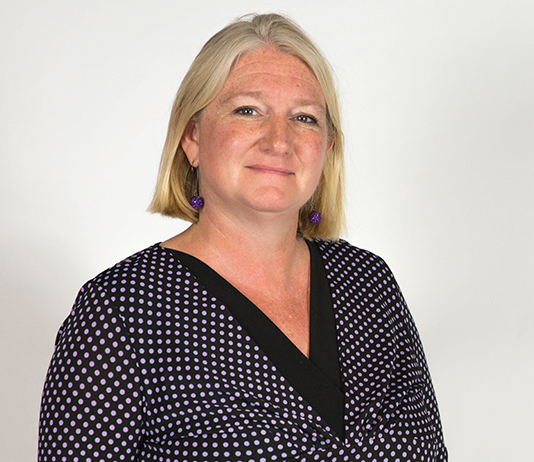 The day after President Trump was inaugurated in 2017, Wendy Anderson joined the Women's March on Washington and made a promise to herself.
"I decided next time, I'm going to do more than vote, more than canvass and make calls," she recalled. "I'm going to find a way to step out and run. I want a seat at the table."
On Nov. 3, Anderson was elected to Seat 4 on the Volusia Soil & Water Conservation District. She garnered 59.4% of the vote in a campaign that emphasized her qualifications, including her doctorate in biology and her job as a professor of Environmental Science and Studies.
That promise came to mind last June when she received a call from an acquaintance on the Soil & Water Conservation District. He said she had to run for an open seat on the board — with only five days remaining before the deadline to qualify.
"It was a little bit of coercion and, reflecting back on that decision in 2017, I decided to do it," she said. "As I said a thousand times over the last four months, it's in my lane. It's what I know. I have something to contribute here."

She actively campaigned for the post, raising $3,744 from friends, colleagues and other individuals, and purchasing campaign signs and fliers. She received endorsements from the Volusia Democratic Black Caucus, the Democratic Women's Club of Florida and Lake Winnemissett Civic Association. And she hired Stetson student Hayley Furman, a Jack Kent Cooke Scholar, to help with her campaign, along with a local marketing professional.
One of five elected supervisors, Anderson will serve a four-year term in the volunteer position. The conservation districts originally were created by the federal government after the Dust Bowl in the 1930s. Their mission was to help farmers protect their soil and provide water resources to ensure food security for America. Today, with less agriculture in Volusia County, the district's mission focuses on promoting conservation and educating the public about the importance of efforts like low-impact development, sustainable landscaping and solving water quality issues, according to its website.
Anderson explained, "The Soil & Water Conservation District has evolved over the years to deal with urban water-conservation issues, including the rapid urban sprawl that we're experiencing with subdivision after subdivision, all of which have to be irrigated and everybody wants green grass. That draws on our water resources, and the fertilizers run off and pollute our waterways and lead to algal blooms. That is a big part of our county's water issues and our state's water issues."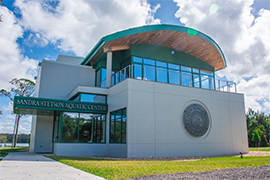 She sees many tie-ins between her work at Stetson and her new duties with the Soil & Water Conservation District. For example, she would like to bring more attention to climate change and climate-related impacts in Volusia County, such as sea-level rise, and extended periods of drought and flooding.
Those issues also dovetail with the mission of the Stetson Institute for Water and Environmental Resilience and the work of her colleagues, including Jason Evans, PhD, interim executive director of the Water Institute, an associate professor of Environmental Science and Studies, and a researcher on sea-level rise.
"Part of the Soil & Water Conservation District's purpose is to educate and the Institute's purpose is to educate," she explained. "I think we're going to converge in our work and it's going to be effective."
In addition, the Soil & Water Conservation District hosts an annual Envirothon, an environmentally themed academic competition for high school students in Volusia County. Anderson's involvement could introduce high school students to Stetson University and its environmental programs.
After all, she believes her job at Stetson played a role in the election.
"I think that's what won it for me. First of all, Stetson is so highly regarded in this community. Anybody associated with Stetson is automatically given credibility," she said. "Certainly, having a PhD and a PhD in something related to the environment, that's what I ran on.
"I realized about halfway through my campaign that part of my job was to educate people about the Soil & Water Conservation District. …  This is a really important role. We are the only elected officials in the county who are elected with the sole purpose of protecting our environmental resources," she added.