See Photo Galleries of 2020 Commencement
Unlike any other graduates in Stetson's history, those celebrating Commencement Dec. 12-13 had to endure "lockdowns, online learning, virtual meetings, bad audio, lost internet connections … and testing, testing, testing."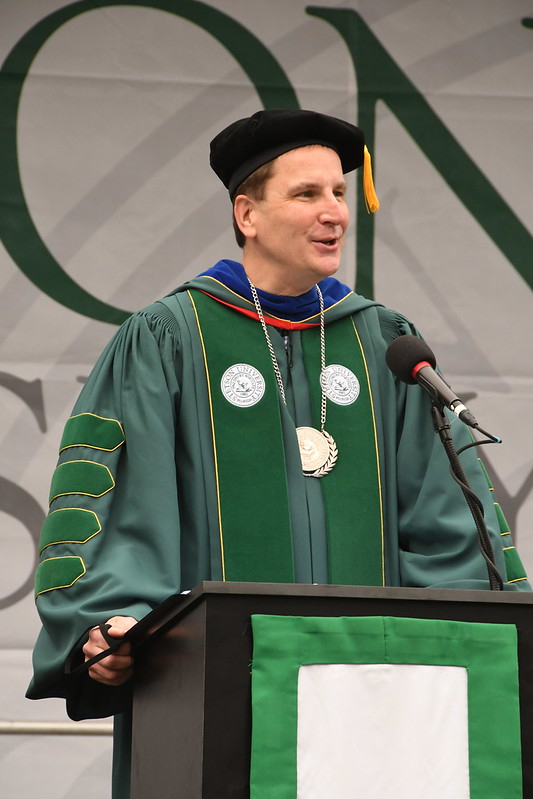 "I believe this is a special graduation because you achieved your degree and you did it this year," Stetson President Christopher F. Roellke, PhD, said during the ceremonies on the Stetson Green. "You were not only tested in the classroom, but ultimately by life."
Commencement 2020 was delayed in May due to the pandemic. Instead, Stetson hosted six ceremonies on Saturday and Sunday — five recognizing undergraduates who earned degrees between July 2019 and December 2020, and one for those who earned master's degrees.
The smaller ceremonies allowed for physical distancing for graduates and attendees, with chairs spaced six feet apart on the lawn. Saturday's ceremonies saw a few light showers while Sunday brought sunny skies.
Graduates, friends and family were required to undergo a non-contact temperature check and wear face coverings during the ticketed events. Nearly 700 graduates participated via live streaming by Stetson Broadcast Productions and 336 graduates attended in person over the two days.
President Roellke conferred degrees while President Emerita Wendy B. Libby, PhD, participated with a video message for the graduates. Her video also honored Stetson Trustee Emeritus Nestor de Armas '73, who received an honorary doctorate this year.
Stetson has a long tradition of selecting graduating students to speak at Commencement and it is considered a high honor by students, faculty and administrators. The students' speeches shared themes of overcoming adversity, embracing change and giving thanks to teachers, professors and loved ones who provided encouragement along the way.
"We managed to persevere and graduate during the most uncertain times of our lives," said speaker Maria Toledo '20, BM education. "We are resilient, strong-willed, and determined; we have proven to ourselves that we can overcome any challenge thrown at us and we owe it to ourselves to walk out of here more confident than before."
Double Hatter Alexandra Overdijking '19 received a Master of Accountancy and now works for Siemens as a project controller in Houston. She recently completed the company's two-year Finance Leadership Development Program, experiencing a new business, role and city every six months.
"Some valuable advice that my mum has always said to me is 'don't focus on the entire staircase, just take one step at a time,' " said the Scotland-born Overdijking at Graduate Commencement on Sunday. "If you told me a few years ago that I would be living and working anywhere other than Florida, I would say, 'You're crazy.'
"But the experience that I have gained these last two years working in four different cities across the U.S. has been an opportunity of a lifetime. And that's the beauty of attending Stetson; the education and experience here provides us with multiple opportunities to expand our horizons and sets us on paths we didn't even know existed," she said.
Other top honors for graduating seniors, presented previously, include:
• The Etter McTeer Turner Award, which honors the graduating senior who achieved the highest standard of excellence in academic performance, leadership and community service. The award was established by the family of late Stetson President J. Ollie Edmunds through their Gualala Foundation to honor Stetson's first woman Dean of Students. The 2020 recipient is Slavina "Sally" Ancheva '20, BS economics and political science.
• The Algernon Sydney Sullivan Awards, presented annually to the woman and man in the graduating class whose dedication to service and nobility of character set them apart. The prestigious award is one of the highest recognitions given to a Stetson graduating senior.
The 2020 recipients are Samantha DeCaprio '20, BS psychology, a leader in the Bonner Program and a passionate volunteer for such nonprofits as the Chisholm Center, the Boys and Girls Club of Spring Hill and House Next Door's Homework Program; and David Bailey '20, BA elementary education, a volunteer at George Marks and Citrus Grove elementary schools and with the Illinois Council Against Handgun Violence.
Each May at Commencement, the university also announces the winner of the William Hugh McEniry Award for Excellence in Teaching, Stetson's most prestigious faculty award. That award was announced in August and went to Rajni Shankar-Brown, PhD, associate professor and Jessie Ball duPont Endowed Chair of Social Justice Education.
As President Roellke concluded his comments to graduates, he said he hoped they would remember the kindness that they received and, as they go forward into graduate school or careers, consider repaying it "with the kindness you may give."
"As you leave today, my charge to you is this: Be kind. Be kind to others, but especially be kind to yourself, and ultimately you will achieve the success you have always imagined," he said.