Creating a Safer Stetson during COVID-19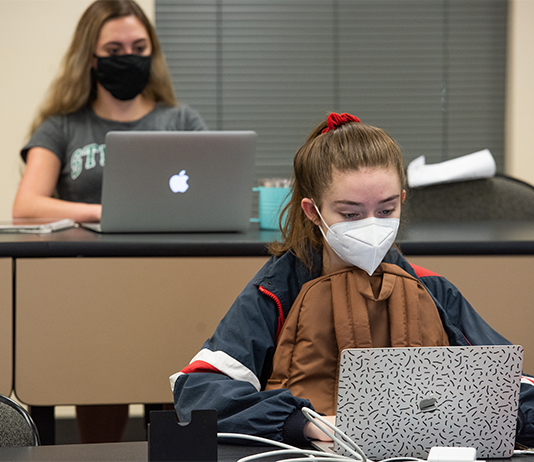 Across campus, as students and professors finish their classes, crews arrive with electrostatic machines strapped to their backs.
Using handheld sprayers, the custodians apply a hydrogen-peroxide disinfectant to desks, chairs and other items in classrooms, coating them with an EPA-approved product for use against COVID-19.
Air purification systems also have been added to classrooms to remove 99% of viruses. Face coverings are required for students and professors. Desks and chairs are spaced six feet apart. And custodians provide enhanced cleaning in high-occupancy areas and to frequently touched surfaces.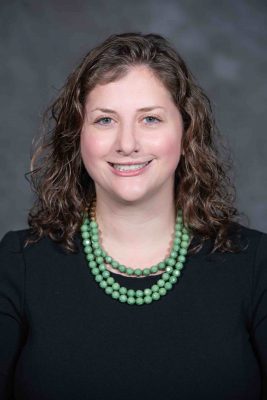 Those multiple layers of safeguards are at the heart of Stetson's overall mitigation strategy against COVID-19, said Lynn Schoenberg, co-chair of the Safer Campus Task Force, which has been meeting since the spring to recommend safety and health procedures to protect the Stetson community.
"Because we have been managing COVID for a while now on campus, we've learned a whole lot about where it seems transmissions are occurring and where it seems that they're not," said Schoenberg, also the Dean of Students. "For example, we have not been able to trace a single case to classroom transmission.
"And we really believe that's because of the mitigation efforts in the classroom," she added.
Stetson purchased 21 electrostatic machines last summer – 16 for the DeLand campus and five for the College of Law. Custodians follow a defined scheduled that aligns their work schedules with Stetson's class schedules.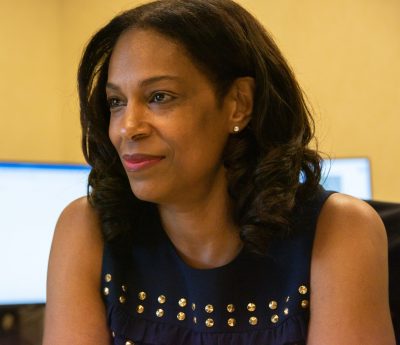 "We're in there after each class with the foggers spraying in between each class," said Bonita Dukes, associate vice president for Facilities Management. "We've got it down to a science now. We got through the first semester well with the schedule and we intend to do that again this spring semester."
"As Safe as Possible"
The classroom protocols are just one example of the work by the Safer Campus Task Force, a group of faculty and staff from the DeLand campus and College of Law that began meeting in May.
Working in consultation with the Florida Department of Health and the AdventHealth hospital system, the group has met weekly ever since, recommending steps to reduce the risks for students, faculty and staff.
In addition, over 10 subcommittees began working as early as March, when the first cases of COVID-19 appeared in Florida and Stetson switched to online-only classes for the remainder of the Spring 2020 semester. The subcommittees made recommendations to the task force on things like testing and screening, and the types of personal protective equipment (PPE) that would be needed for students and employees.
For the Fall semester, check-in stations were added on the DeLand campus and at the College of Law for visitors to undergo COVID-19 screenings before being allowed on campus.
Students, faculty and staff send in their own daily "Wellness Check" on the Everbridge App before moving around campus. The app also aids with contact tracing, using Bluetooth technology to identify other app users who were in close proximity, in the event someone tests positive.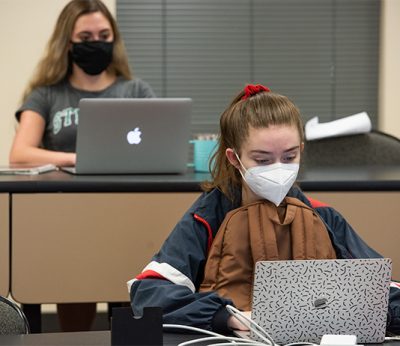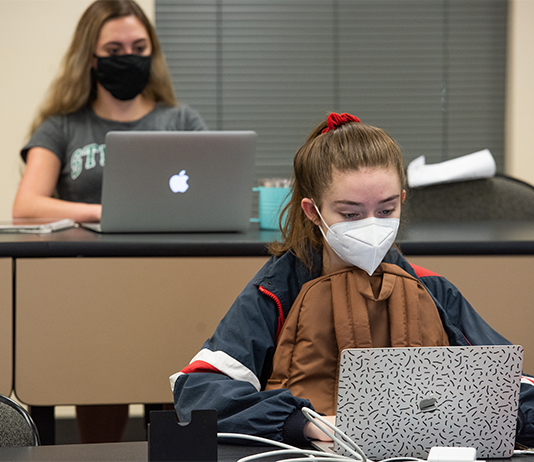 "Stetson has been committed to an overall mitigation strategy from the beginning of COVID since March," Schoenberg said. "Basically, the idea is that there's no one thing that is going to help keep us as safe as possible. It's a combination of different efforts – things like testing, screening, changes to facilities, facial coverings and policies about distancing.
"It's actually all of those things put together that help us to be as safe as possible," she added.
In Facilities Management, Dukes remembered early concerns about COVID-19 being spread through airborne transmission, and not just by respiratory droplets from an infected person sneezing or coughing. Airborne transmission means the virus may remain suspended in the air.
In response, the task force researched the latest technologies to mitigate the spread of the virus. For example, UV lights, ventilation and filtration have been shown effective in disinfecting airborne pathogens.
"Stetson had a lot of UV lights on many of our mechanical systems already," Dukes said. "We did upgrade where we could add more UV lights, but there were some areas that we could not because the retrofit of the system just wouldn't allow it."
In many of those spaces, air purification systems were added, with brand claims of removing 99% of viruses in the air. Facilities crews also are changing air filters more frequently in buildings, instead of every three or six months, as recommended by the manufacturers. And the flow of outside air was increased to exchange the air as much as reasonably possible.
"In our initial plan from the summer, one of our priorities was making sure that all the classrooms have an air purification system," Dukes said.
Gateway Testing for Spring term
Another important line of defense is conducting regular COVID-19 testing on campus. Free asymptomatic testing is available for student and employees every two weeks, helping to identify positive cases early before infections can spread.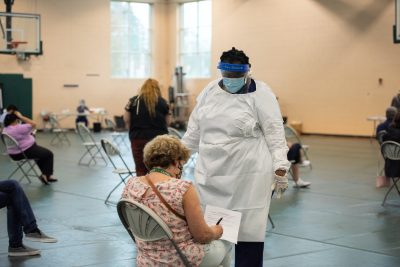 Some groups of students undergo mandatory testing, such as resident assistants (RAs), student workers in the Hollis Center fitness facility, and student teachers who work in local K-12 schools.
"Our student athletes also get tested at a very high rate and we have a high number of athletes as a Division 1 institution. Some of those athletes are getting tested weekly; some are more monthly," said Schoenberg, adding that coaches and athletics staff are also tested weekly or monthly. All student athletes, coaches and staff are screened daily, including having their temperature taken before any athletic activity.
"Some of the benefit of that is that we catch cases sooner, and we're able to isolate folks so that they are not furthering spread," she continued. "We really believe in our testing program and protocol."
For the Spring 2021 term, Gateway Testing will be required for all students, faculty and staff who will be on campus, and for commuter students who live within 45 miles of campus. Testing dates are set for Jan. 9-13, 2021, with free testing available through a choice of nasal or throat swab.
Stetson also will start the Spring semester in Tier 1, a period of high caution when the risk of transmission is high. The Tier 1 safeguards will remain in place for 14 days and then the university will move to the slightly more lenient Tier 2. Gateway testing should allow a quicker transition to Tier 2, Schoenberg said.
"We do have some virtual students who won't have to get tested," she said. "But everybody who plans to be here on campus, whether to just go get a meal in the Commons, or to go to class, myself, all of our staff and faculty, we will all be tested. And we really think that will help with our initial ability to contain the spread when we are coming back."
What happens when someone tests positive?
Despite all the safety protocols, Stetson community members have tested positive for COVID-19. From contact tracing, the task force has identified that transmission happens when people spend social time together, particularly if they do not wear face coverings or they spend time in a large venue with other people.
"It's pretty well known in regards to COVID," Schoenberg said. "But it's definitely what we've also seen for our own campus, as well."
When a student, faculty member or staff reports a positive case, it sets in motion "a lot of behind-the-scenes work and logistics," she said.
When a report is made through the Stetson COVID-19 Report a Health Concern form, an instant notice is sent to the on-call team, 24/7, 365 days a year. If a residential student tests positive, for example, the team will determine if the student can isolate in place or if they need to be moved – with assistance — to an isolation location.
The reporting also triggers meal deliveries to the student, including accommodations for dietary restrictions, such as gluten-free or vegetarian. Medical information and resources are provided to the student, as well as personal hygiene products, if needed.
A contact tracing team sets to work to identify others who have had direct exposure to the student, so they can be tested and self-quarantine. The student's professors are notified, alerting them that the student will miss class, and supervisors are contacted if the student is employed on campus.
A notification also goes immediately to the Facilities Management department, which can dispatch custodians to clean and disinfect locations visited by the infected student.
"Through contact tracing, we receive notifications of all of the areas that could be a potential area of infection and those are the areas that we're deployed to do a disinfecting," Dukes said of her staff of 36 custodians. "They are considered first responders. I'm very appreciative of their efforts throughout the process. They've done a phenomenal job."
During the past eight months, the Stetson task force members have gained first-hand knowledge, working day-to-day to mitigate the spread of the virus. Schoenberg said they feel confident about their safety protocols, adding, "which is not to say that there's no COVID on campus because COVID is in the world right now."
"But it is to say that we believe we have things in place that are helping to mitigate and decrease that exposure as much as possible, and then to take care of people when they need it," she said.
-For more information about Stetson's safeguards against COVID-19, visit the Safer Stetson website.
-Cory Lancaster