Meet New Health Service Director Johana Burgos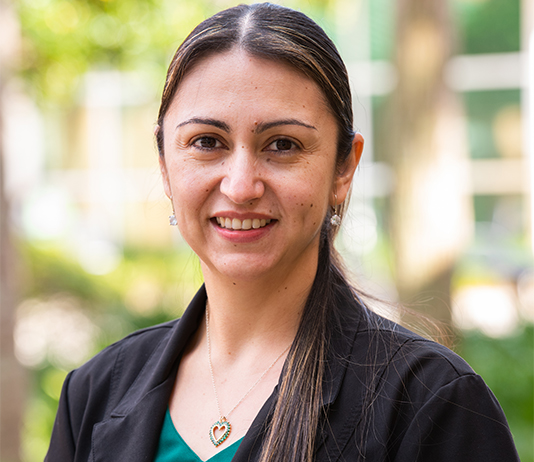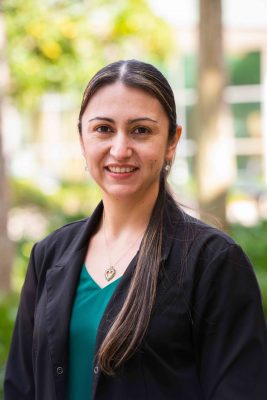 After 11 years as a school nurse and supervisor, Johana Burgos was not looking for another job when she saw an opening for Director of Stetson Health Service on LinkedIn.
"I knew this was a lifetime opportunity that I couldn't let pass, so I decided to apply," said Burgos, who was born in Colombia and immigrated to the U.S. at age 18 with her parents.
"Moving from K-12 to higher education was the next step in my professional career, and after I learned more about Stetson and the position itself, it became clear that I was ready to make this career move," she added.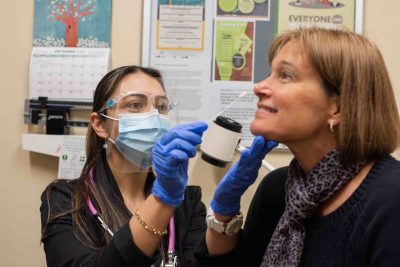 A registered nurse, she started as the new director on Nov. 16, jumping into a busy schedule during the pandemic. She provides COVID-19 testing to the Stetson community and assists with contact tracing, letting others know if they have been exposed to the virus and should get tested. She serves on the Safer Campus Task Force, which oversees the university's extensive mitigation efforts during the pandemic, and recently helped to hire a new lead contact tracer for her office.
She comes with 11 years of experience as a nurse with Volusia County Schools, including the past five years as a nursing supervisor overseeing 13 school clinics. She has a bachelor of science degree in nursing from Daytona State College.
"At this time, I felt very prepared because I was already performing contact tracing at Volusia County Schools and I had many years of experience working in the educational environment providing direct patient care as well as supervising a large number of school clinics," she said.
At Stetson. she found a well-orchestrated effort underway to prevent and reduce transmission of the coronavirus, based on guidelines from the Centers for Disease Control and Prevention, and the Florida Department of Health. These protocols include isolating students who test positive, providing meal delivery, automatically notifying their professors that they will miss class, and assessing when it's safe for them to end their isolation.
"Stetson's Health and Safety protocols were built to protect the whole community and they have proven to work when compared to the general public or institutions with less conservative rules," she said.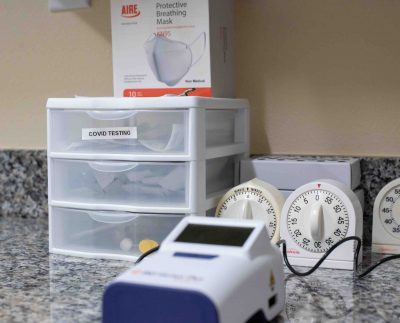 "It's a great institution. I'm so happy to be here," she added.
Stetson's New Lead Contact Tracer
One of her first duties was to help hire a new lead contact tracer for the university. The pool of candidates had already been narrowed down to 10 when she started work and she participated in the job interviews.
C. Woodworth "Woody" Parker, a doctor of Osteopathic Medicine and former Navy flight surgeon, was selected to oversee 23 contact tracers, who include volunteers and staff members temporarily assigned to help out. Parker is working remotely from his home in the Orlando area.
Each day, he reviews reports submitted by students, faculty and staff through the Report-It form and the Everbridge app, alerting the university if they have tested positive, developed symptoms or were exposed to someone with the virus. Parker enters them into the university's COVID-19 tracking system, which automatically triggers alerts to various university offices that need to be notified, such as Residential Living and Learning, Dining Services and custodians in Facilities Management.
"The system is particularly well designed," said Parker, who also helped with COVID-19 tracking while in the Navy in California. "My day-to-day varies each day, but in general I work hard to be in the trenches tracing members of our community and serve as the point-person for questions that arise during the process.
"We live in an odd age right now," he added. "We live in the midst of a public health emergency that has had an impact on every member of every community. Serving as the lead contact tracer means that I get to have just the smallest opportunity to make a difference among the Stetson community."
Burgos said Stetson was fortunate to hire a medical doctor as the lead contact tracer, joining the team of faculty, administrators and staff who have coordinated Stetson's overall mitigation strategy since the pandemic began.
A Holistic Approach to Health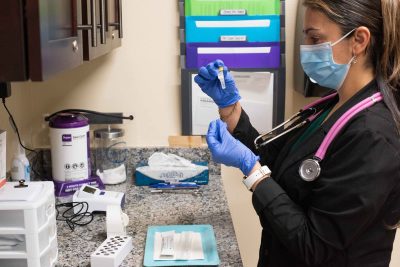 Burgos is a first-generation college student, whose family underwent a long process to immigrate to the United States.
Her uncle was a U.S. citizen and applied for visas for his siblings in Colombia, including Burgos' mother, to join him in this country. That application was filed before Burgos was even born and her family learned it was approved when she was 15. Two years of paperwork followed before they received the visas. In 1998, they moved to Oakland, California, and the following year relocated to Tampa, where another relative lived.
By happenstance, her mother contacted an old family friend from Colombia who was living in Deltona. Johana (pronounced Jo-ana, with the "h" silent in Spanish) had known the family's son Andres while they were growing up in Colombia, but the two had never spoken. They met again, fell in love and married the following year. The couple live in Deltona with their 15-year-old son David and a hound dog named Tobias.
In the coming months, Burgos will be busy planning and implementing COVID-19 vaccinations at Stetson. When the pandemic is over, she said she would like to work with Stetson's Wellness & Recreation, Student Counseling Services, and the Office of Religious and Spiritual Life to offer programs for the Stetson community that encompass Mind, Body and Spirit, providing a holistic approach to health.
This is a priority in her own life, she said, nourished by regular exercise, good nutrition, prayer and maintaining a positive attitude. "I have found through the years that it's the only way to enjoy life – to find a balance," she said.
These healthy habits are particularly important now, given the stresses of the pandemic.
"I want the community to know that I am here for all of them to address any health-related questions they may have," she said. "COVID-19 has placed a great burden on our mental health, and I am a huge advocate to seek help in this field when needed. Sometimes our minds need healing just as our bodies do. We are here to help and to refer to counseling when appropriate."
-Stetson Today