Bennett Rossell '24, National Rowing Champion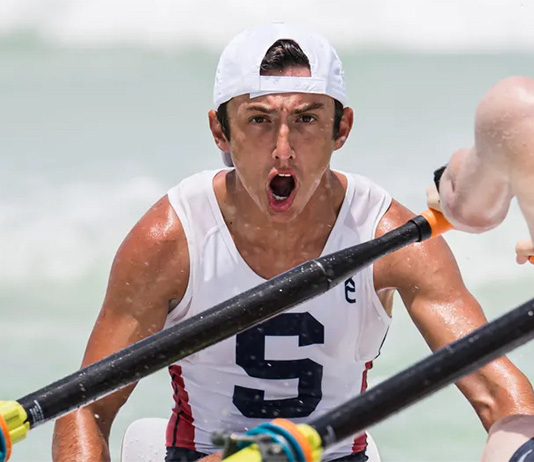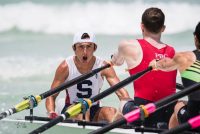 The way Bennett Rossell tells the story, his life change came almost out of nowhere.
Rossell had always been a baseball player but took off a summer in middle school. Randomly, at a rowing practice with his older brother, Lucas, who had just joined that team, Bennett caught the eye of the coach. The coach looked over and said, "Hey, you're small. Why don't you come try this out?"
Rossell did and, in his words: "I never looked back at baseball after that day."
He was hooked on becoming, in rowing terms, a coxswain — the person in the boat who steers it, motivates the crew and executes the team's race plan.
Coxswains typically are smaller than the other rowers, with that stature resulting in no "extra" weight being carried on the boat. At the same time, they're intelligent, and they're leaders.
Making Waves
From day one, Rossell fit the bill — more than most people could have imagined. Now a sophomore at Stetson, measuring 5-9 and about 130 pounds, Rossell stands tall as a nationally elite performer in his sport.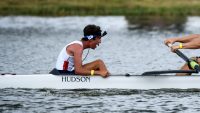 Even make that internationally elite.
That's because in September he was the coxswain for U.S. Rowing's mixed quad race during the World Rowing Beach Sprint Finals in Oeiras, Portugal, as his boat won a bronze medal. His crew defeated Sweden in a neck-and-neck race won by a mere 0.21 seconds. (Beach rowing involves boats that are wider and heavier than lake boats.)
It was U.S. Rowing's first medal in the new and growing sport of international coastal rowing. In fact, no U.S. team had ever participated in the event. Meanwhile, some of the other boats carried Olympians.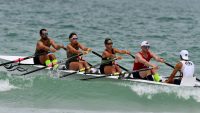 Just maybe, the Olympics could be in Rossell's future, too. It's expected that beach sprint rowing will be an exhibition sport at the 2024 Paris Olympic Games.
Navigating His Own Course
Indeed, the journey to overseas success pales in comparison to the road Rossell traveled to get there. Who moves away from his family as a high school junior, living with a teammate's family in another city, to pursue a sport?
When his youth rowing club closed in 2017, Rossell left his home in Palm City and landed in Sarasota, first bunking in a room and taking classes through Florida Virtual School before spending his senior year at Venice High while living in a rented apartment. (The coach for his U.S. Rowing's mixed quad team happened to be men's varsity coach for Sarasota Crew.)
It was all in the name of rowing, and with his family's blessing.
During summer 2017, Rossell had gotten his first taste of youth national competition, and he wanted more. So, he followed his heart.
"It was a big decision [to move away]. I really had motivation to get better," he explained. "I wanted to prove it to myself.
"My parents [Kimberly and Tony] definitely made a huge sacrifice. … My parents wanted to do everything they could to support me."
Notably, that same year Rossell left for Sarasota, his brother went off to college at the University of Central Florida, leaving the parents as empty nesters. "They've been a huge, huge help to get me where I am," Rossell added.
Finding His Way to DeLand
Rossell almost didn't make it to Stetson. "I was looking at other schools," he conceded, naming an initial list of Princeton, Syracuse, Brown that only later included Stetson.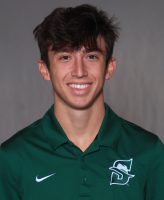 However, knowing a few Hatters helped with his decision, as did remaining in Florida and having the chance to impact a Stetson program that he described as up-and-coming.
"I felt like I could come to the team and make a difference. And I really enjoyed the atmosphere [on my visit]," noted Rossell, who is majoring in economics. "Making a difference by bringing a team from bottom to top meant more to me than keeping a team at the top."
Looking at the Hatters' spring schedule, Rossell is optimistic. The goal, he said, is to be a top-15 team in the country, with "improvement every race, more so than winning every race."
Also, he has the IRA National Championship on May 28 in West Windsor, New Jersey, circled on his calendar. Or, at least, it's etched in his mind. "That's our ultimate goal," he commented. (IRA stands for International Rowing Association.)
Rising Tide
Having Rossell aboard helps give the Hatters a chance, according to Andrew Rouse, Stetson assistant rowing coach.
"Bennett excels at maximizing all of the potential out of his teammates," Rouse said. "Bennett has started to make a name for himself with building results at both the national and international stages.
"As a junior rower, he had great success at our country's national championship regatta. He also made his way up through the junior national team program. At the collegiate level, he is only continuing to grow upon this by competing at the Coastal World Rowing Championships, with his eyes also set on the [under age 23] National Team."
In turn, Rossell is helping to raise the tide on the entire program, Rouse added.
"With the level of success that Bennett has had, it brings a large amount of recognition back to Stetson Rowing, especially in regards to recruiting student athletes to the university, both nationally and abroad. I hope to only continue to see this to grow as Bennett and his teammates continue to mature and succeed as athletes within the rowing community."
Teammate Campbell Cole heaps further praise on Rossell.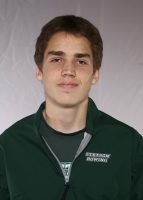 "Bennett is one of the best coxswains I have had the pleasure to row with," said Cole, a graduate student. "An incredibly experienced and knowledgeable athlete, he has achieved much in his time in the sport. He has been a valuable member of the team and has stepped up as a good leader despite being on the younger side of the team. … Watching him achieve his dreams and pursue international rowing has been incredible."
Training Regimen
That pursuit of achievement is what drives a nearly nonstop schedule for Rossell and his teammates. Consider this training regimen at Stetson: On Mondays, Wednesdays and Fridays, there's a 5:20 morning wake-up with a 6 a.m. arrival at the Sandra Stetson Aquatic Center boathouse, located several miles from campus. Rossell's boat is on the water at 6:30 and off the water by 8:30. On Mondays and Wednesdays, there also is afternoon weightlifting for an hour. On Tuesdays and Thursdays, workouts are on their own. There is Friday afternoon yoga, and Saturday morning it's back on the water, 6:30-8:30. Sunday represents rest.
For Rossell, that's all while also pursuing academic excellence at the School of Business Administration. And during the summer, while training for national competition, he plans to include a job, likely at Hudson Boat Works, a rowing racing shell manufacturer based in Ontario.
Relentlessly, he pushes forward.
"I never had a problem with thinking I'm overworking myself — just because I feel better, I feel healthier and I feel more in touch with myself when I'm on a schedule and training. I guess I like the schedule part of it," Rossell explained.
"It can become a lot, but ultimately when you're working that hard and finally get [to the competition] and you do well, that feeling of meeting your goals is rewarding, way better than feeling stressed about your training program."
-Michael Candelaria