Social Justice Class Honors Stetson Unsung Heroes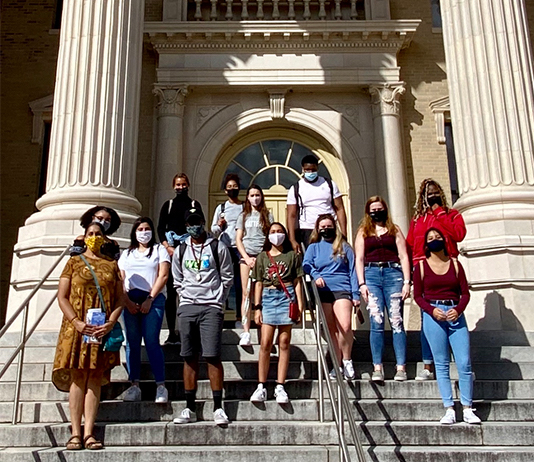 "One of the first colleagues I met when joining Stetson's faculty was Kendrial Wilson. I was immediately drawn to her joyful spirit and we quickly became friends. As women of color, it can be challenging working at a Predominantly White Institution in the Deep South and our friendship has offered meaningful support over the years. Having the opportunity to work with amazing individuals like Kendrial is a privilege," said Rajni Shankar-Brown, PhD, Jessie Ball duPont Chair of Social Justice Education in the College of Arts and Sciences at Stetson University.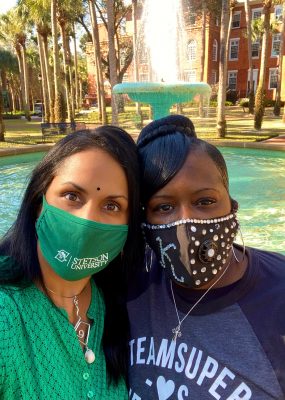 Wilson is a Custodian in the Facilities Management department and has worked at Stetson for over a decade. According to Shankar-Brown and her students, she is a core heartbeat of campus. Wilson is one of many diverse voices featured in the video created this fall by Shankar-Brown's First-Year Seminar class, Advancing Human Rights and Social Justice: Art as Activism.
During the fall semester, students in this first-year seminar found innovative ways to engage with campus and connecting communities, particularly through artivism. This course was designed and taught by Shankar-Brown, recipient of the 2020 McEniry Award for Excellence in Teaching at Stetson University and 2014 recipient of the Hand Award for Distinguished Faculty Achievement in Community Impact, and the course is a part of Stetson's First Year Seminar Experience directed by Ranjini Thaver, PhD, professor of Economics.
In spite of many teaching and learning challenges due to the COVID-19 pandemic, Shankar-Brown's first-year seminar met with community partners virtually, including working closely with the Alliance for Fair Food and the Coalition for Immokalee Workers, and engaged in collaborative projects focused on mental health issues, LGBTQIA+ rights, advocating against the separation and detention of migrant families and children, educating on racial profiling, examining the gender pay gap, researching climate change, and more. The class also went on a social-distanced and masked mural walk around DeLand and met with various community leaders (with distance-learning students joining in virtually), wrote critical self-reflections and analytic research papers, and engaged in several lively and challenging debates.

Shankar-Brown serves on the Executive Board of the National Coalition for the Homeless and has dedicated much of her life working to address, end and prevent homelessness, and is currently engaged in policy work at the national level. The economic realities of COVID-19 have increased homelessness for individuals and families, including millions of children and youth, along with the persisting lack of fair living wages and affordable housing options in the United States. After learning about poverty and economic social inequalities, students in the first-year seminar actively helped in collecting items to help stock the pantry of the Neighborhood Center of West Volusia and Stetson's Hatter Pantry. They learned about institutional oppression and the importance of educated voting, with many of the students voting for the first time. Shankar-Brown opened her students' eyes and hearts, as she immersed them in learning about human rights issues and inspired them to be part of the change our world needs.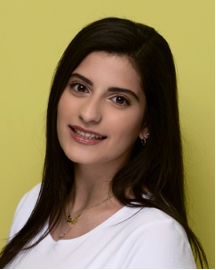 Christa Assi plans to major in International Studies with minors in Journalism and French. Assi shared, "During the class I had with Dr. Shankar-Brown this fall, she became more than a professor to me, and became a true mentor. Every class had me more excited than the previous and she's both a phenomenal professor and person." During the class, Assi helped in leading a fundraiser to support Lebanon due to the devastating Beirut port explosion that occurred on Aug. 4, 2020, just as the fall semester at Stetson started. Shankar-Brown and classmates also helped Assi with her efforts.
Another first-year Stetson student Camille Taylor noted, "The start of my Fall semester at Stetson was around the time that the Black Lives Matter movement regained traction, following the death of George Floyd. I felt especially attacked as I am an Afro-Latina woman. I am thankful to Dr. Shankar-Brown for her investing in me and because her course allowed me to learn more constructive outlets to help fight for equality. It opened my eyes to many human rights issues I had not previously been exposed to, such as educational disparities and human rights violations faced by farm workers. Each class engaged me to learn more and inspired me to continue strides in being an advocate."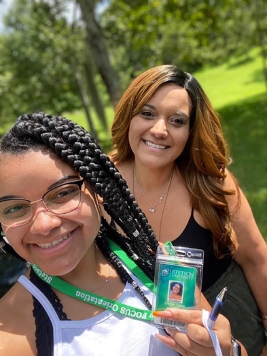 In addition to reading Paulo Freire's foundational text, Pedagogy of the Oppressed, along with Elizabeth Acevedo's The Poet X, a novel in verse, students read dozens of articles focused on human rights, historical and current justice issues, global social change movements, and primary writings from luminaries, such as Dr. Martin Luther King Jr., Nelson Mandela, Justice Ruth Bader Ginsburg, Audre Lorde, Congressman John Lewis, Vandana Shiva and Gloria Evangelina Anzaldúa.
Students were encouraged to reflect on their values, their dreams, the environment and justice issues they felt most strongly about and worked on creating their own justice manifesto shields during the semester, as one of many forms of artivism taught as a part of the course. First-year student Jennifer Hanco noted that her commitment to promoting human rights has grown deeply due to her FSEM experience. "Taking Shankar-Brown's Advancing Human Rights and Social Justice FSEM was absolutely the best decision I made to be my first class at Stetson. Her interactive teaching style made me excited to attend class and challenged me to learn. The class showed me that I can play an active part in changing my environment and help put an end to social injustices by staying informed and using my voice," said Hanco.
"Artivism is an intentional weaving of art and social justice activism. The arts are a powerful vehicle for transformative change and has always played an imperative role in social movements," Shankar-Brown explained. "Artistic expression rooted in human rights activism births hope and enables community-engaged opportunities to reimagine and rebuild more compassionate and equitable communities. Artivism recognizes our shared humanity and is about affirming diversity, which is essential as we work to advance justice in our world." In addition to being a teacher-scholar at Stetson, Shankar-Brown is an artivist herself. She recently published her first collection of poetry, Tuluminous (2020), which is rooted in social justice, and described by Presidential Poet Richard Blanco as "a marvelous and meaningful testimony of the power of language to heal and transform."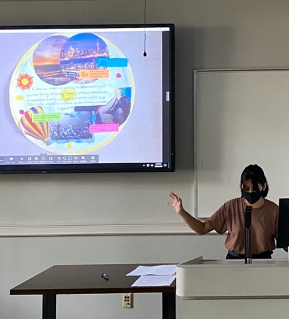 As the class wrapped up this fall, the professor and students worked together to design an authentic, theory-to-action final exam. "A traditional final exam did not align with this course," Shankar-Brown explained. "I deliberately challenged my students to engage in an authentic assessment, a format that would reflect the knowledge gained, celebrate a culmination of their learning, showcase their myriad strengths, and nurture their creativity. I gave them agency and we designed the final together."
Throughout the course, while discussing human rights and social justice, Shankar-Brown shared that she and her students continued to return to the importance of embracing our shared humanity and gratitude. They had started the course discussing the power of the human story, with Shankar-Brown encouraging students to reflect on their own stories, and to take time to learn the stories of others, including the collective community. "It was rewarding to see the power of the human story come full circle with the final exam," said Shankar-Brown.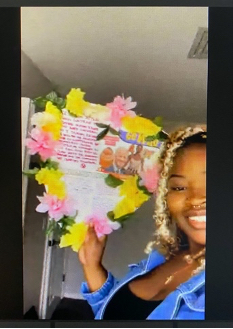 Students found themselves grateful to many folks on campus who were going above and beyond to keep the campus safe during the COVID-19 pandemic. The class decided they wanted to learn more about individuals on campus, particularly individuals who were often working extra hard to protect and support students. During this project, one custodian teared up and shared that many times people pass her all day long without even saying hello, a similar message shared by a member of the landscaping team. The students and their professor decided they wanted to help elevate the stories of what one Stetson student, Xavier Sanders, described as "our unsung heroes on campus."
The class worked together to create the video to highlight diverse voices across campus. They visited Facilities Management, Public Safety, Dining Services, and the du-Pont Ball Library. A few of the individuals featured in the video include, but are not limited to, Kendrial Wilson, Rusaly Rodriguez, Sue Boatwright, Sgt. Robert Casey, Alice Solis, Officer Kevin Givens, Officer Jamie Santiago, Debbi Dinkins, Raymond Arango and Sgt. Stanley Stoy. Many of these individuals were selected as they had made students feel welcome and safe on campus, especially for first-year students. In addition, they witnessed many of them working extra hard and wanted to show them appreciation.
Shankar-Brown noted, "I think Cornel West was wise when he said, 'never forget that justice is what love looks like in public.' Justice and love are profoundly interconnected. It is important that we take time to learn each other's names correctly, listen to each other and make space for diverse stories, to convey gratitude, to pause in the business of life and say, 'Hello, Namaste.' We need to love more fiercely and build beloved community more intentionally. We must never forget that human rights and social justice are rooted in love," Shankar-Brown urged.
The students in Shankar-Brown's FSEM class were invited to share their talents in the creation of the video. The class had a combination of in-person and distance-learning students due to the COVID-19 pandemic. Students who were not living on campus still found meaningful ways to participate in the project, including conducting interviews over the phone or through online platforms like Microsoft Teams or Zoom, as well as helping with editing.
During the course, Taylor decided to switch her major to communications and media studies, and she was excited to conduct interviews and apply her passion as a part of this project. Shankar-Brown was delighted to have Taylor in her course, noting it was extra special as her mother, Emily Taylor, was Shankar-Brown's former graduate student, earned her master's degree in Educational Leadership at Stetson and now serves as an instructional specialist in the Volusia County School District.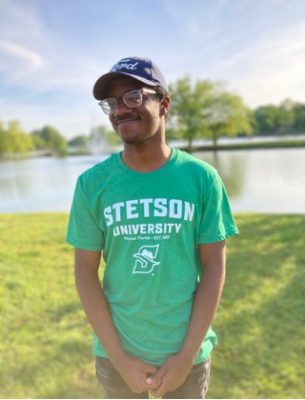 While the video was a collaborative class effort, Xavier Sanders was the lead producer with assistance from Daliyah Hammoud, both of whom Shankar-Brown described as "outstanding student leaders and first-year scholars at Stetson." Sanders is a Discovery major with an eclectic mix of talents and skillsets, and Hammoud is an international student from the Netherlands, majoring in Business Marketing and a star Stetson athlete on the Stetson Women's Tennis Team.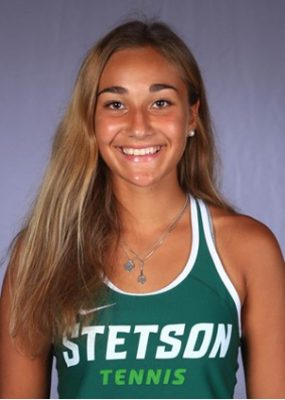 The class is excited to share the video with the Stetson community and public in the New Year to show gratitude to so many working to make Stetson such a special place.
"My students and I hope those watching will be inspired or reminded to make the time to learn about each other and strengthen human connection in the New Year," said Shankar-Brown. And as first-year student Antonio Baldwin put it, "Dr. S-B taught us lessons we will carry forward the rest of our lives. This is a class and a final exam I will forever remember."
"I am incredibly proud of my students and honored to be a part of their journey," said Shankar-Brown. "We are fortunate to have such passionate and talented students at Stetson. In the midst of deep turbulence and heartache in our world, collaborating on community-engaged efforts with colleagues and students kindles daily hope."
Although the class has ended, many of the students who took Shankar-Brown's first-year seminar continue to work closely with her on equity and justice projects, including through Stetson's Student Coalition to End Homelessness, the Poverty and Homelessness Conference, Hatters University Scholars, and the Acts of Kindness and Justice movement.
"I believe higher education has myriad resources and a civic responsibility to help advance the greater good. We must work together toward equity, justice and beloved community," said Shankar-Brown.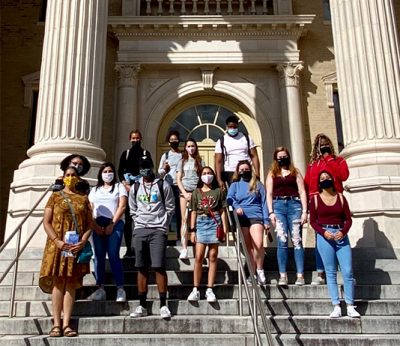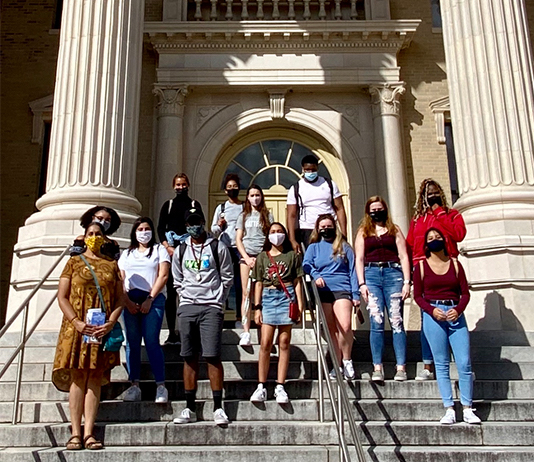 Students in the FSEM, Advancing Human Rights and Social Justice: Art as Activism:
Alfonso, Siamara G.
Alvarez, Tyara N.
Assi, Christa S.
Baldwin, Antonio M.
Flint-Burns, Autumn H.
Hammoud, Daliyah
Hanco, Jennifer K.
Onorati, Alessandra S.
Rosa, Joshlyne M.
Sanders, Xavier M.
Sutton, Anissa A.
Sylvester, Alexander S.
Talisma, Dianna
Taylor, Camille R.
White, Madison J.
Whiteside, Macie L.