Hatterthon Attracts Record-Setting Philanthropy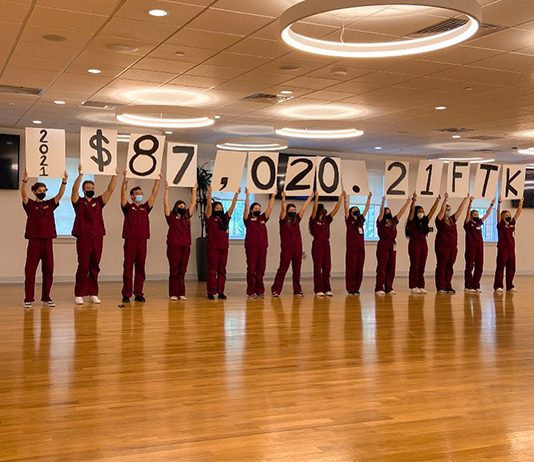 Nine years ago, Lauren Doubleday was undergoing open-heart surgery at Orlando Health Arnold Palmer Hospital for Children to repair what the hospital called "a serious heart defect." Lauren was just 3 days old.
On Saturday, March 20, Doubleday led a livestreamed virtual karate lesson as part of the many activities, both virtual and in-person, at Stetson's daylong, fifth annual Hatterthon, a student-led benefit for the hospital.
Despite what Jake Sadoway '21, Hatterthon's executive director, called "unimaginable obstacles" caused by the pandemic, the benefit raised a record-setting $87,020.21 — besting last year's tally of $84,407.20.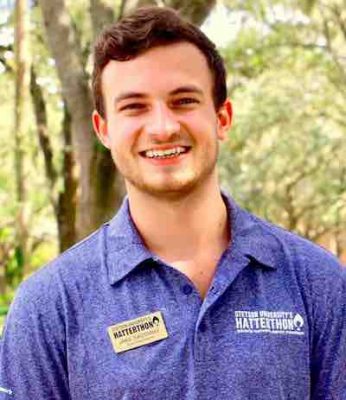 "You all are no strangers to the fact that our world looks drastically different than it did this time last year," said a masked and emotional Sadoway during his concluding address on March 21, which was livestreamed via Zoom and Twitch from a room in the Carlton Union Building. "Through the challenges and obstacles, through the pain and fatigue, our hope is our driving force, and it must be never-ending. We worked all year long to free our families [the Miracle Families, as the hospital's clients are referred to by Hatterthon participants] from the financial, physical and emotional burden of sickness. As long as kids need hospitals, Hatterthon will be here to support them."
Hatterthon is part of the Miracle Network Dance Marathon, a nationwide, student-led campaign that raises funds and awareness for any one of the 170 Children's Miracle Network Hospitals in the United States and Canada — in this case, the Orlando Arnold Palmer facility.
Throughout the year, Hatterthon hosts various awareness and fundraising activities that culminate in an annual spring semester event in which students dance, play games, continue fundraising and hear from some of the families whose lives have been directly impacted by their efforts. At the end of the event, Hatterthon staffers reveal the total funding raised during the year.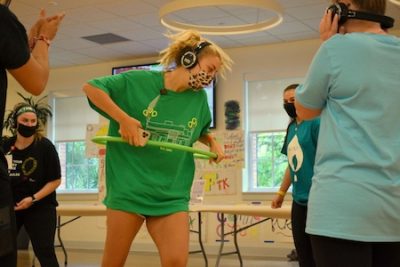 In a post-event interview, Sadoway noted that the Hatterthon internal team had gone from planning a completely virtual event to creating a hybrid program with virtual activities and in-person activities on Stetson Green, where a stage with speakers and video screens would be set up as part of "one of the first in-person events that Stetson University has been able to see this year."
Due to inclement weather, Hatterthon organizers were forced to abruptly change gears at 3 p.m. Friday to their rain backup plan. Sadoway and his management team were up until 5:15 a.m. Saturday networking 15 computers to the CUB's audio-visual equipment "to create a broadcasting room for our in-person activities," he said. "We literally used every single room inside of the student union building for Hatterthon. We were able to facilitate all our participants across the entire building. We streamed through every single TV and speaker with Zoom as our host, and making sure that it looked pretty as well."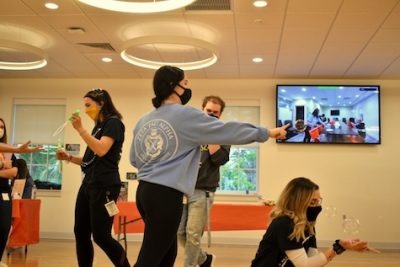 A main stage inside the CUB was used to livestream funding updates, Kahoot! games, and an art competition. Offsite livestreaming included talk show-style interviews with Miracle Families, and Doubleday's karate session.
Prerecorded sessions broadcast during Hatterthon included opening remarks by Lynn Schoenberg, dean of students, and Jennifer Thelen, director of emergency services at Arnold Palmer Hospital. Thelen noted the hospital is the Level 1 trauma center for children in Central Florida and sees approximately 55,000 children per year, including more than 250 "trauma alerts," which are "considered the most critical of all traumas," she said.
Prerecorded videos of students dancing on Stetson Green, in front of the CUB and at other campus spots were broadcast at the beginning of the Saturday event, which ran from 10:30 a.m. to 9 p.m.
"We strive to give these kids the freedom to just be kids and celebrate their lives," said Sadoway, a double-major in business management and corporate finance, during his concluding address. "On days like today, we are able to catch a glimpse of what it looks like, a day when children aren't labeled as sick but are celebrated through the lives they lead, a day when our campus comes together and stands for hours in fight. We will fight until the day comes when every child gets to live free of the burdens that come with pediatric illness and injuries."
This year Hatterthon had 376 participants, and many of them were a members of the 24 teams that raised funds. Various awards were announced by members of the Hatterthon management team at the event's conclusion, including:
Top Fundraiser All Year: Kelly Wu – $5,141
Top team: Executive Board – $28,010.86
Top Fundraiser in Event: Katie Mullaney
Miracle Cup – Hope (given to small organizations): Hatterthon Alumni
Miracle Cup – Healing (mid-size organizations): Lambda Chi Alpha
Miracle Cup – Compassion (large organizations): Alpha Chi Omega
Most Improved Team: Pi Beta Phi
Rising Star Award: Bonner
Bellah South Bravery Award: Zeta Tau Alpha
Most Spirited FTKrew Captain: Alejandra Correa
Most Spirited Morale Captain: Victor Zayas
Most Spirited Team Captain: Liz Mills
Most Spirited Alumni: Taylor Hamilton
Most Spirited Miracle Maker: Hannah Churms
-Rick de Yampert