Stetson Remembers A Year of COVID-19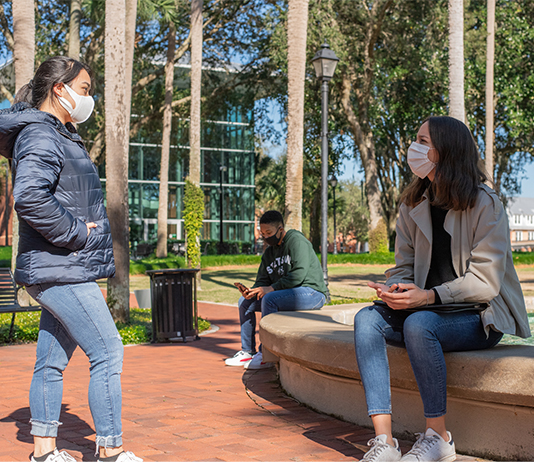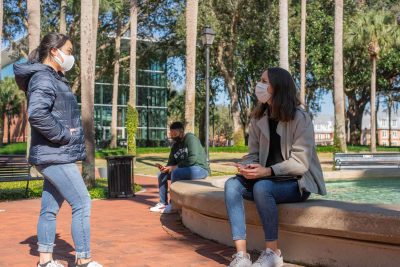 This week marks the one-year anniversary of Stetson moving classes online, as new COVID-19 cases surged around the globe and one of the university's own students fell very ill.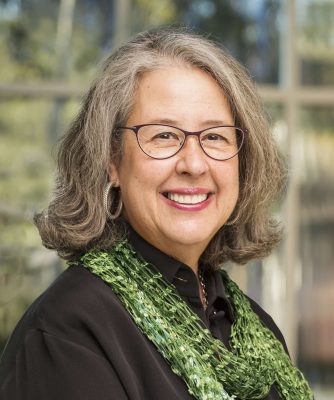 Stetson will host "A Community Remembrance: Marking One Year of COVID-19" on Thursday, March 18, from 4:30-5:30 p.m. The virtual event will allow the community to reflect on all they have lost and experienced over the past year. Register to receive the link.
Then-President Wendy B. Libby, PhD, emailed students, faculty and staff on Thursday night, March 12, 2020, and announced that classes would start online March 18.
"Given the rapid changes caused by the COVID-19 pandemic, even within the last 24 hours," she wrote, "I believe that our responsibility to students, their families, and our amazing staff and faculty requires that we put in place a different approach to learning for the remainder of the semester."
The unfolding crisis meant the university had just days to switch to remote instruction, which required adding technology and training faculty. Students were asked to decide by March 20 if they wanted to remain in the residence halls or return home to finish the semester. Some packed up and left.
"Like many people, those were some of the most challenging weeks of my professional career, with even more to come during the year," said Dean of Students Lynn Schoenberg, co-chair of the Safer Campus Task Force, which has overseen safety and health procedures to protect the Stetson community during the pandemic. "When you think back about what we accomplished as a united community, it is purely magnificent.
"During that time, we also had a very, very sick student who had COVID-19," she added. "The experience of connecting with that student's family and being the communication for them to the university in that difficult time guides my response efforts to this day (and probably will for the rest of my career)."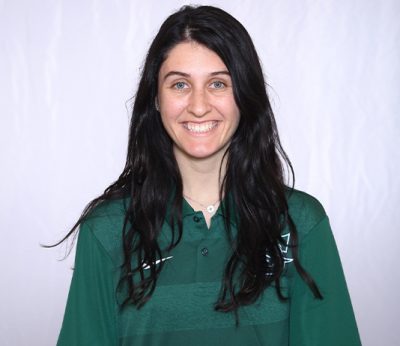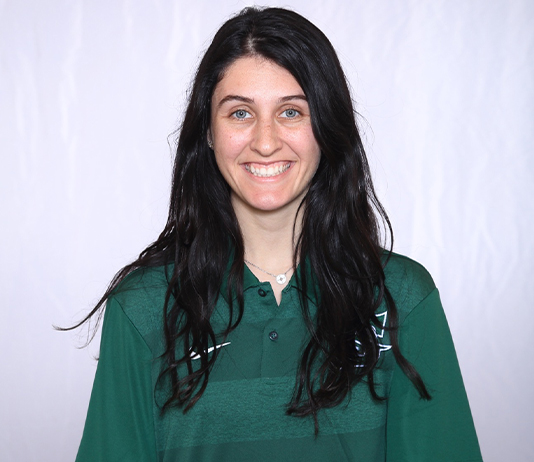 Student Hannah Churms spoke publicly about her ordeal to warn other students about the seriousness of the coronavirus. A healthy 20-year-old with no underlying medical conditions, she contracted the virus in early March 2020 and was hospitalized for a few weeks on "death's door," as she described it.
A year later, the Sports Business major continues her recovery, although she can get short of breath and tire easily. "I usually get a little fatigued, but I can do mostly normal things!" she wrote in an email. "I also plan to graduate in May!"
Stetson Today asked four university administrators to reflect on the past year, recalling the university's challenges and accomplishments, and considering what changes might be left behind by the pandemic.
Confirming Stetson's Core Experience
When Provost Noel Painter, PhD, recalls March 2020, he remembers "the great deal of pressure we faced to make decisions in an unprecedented, uncertain context."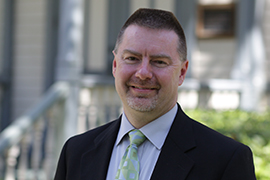 The university had to balance the safety of students, faculty and staff with ensuring students could continue their classes and advance toward earning their degrees. Essentially, that meant "preparing quickly for the most radical mid-semester shift in higher education that most of us have ever seen," he said.
"The process for decision-making in higher education is generally not known for being nimble, and we were forced into a situation of making quick decisions with limited information," Painter added. "And I think that hindsight proves that we made solid choices that aligned with the values of the university."
The university decided, for example, to continue housing students on campus, if they had limited options on where to go. Stetson also created the Safer Campus Task Force early on, making "an intentional shift" from reacting defensively to the virus's impacts to planning proactively for safety, engagement, spending and learning. And Stetson IT helped faculty, staff and students access the needed technology for remote learning.
In July, Stetson announced that residence halls would pivot to single occupancy for the Fall 2020 semester. That meant millions of dollars in lost revenue for the university, but it reduced students' risk of contracting the virus.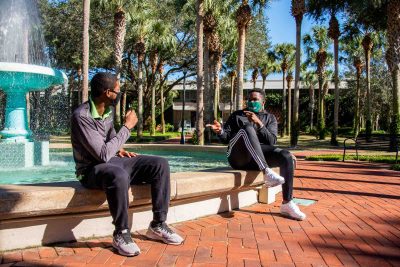 Painter believes COVID-19 will cause indelible changes to the university.
"There's no question in my mind that the pandemic will lead to lasting change," he said. "The faculty have done amazing work to learn, themselves, ways in which technology and virtual learning can be incorporated into the Stetson educational experience in meaningful ways.
"I expect that we will continue to be more efficient — in time and money — and in some ways more collaborative as a community because of what we have learned. And at the same time, I think that we have confirmed that the core experience that we value for our students, and promise to our students, has a lot to do with relationships, which are measurably more difficult to develop when we are not together."
Ground Shifting Beneath Us
The day after President Libby announced classes would move online, Vice President of Campus Life and Student Success Lua Hancock met with students in the Stetson Room on the second floor of the CUB to talk about the looming changes.
"We all had so many questions. We wanted to answer all the questions of our students, parents, faculty and staff to the best of our ability, but it felt like the ground was constantly shifting beneath us," Hancock recalled.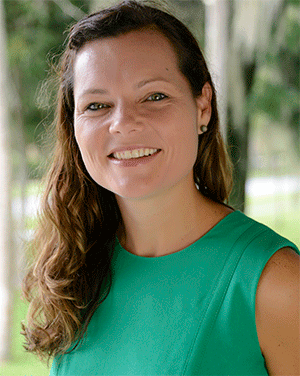 Like the provost, Hancock said a year of physical distancing and virtual meetings only reaffirmed to her that the Stetson experience is about "relationships, compassion and learning."
"This past year has solidified that for me. Every member of this community has stepped up for each other," she said. "Those first few months especially, many staff and faculty worked day and night to meet the needs of this community."
Staff members continued to patrol campus, clean and disinfect buildings, and support the community with services and programs. Faculty members learned new teaching modalities and led musical groups outside. Students attended classes and meetings in masks, and held events to maintain a sense of community in new ways.
"We have never had to close, like so many of our peers did, and it is because we made quick and informed decisions from a place grounded in compassion, safety and learning," Hancock said.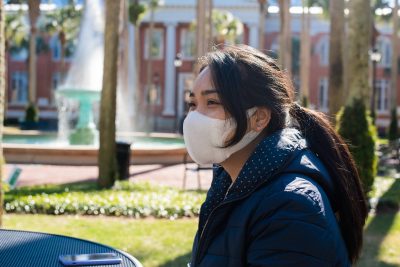 "I hope that the combination of this time of the pandemic paired with calls for racial justice and equity in our community have created space for us to all examine our values and how they play out in practice," she added.
Whatever it Takes
Jose Bernier, associate vice president for Information Technology and Chief Information Officer, remembers his mixed feelings on the night that President Libby announced classes would move online. His department would play the key role in switching to virtual learning and he felt some anxiety about the unknown challenges ahead.
But his department already had a roadmap, of sorts, first drafted in 2017 that spelled out a comprehensive disaster recovery plan for IT.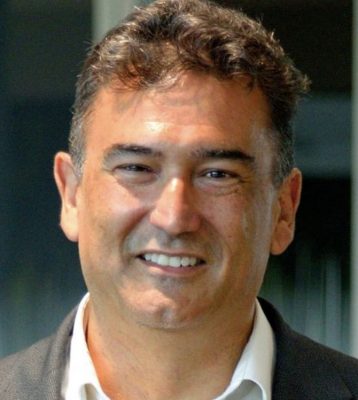 "The main concern was trying to make sure that students were able to complete the academic work. I knew that our Disaster Recovery and Business Continuity Plan included a fully online option that became very useful at that time," he said.
"Faculty training was going to be one of the challenging priorities as they were occupied trying to accommodate their students. Throughout that night, I knew that the Stetson community would do whatever it took to ensure student success," he added.
His staff immediately set to work contacting vendors to purchase the necessary technology, especially because they "knew everyone else would do the same. The open communication with our academic partners enabled us to design a comprehensive solution that helped minimize the disruption to the student population," Bernier said.
In the year since, students and employees have grown accustomed to meeting on Microsoft Teams, attending virtual events on Zoom and using digital learning environments like Blackboard.
"I believe many of the systems adopted will remain part of our everyday lives, complementing the face-to-face environment," Bernier said, adding that "of course, by now we are ready for hurricane season!"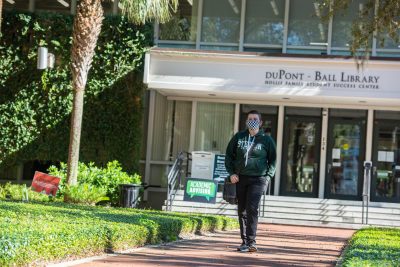 Finding a Way Forward
Dean of Students Lynn Schoenberg is co-chair of the Safer Campus Task Force, which has been at the forefront of managing the threat of COVID-19 at Stetson. As she looks back over the past year, she sees a number of milestones that allowed Stetson to keep the number of positive cases low and continue to operate.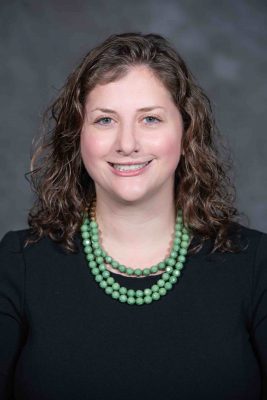 "The first milestone was moving online and decreasing the number of students in the residence halls back in March," she said. "I don't believe we had a way forward without having this hard reset."
Another milestone was moving to single occupancy rooms in the residence halls for the Fall 2020 semester. And another involved advancements over the summer in tracing and tracking, and increases in testing ability, allowing folks to be isolated faster before they possibly spread the virus to others.
The tracing and tracking required staff training and new technology. "That process, those advancements and the staff doing that work are an unseen hero in all of this," she added.
Most challenging was an escalation of positive cases at the beginning of the Fall 2020 term, which became an "enormous hurdle" and "major turning point."
"In the last year, the only moments I had of thinking 'we can't do this' were during that time. I can't really express how the hard work of the on-call team, tracers, health service, dining and others during that time kept Stetson operating and turned the tide," she said.
Free COVID-19 testing was offered on campus through the fall and helped to identify asymptomatic cases. The mass testing was expanded for the Spring 2021 semester and became mandatory Gateway Testing for students, faculty and staff returning from winter break.
"We believe a combination of Gateway Testing and our other mitigations — including our community members being awesome — have helped us keep things under control this spring," she said.
Hopefully that continues as the next milestone already is underway: distribution of the vaccine and finally an end to the COVID-19 pandemic.