Clay Target Team Off to Promising Start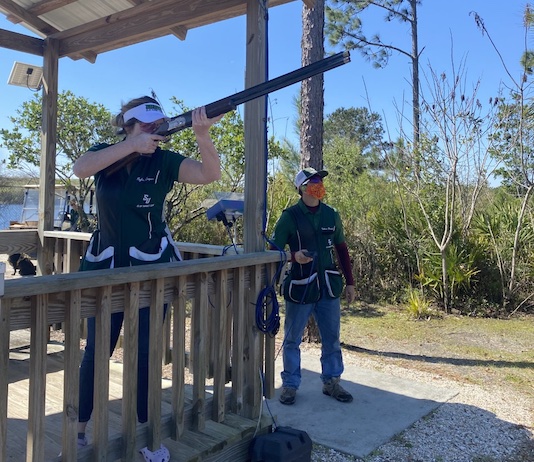 Stetson's Clay Target Team didn't quite ace in its first competition since the onset of COVID-19 restrictions more than a year ago. Yet, the team was, let's just say, very close to its target.
At the Scholastic Clay Target Program 10th annual spring Southeastern Invitational, held at the Jacksonville Clay Target Sports complex March 6-7, team members put up one of their best performances ever at the venue. On day one, the team finished in fourth place overall and then finished third overall on day two.
The event was hosted by Jacksonville University and the Jacksonville Clay Target complex, which is considered among the Southeast's finest shooting facilities.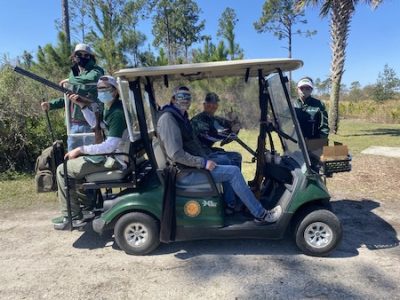 Stetson's five-person squad — seniors Rylee Lopez and Teagan Charles (seniors), juniors Nathan Oltorik and Nicholas Patricoff and sophomore Colby Siglin — competed in a field of 94 students from six universities: Florida, Virginia Tech, Eastern Kentucky and Bethel, along with Jacksonville. The outdoor competition followed physical distancing and face-covering protocols.

Stetson's performances were highlighted by a commanding first-place finish (women and men) by Lopez in Sporting Clays on day two. Oltorik also was outstanding, finishing fifth overall on day two.
In all, Stetson negotiated four of the five disciplines it will encounter at high-level competitions, including American Skeet, American Trap, Trap Doubles and Sporting Clays. During the two days, each student safely fired 250 rounds of 12-gauge ammunition, with more than 23,500 rounds being expended during the course of competition by all 94 shooters.

The event was not without its challenges, with Stetson not only dealing with its long layoff on day one, but also cold winds and driving rain. In addition, for its first event, Stetson was assigned the notoriously difficult range 7 along with Trap Doubles, the most challenging of the disciplines. Nonetheless, the team prevailed, putting up consistent clay target totals.

Day two presented different weather conditions in the form of clear skies, but also cold temperatures and strong winds. The 270-plus acres of the course tested the team's mettle, with hundreds of different target presentations and geometry combining with various sun angles and wind swirls. In the end, Stetson was again able to compile impressive totals, led by Rylee, setting the stage for upcoming competitions.
-Travis Potter
Editor's note: For more information about the Stetson Clay Target Team, email Nathan Oltorik, team president, at [email protected] or Travis Potter, Stetson's assistant director of Wellness and Recreation, at [email protected].edu.