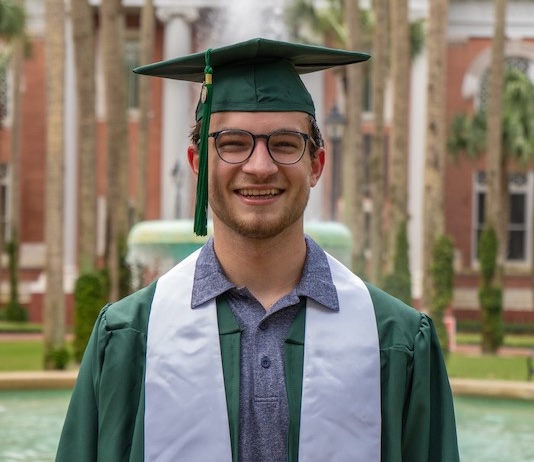 During the past year, the effort Jake Sadoway '21 led at Stetson faced "unimaginable obstacles" caused by the pandemic, as he described earlier this spring. Sadoway, executive director of Stetson's Dance Marathon (Hatterthon) program, then followed that comment by stating the collective effort of his group also resulted in $87,020.21 being raised — more than ever previously. 
For that reason, plus numerous others, the national Miracle Network Dance Marathon organization has named Sadoway a recipient of its Distinguished Leadership Award.
Sadoway was one of 27 graduating college and high school student leaders recognized for "making an exceptional impact within their Dance Marathon program on their individual campus, and for their impact within the local Children's Miracle Network Hospital."
Sadoway was a member of the Hatterthon program for four years, serving as the point-person this past year, as the student-led group hosted programs and created fundraising initiatives to benefit the Orlando Health Arnold Palmer Hospital for Children. Miracle Network Dance Marathon is a core program for CMN Hospitals, a nonprofit that is aimed at raising funds and awareness for 170 children's hospitals across North America.
Sadoway, who is graduating with a bachelor's degree in business administration, was a passionate participant.
"When it comes to Hatterthon, putting others first is the organization's base — creating the most meaningful community within Stetson University by serving the community and always putting our Miracle Children and the overall meaning of children's health first," he said. "Participating in Dance Marathon is about raising funds for the kids and being this generation fighting for the next. But what most don't realize about Dance Marathon is that there is so much more to it. From leadership development to building a sense of community, all based around one cause, Dance Marathon not only changes the future of pediatric illness and injury, but it changes the future by creating the strongest leaders I have ever seen."
Nationwide, the collective efforts of Miracle Network Dance Marathon events have raised more than $300 million since 1991. Each year, hundreds of thousands of students participate in approximately 400 events at colleges and universities across the U.S. and Canada, contributing to a movement that supports the health of 10 million kids treated at CMN Hospitals each year.
"These 27 students represent the purpose of Miracle Network Dance Marathon: this generation fighting for the next," commented Teri Nestel, president & CEO of CMN Hospitals. "Our collective efforts provide member hospitals with the critical funds needed to advance pediatric healthcare at-large, ultimately protecting kids' futures and enhancing our communities. We're forever grateful for the legacies they have created and will build upon."